A new public art exhibit – sponsored by El Taller Latino Americano, NYC Parks, the Columbus Amsterdam BID and the Bloomingdale Neighborhood History Group (BNHG) – is now on display at the sports field of Booker T Washington Middle School (108th Street between Columbus and Amsterdam avenues). It will be on display until September.
The exhibit features eight art medallions depicting local luminaries from the Bloomingdale neighborhood.
Advertisement



Designed by local artist Beatrice Coron, the medallions portray musicians John Coltrane, Jose Feliciano and Mario Bauza; vocalist Abbey Lincoln; artist Isamu Noguchi; poet Elizabeth Acevedo; Judge Constance Baker Motley; and composer Billy Strayhorn.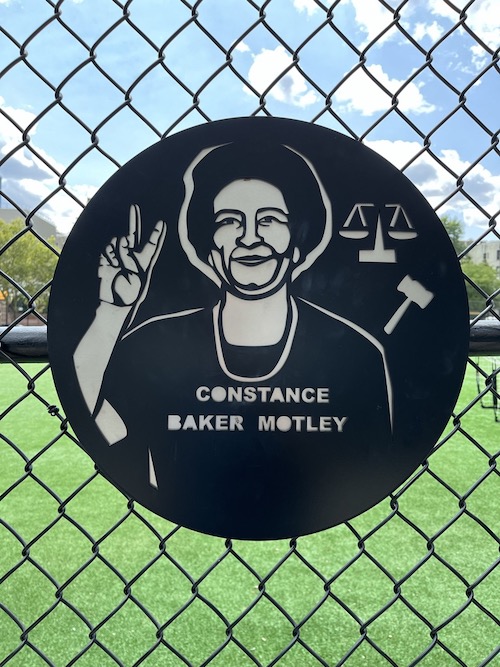 Coron studied art at the Ecole des Beaux-Arts of Lyon and Mandarin Chinese at the University of Lyon III. Her work includes illustrations, book art, fine art and public art.
Her characteristic silhouette designs are cut from paper and Tyvek. She has also created work in stone, glass, metal, rubber, stained glass and via digital media.
Calling herself a "visual storyteller," she tells stories that "are about identities and transformations or how changes are inherent to a learning process, physically, spiritually or metaphorically."
The Metropolitan Museum, the Walker Art Center and the Getty Museum all have Coron's work in their collections. Her public art can be seen in subways, at airports, sports facilities and other locations.
This is the first of three such exhibits planned for various locations over the next year.