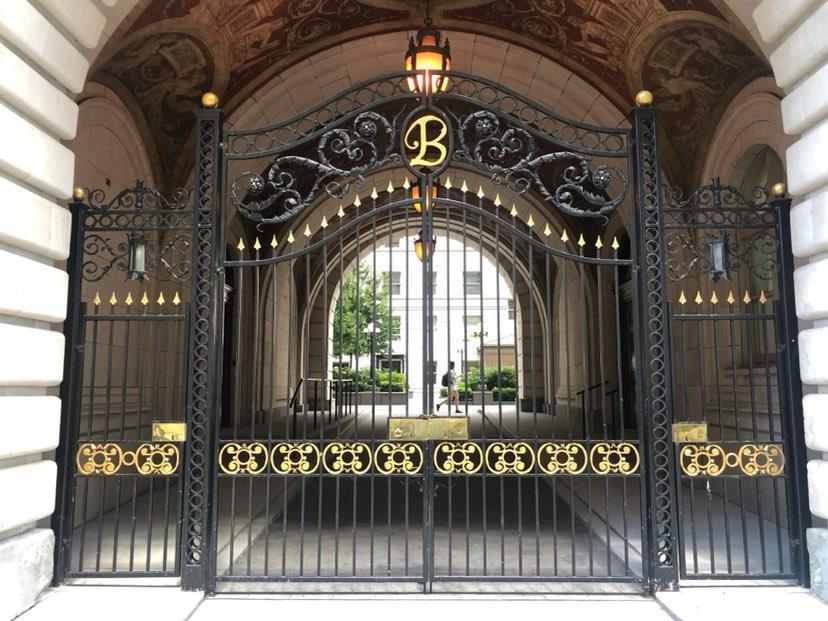 Considering how so much of the fictional crime drama Only Murders in the Building is rooted inside The Belnord at 225 West 86th Street (known in the show as The Arconia), we decided to take a look back at actual residents who've called this apartment building home over the years. It's a domicile so special it was added to the National Register of Historic Places in 1980.

Advertisement



In true Only Murders fashion, attempting to uncover what actually went on within these walls has left us with more questions than answers.
Lee Strasberg
Born in 1901 in Poland, Lee Strasberg is considered the father of method acting in America, a technique he learned from Russian theater practitioner Konstantin Stanislavski when he brought his Moscow Art Theatre to the United States in 1923. Strasberg went on to become the director and teach at the Actors Studio in New York City before founding the Lee Strasberg Theatre and Film Institute in 1969.
James Dean, Marlon Brando and Marilyn Monroe were all known to visit Strasberg at the Belnord during the 1950s. Monroe, a student of Strasberg, also had Lee on her exclusive list of 16 approved directors she'd work with. A bond so close, it was Strasberg who delivered the eulogy at Monroe's funeral in 1962.
Another one of Strasberg's former students gave him the inspiration to cross over and become an actor. It was Al Pacino who suggested Lee play his protagonist, gangster Hyman Roth, in the 1974 film The Godfather Part II. The role earned Strasberg an Academy Award nomination for Best Supporting Actor. Pacino went on to win Best Actor, while the film won Best Picture.
"It is much easier for me to make movies than to do the work that I think to be my major work, which is to help other people. Because I don't have to argue with myself. I don't have to talk to myself. I don't have to convince myself. Whatever I do I do and so on, there's no difficulty. But to try to get somebody else to do what I think he's capable of, to somehow stimulate because I can't do it, he has to do it after all. To stimulate, to hit the right button, the right kind of thing that will ignite the thing in him I see him to be capable of, that's hard work let me tell you. And acting for me therefore is to some extent a relaxation," Lee Strasberg said in an interview with Mr. Rogers.
Advertisement
Matt Damon
It's been reported that in 2010 Matt Damon was renting at The Belnord while looking to buy a permanent residence on the Upper West Side. The effort ultimately ended in failure; after being outbid on a unit at 535 West End Ave., Damon settled on a $16.7 million penthouse in Brooklyn Heights. The sale marked a record (at the time) for the most expensive residential sale in Brooklyn, Elle reported.
Damon's ties to the Upper West Side include the key opening scene in the 1999 psychological thriller The Talented Mr. Ripley, where Damon's character, Tom Ripley, borrows a Princeton jacket to play piano at a garden party at 225 Central Park West at 82nd Street. This sets in motion an eerie chain of events in which Ripley ends up killing and then becoming Dickie Greenleaf, played by Jude Law.
On the lighter side, Damon worked with fellow Upper West Side celebrity Tina Fey as one of her favorite recurring characters and love interests in 30 Rock.
READ MORE: 30 Rock Locations on the Upper West Side!
Margo Sappington
Texas native Margo Sappington first became a professional dancer in 1964 at the Joffrey Ballet in New York City. She was just 17 years old at the time. By 21, she co-wrote, choreographed and performed in the off-Broadway production of Oh! Calcutta! In 2005, Sappington received a Lifetime Achievement Award for choreography from the Joffrey Ballet.
Sappington's work spans beyond ballet into opera and theater. Passionate about creating dances to popular music, Sappington has choreographed works to the tunes of Prince, the Indigo Girls and the 2007 ballet Common People, set to William Shatner's 2004 album Has Been, which was performed by the Milwaukee Ballet. Shatner attended and filmed the event, later releasing a feature documentary about the production, titled Gonzo Ballet.
Advertisement
Isaac Bashevis Singer
Another Polish-born resident of The Belnord, Isaac Bashevis Singer emigrated from his homeland to the United States in 1935 and became a journalist for The Jewish Daily Forward. In 1978, Singer was awarded the Nobel Prize for Literature.
Singer wrote in Yiddish, later translating his work to English with the help of editors.
Collectively, Singer published at least 18 novels, 14 children's books and a plethora of memoirs, essays and articles in magazines including Esquire, Playboy and Moment. He's especially well known for his collections of short stories.
Singer earned two U.S. National Book Awards: one for his children's memoir, A Day of Pleasure: Stories of a Boy Growing Up in Warsaw, in 1970 and another for his fiction collection, A Crown of Feathers and Other Stories, in 1974.
He was also known to jog around The Belnord's courtyard wearing a three-piece suit.
READ MORE: Powerful Crime Bosses Once Lived at The Majestic on Central Park West
Samuel Joel "Zero" Mostel
Beloved actor, comedian and singer Samuel Joel "Zero" Mostel was born in New York City in 1915. He's best known for playing iconic characters who've been cherished by generations of fans, including Tevye in the original Broadway production of Fiddler on the Roof and Max Bialystock in Mel Brooks' film The Producers in 1968.
In January 1960, Mostel was hit by the 86th Street crosstown bus, which ultimately crushed his leg. Doctors wanted to amputate it, but knowing that would certainly end his stage career, Mostel refused and risked the possibility of getting gangrene. While his leg was saved, the injury left him in the hospital for four months and had a profound impact on his stage work. From that time on, when Mostel performed at the Metropolitan Opera, he would carry a cane.
Mostel was a three-time Tony Award winner and a member of the American Theater Hall of Fame.
READ MORE: Famous Former Residents of The Dakota
Advertisement
Walter Matthau
Where to start with Walter Matthau? He's a talent that churned out hit after hit on the silver screen for over 50 years, from comedies including The Odd Couple (1968), Bad News Bears (1976) and Dennis the Menace (1993) to dramas like A Face in the Crowd (1957), The Taking of Pelham One Two Three (1974) and Hopscotch (1980). Matthau even worked alongside Elvis Presley in the motion picture King Creole (1958).
He also found time to be a star on Broadway, earning two Tony Awards for Best Actor in A Shot in the Dark (1962) and The Odd Couple (1965).
Following Matthau's death in 2000, Larry King Live aired an hourlong tribute in his honor, with guests including Carol Burnett, Jack Lemmon and Dyan Cannon, among others.
READ MORE: Famous People Who Went to LaGuardia High School
Art D'Lugoff
Born in Brooklyn in 1924, Art D'Lugoff — the dean of the New York nightclub impresarios — is perhaps best known for turning down Bob Dylan from performing at The Village Gate, which he opened in Greenwich Village in 1958. He also fired Dustin Hoffman for being a bad waiter.
On the plus side, D'Lugoff helped pave the way for some of the hottest young talents in jazz and comedy in the 1960s, giving stage time to the likes of Miles Davis, Aretha Franklin, Duke Ellington, Dizzy Gillespie, Thelonious Monk, Allen Ginsberg, Woody Allen and John Belushi.
Rising rents and financial troubles led to the closure of The Village Gate in 1994. It reopened as Le Poisson Rouge in 2008 with D'Lugoff as a consultant. It's a great spot to see live music to this day.
After D'Lugoff passed away in November 2009, the New York Post reported that he was just weeks away from opening a brand-new night club somewhere on West Houston Street. The club never opened, but D'Lugoff's spirit plays on.