Christopher Williamson is an artist, musician and impresario who has presented concerts around the world; the former night manager of the original Studio 54; a record and video producer; and a sailor who has worked in the commercial maritime as captain, shipwright and un-credentialed engineer for 25 years in the NYC Harbor and eastern seaboard. He dreams of someday 'rounding Cape Horn.'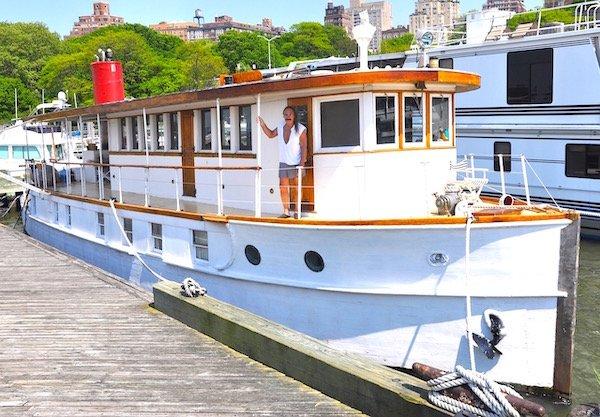 So one day I was walking out of the C Dock gate at the 79th Street Boat Basin, and there was a little old lady standing there watching me most intently, and so I said "hello." After a very brief moment, she looked at me and asked if I knew the person who owned the boat way out there 'on the end'? I said, "well actually, that would be me"!  "Oh my gosh," she said. "I've been wanting to see you for so long to tell you that I live up there in an apartment on Riverside Drive, and every night before I go to bed, I look out my window and see your holiday lights. When I look out there and see them, they always make me feel not quite so alone." She touched my heart, so I told her "no worries," and that my lights would always be up there.
I've never forgotten that. My 'regatta' lights which run from stem to stern up and over the topmast have been lit for decades, and aside from helping sailors get bearings in the night, they have added a bit of charm to the place I've called home for almost 35 years. Well, come November 1st, the 'there,' as in, the Boat Basin, will be no more.
Advertisement



I first came here to visit a friend in 1985, and I remember how I felt with eyes wide open. It was like a secret Wild West in the middle of NYC, complete with drugs, hookers and 130 crazy people. Sheets were hanging in the wind everywhere, and it had that funky and eclectic feel like the Village used to have, and also most incredibly, this place was a secret and unknown to most New Yorkers. Coming from the seacoast of New Hampshire, I had boating in my blood, and the idea of living on a boat here in NYC was exciting. I wanted in, so I bought a boat.
Get The Upper West Side Newsletter
At the time, I was living in a four room apartment with many windows just off Central Park on West 69th Street … and the rent then, believe it or not, was $182.76! Columbus Ave had not yet been gentrified and the area for most was a little dangerous. The dockage at the Boat Basin was similarly inexpensive and was due every six months, which was a bonus for someone on the 'up and up' in the City. When I did finally move onto my boat, it wasn't long before I learned that 99% of the people who lived here were not boaters or sailors – but 'house-boaters' – and were there because of both how cool it was, and being juxtaposed to Riverside Park in NYC, how cheap it was. Truly the best spot in NYC to live!
However, the difficulty of maintaining a boat in general – which is well known and considerable, as I'm sure you've all heard the "like throwing money into the water forever" bit – wasn't quite the issue here for these house-boaters.
The more relevant hardships included: the savage storms which no one living inside the City can even imagine; the constant breakdown of utilities with power, electric and water going out at the worst possible times, sometimes thanks to some of the selfish people living here; the constant fear of sinking; and the incessant collapsing of infrastructure and bombardment with ice and debris.
This is what made enduring life here quite daunting. The fact that none of this came easy was all part of the picture, because despite the considerable burdens suffered, we were all enduring it together. All here were very protective of the place and it was impossible for anyone who didn't belong to come in and walk around. The camaraderie and sense of community, was and is, the most important virtue that life at the 79th Street Boat Basin offered.
Advertisement



One evening during a sub-10 degree freezing February, I was lying in bed with the flu and feeling terrible. My neighbor Aurora called me and said I had to get up and get some chicken soup she made for me. I told her that I wasn't well but I'd come over. I got up, put on a couple layers of clothes, a big coat and boots, and grabbed my dog Maxie who was delighted we were going outside. Aurora's boat was in the slip just by my port and as I got closer, I could see her standing at their doorway near the gangway. I turned the corner to walk up to her and Maxie, smelling the food, made a beeline to Aurora and somehow ran straight in to the river. I actually think I had a heart attack, and shocked with desperation I jumped in after her. The current was flooding quickly and just as Maxie was being sucked under C Dock, by the grace of God, I caught a hold of her fur and strongly swam back toward the gangway where Julius, Aurora's husband was standing. When I got close to the floating dock, I grabbed it with my left hand but because of its height, I couldn't get up and out. I weighed a 1000 lbs. soaking wet with all the clothes and was getting exhausted quickly, and with several attempts was able to get Maxie up close enough for Julius to get a grip on her, and with me pushing her butt, we finally got her on the dock. It was then that I started feeling 'very happy,' like I was on quaaludes, and as I hung there onto his spring line, I realize now that I was freezing and quickly going down. Aurora was sounding the air horn continuously and one of our neighbors from D Dock, Jim Nashura, came to help … and they finally pulled me out. I just lay there on the dock with all the water quickly turning to ice, and remember seeing Maxie running around and jumping up and down. I was so excited that she was okay, but I couldn't feel my legs at all. Aurora was crying and the guys helped me up and little by little, I started to walk and yes, when I got my whits back, I grabbed the soup she had made and they walked me and Maxie back to my boat. We went inside, I threw off all my clothes, grabbed Maxie and a big glass of Jack Daniels, and jumped into the shower to get all that nasty water off of us. A few days later, I learned that Maxie was going blind, which explains why she sprinted past Aurora's cooking and into the water below. She lived to be 15 years old.
So I'd say, oh yeah, the community is by far the best part of living at the Boat Basin.
It was December 11th, 1992 when we got hit with the most violent nor'easter this place ever endured. Both the entire end of C Dock and the abutting seawall were destroyed. The whole marina went dark and the winds remained at a steady 60kts. for 3 days. Many boats sank, and I saved mine by running a hawser from my stern to the only cluster piling still standing. But with heavy damage and debris at both the front and back of my boat, there was no way I was getting out. Luckily having generators, I did have power – but most didn't, and all those who were here came to help. Just seeing people in itself was calming. Charles McKinney, the Commissioner of Riverside Park, came down and stayed until most power was restored and issues of imminent danger were prevented.
After all was done, the Boat Basin took a significant hit and it was obvious that major work had to be done.
Thankfully, Charles McKinney stood up and faced this task head on. He somehow had the savvy to raise the money needed for a complete reconstruction very quickly – a contrast from the present dilemma we are in. Having been the president of the boat owners association here, I had worked with McKinney extensively, and as he was very aware of my professional maritime background, he allowed me to help supervise the work. I can honestly tell you that there was not a day that passed without some issue occurring. During the reconstruction of C Dock, the crew sawed off a piling at the mud line halfway down the dock, and although I complained about it intensely, in this instance it had no effect. A year later, a boat which sat on that piling was holed and had to be hauled out. On another occasion, that same crew removed the irreplaceable ship cleats at the end of C Dock and prepared to dump them into the heap of debris. Thanks to McKinney's help, I stopped them, and they remain the only cleats on the entire sea wall safe enough for anyone to tie up to today.
Advertisement



Charles McKinney stuck through this entire saga until it was all restored. Not once did he make a statement for the press, tout his accomplishments, or call some phony ceremony with the Commissioner of Parks. He was never afraid to get his hands dirty and was always at the Basin helping out with various jobs. He was part of this community. It was a very sad day when we lost his fine leadership to an ignominious commissioner who hired a couple of 'want to be' bureaucrats without one iota of maritime experience.
Okay, before I go on, let's be real.
The UWS for the longest time has frowned upon those encamping at the Boat Basin and because it costs relatively little when compared to Riverside Drive, people don't believe it's fair they have the amenities they do. There is some truth to that, but I truly doubt that any of those regarding this place as a trailer park understand the incredible hardships which must be endured to maintain life here. Living in an apartment, do you ever have to fear the weather? Do you sleep at night fretting about sinking with all your worldly possessions? Are you ever woken out of bed with a forty foot tree crashing against your boat? Or a 30′ by 30′ by 4′ slab of ice crushing you? Think about that part! Regards to the negative image of those here, there have been some sketchy people from time to time, and like any other microcosm, it has had its fair share of creeps. On the whole, however, the community was strong and cohesive.
I recall the afternoon when Henry Kissinger, with an assorted group of people including several body guards, walked down the dock going towards a yacht for some kind of official occasion. When a dog who barked incessantly interrupted their procession, I went over and asked if the owner could perhaps quiet it down. The answer was "get off your high horse, he craps just like the rest of us." So yes, some folks are colorful and some not. But, there are real losers as well – like the guy who froze all the water on C Dock and then went to the only other dock with water, took the hose, filled his boat up, and then left it out on the dock and froze all the water in the entire marina.
There were also those who, during the coldest nights, would use all sorts of electric heaters which were banned, and in doing so, ended up blowing out the power for the whole dock.
But, with that said, unless someone in the apartment above you floods a bathtub and causes your ceiling to come down, how often do you have to interact with creeps like that? You don't, because in NYC apartments you can live for years in a place and never know your 'neighbors.' In a community like this, you have to take the good with the bad.
Advertisement
And speaking of bad …
Around 2005, the NYC Parks Department took over all the Park's marinas and bestowed the supervision of this 'marine division' to two individuals who, as previously mentioned, had no marine experience whatsoever. Naturally, the first thing they did was brusquely fire anyone who might be able to contradict their misdirection. Shortly thereafter, they declared that the Parks Department would no longer issue contracts for the boaters, and they'd be replaced with granted 'permits'. At the time, still the president of the HHPA, the boat owner's association, I called a general meeting explaining what Parks was attempting to do. We had fought long and hard to retain our 'contracts,' which gave our existence at the Basin some legal legitimacy, and if they took those rights away they could do anything they wanted forevermore (if your dog peed on the dock they could boot you out!). Well after my oration they insisted that I was being unrealistic, and they stupidly voted to go along with the new administration because they believed "it's a new management, they can't be so bad!" A month or so later, one of our longtime residents of 35 years had an altercation with the then corrupt 'dockmaster' about his dog's behavior and actually ended up being evicted by Park's police. As the cops wrestled this 80-year-old off to jail, I heard him yell  "they can take me, but I'm going down hard," and saw that 'dockmaster' smirk and light up a cigar!
I told them this could happen, and since having little patience with spineless people, I bowed out. From that time forward, I washed my hands from anything political occurring around here.
A hideaway for the rich and famous
I remember one day when I was working on the back deck of my boat, I looked up and saw Linda McCartney walking right up to my gangway where my dog Maxie was sitting, and Linda started patting her affectionately. We started talking a bit and then I had to clear my eyes because, walking down the dock with a guitar strapped on was Paul McCartney … coming right up to us. They said they loved it here because it felt so free and unattached to NYC, and they loved Maxie. Linda explained that she got her start working as a photographer jumping on a boat just down the dock from where we were. Can you believe it?
The same scenario occurred several times with John F. Kennedy Jr. and Carolyn Bessette. They loved coming here and seeing Maxie. She was very lovable, and so were both of them. I had a crush on Carolyn and felt he would become the best president of all. I felt so bad when their plane crashed.
I did a major party for the King of Sweden, or Norway, I forget, with 100 guests on the dock where they set up a large tent near my boat. I had to agree to allow the King's use of my master bath, if he needed it!
I did a charter for Henry Clay Frick II honoring his upcoming birthday. Yes, as in The Frick Collection family.
My friends Joey Ramone and Dee Dee Ramone used to attend parties here all the time.
Andy Warhol and Stephen Sprouse came to visit one early evening when they were in the neighborhood. I was invited to his house once for lunch and so I invited him here. He took me up on it.
My friend, designer Catherine Malandrino, has had several parties here on my boat and usually stops by when she is in town.
I did a party for Elite Models and 300 beautiful people who sprawled my boat and most of the seawall. My friend Russell Simmons showed up with several gorgeous dates.
Alice Walton came to my boat with my friend Moey. She was smashed and while falling into my arms, looked over my shoulder and asked "how is it that you have a Tiffany's hat hanging there?" Moey said, "how does it feel to hold a 65 billion dollars"?
Sir John Tavener graced my boat with his presence around the time of his concert at St. Ignatius Loyola. One of my greatest events including Sir Paul McCartney.
I helped Walter Cronkite get on and off his son's boat which was tied up right next to mine. I felt honored to meet him.
"60 Minutes" with Dan Rather was shot on my boat. He loved boats and was a very friendly gentleman.
You've Got Mail was shot on my boat and used as a dressing room.
"Law and Order" was shot with my boat in the background
"3rd Watch," another crime show, was shot on my boat.
I did a party for my friend Edgar Sanchez who came with his pretty new German wife and a group of a-listers including the most famous Ralph Lauren model at the time. I sat next to the then 'it' CoverGirl but spent most of my time talking to a woman across from me who was charmingly friendly and had an infectious laugh. I walked her out to the car that she was waiting for her and said goodnight. The next day, I asked Edgar what that woman's name was and he said "Chris, are you kidding me? That was Marisa Tomei."
The TV show "Believe," a J.J. Abrams project, was shot just across from my boat (not on it because of a technicality).
Mike Tyson was a frequent guest on the superyacht M/Y Summerwind which I captained, and its famous owner and all of his friends loved it here at the Basin. One day I tied her up just down the dock so I could spend the night on my own boat, and in the morning, found Iron Mike sprawled over and trashed on the dock just outside. After partying all night he looked terrible and I went to him and said "Mike, get yourself together, you can make a comeback man, Cmon!" And then I walked him back to Summerwind.
Katie Holmes, walking down the dock with her daughter, asked me about my boat. Before we could say very much, Jamie Foxx swooped in with a big boombox on his shoulder and that was the end of that.
Woody Allen's Anything Else with Christina Ricci was shot on my boat. He was fantastic and obsessively squirrelly. She was tiny.
The Rolling Stones "Steel Wheels" tour took off from here, free of charge.
I had the cast and crew of "Good Morning America" with Charles Gibson on September 11, 2001.
And, when flight 1549 landed in the Hudson, I was here and saw it go down and ran and tried to untie the Parks Dept. vessel which for many years I'd been using to aid the marina workers. A dockhand came out from the office and said that he was just on the phone with the manager who said I'd be arrested if I went to help with their boat! "And that's the way it is," now.
Advertisement
All of the wonderful occurrences mentioned above were inspired by the Boat Basin's beauty and unique separateness from the City.
As time goes on, however, stories like these and many more are increasingly becoming muddied by the arrogance of a management which holds itself above vulnerability.
And, by management, I do specifically mean policy coming from the Arsenal, which continued on hellbent to stamp authority and sanitize the Boat Basin. They outlawed anyone from running commercial charters based out of the facility and prevented the TallShips which had been welcome here for many years from tying up. Now, none of them want to have anything to do with this place. They instituted a flurry of new laws and regulations, and among other things, started charging insane and untenable location site fees with demands for control – which completely eliminated the extraordinary film and television events we always had previously. The industry told them to buzz off, and since that time no film or TV show has been shot here on my boat or on any in the marina.
The likeness of the Boat Basin that I first came to love was quickly becoming something gone forever and falling into total collapse. No more the iconic beauty and craziness permeating the atmosphere, all of it destroyed and soon to be replaced by a dock-master's building which is more suitable for an Atlantic City casino parking lot! If only the kind of talent who created the Rotunda here at the Boat Basin and Pier A on the Battery were around now, these people responsible in the Arsenal would be fired in a second. I promised that I would wash my hands from anything political occurring around here, that is, until now. So to the present …
The NYC Parks Department has ordered the evacuation of all those who tie up here and demands that all are gone by November 1st.
This, they say, will allow the necessary dredging and eventual reconstruction of the facility to begin. It should be mentioned that over two years ago, the Parks Department ordered all cars in the garage under the Rotunda to be vacated because reconstruction there would begin immediately, but as of yet, not one thing has been done.
This demand for all boats to vacate the Boat Basin was precipitated  a few months ago when surveyors for the EDC condemned the C Dock gate structure claiming it is unsafe. The fact that this structure has been slipping downwards incrementally for the last 25 years means nothing to them since they simply just can't sign off on it. As a consequence, the Parks marina staff assembled a detour with a gangway and 2 floating docks which allows one entering the marina for C Dock to use instead of the main gate. Without exaggeration, this solution has to be 1000 times more dangerous than the very remote possibility of the C Dock gate structure collapsing at the most, maybe 6 inches!  When battered with wakes, this detour is almost impassable. Try and imagine what it would be like with glare ice on it  – you're going to be swimming with the fishes! That's the kind of decision making the City makes! And again, this not a reflection on the workers of the marinas, but those dictating policy and giving orders from the Arsenal.
That said, the simple facts are dire. Coupled with the C Dock structure issue, the main seawall which is completely shot and worm eaten and the entire infrastructure either dilapidated and or collapsing, The Parks Dept. is clearly cutting there losses with the announcement of this closure – no question.
My very closest friend here at the Boat Basin was Glen Gari, and he was the son of the famous Metropolitan Opera singer Giulio Gari. Glen's family kept a boat here for many years and at one time actually had Jacqueline Kennedy on board visiting, in private. On March 20, 2016, Glen returned from his mother's apartment on 72nd and Broadway. It was a freezing rain, snowy night, and when Glen came back to his boat, he slipped off his perilously shaky finger dock, and drowned. I spent the next few days with Harbor Charlie searching for his body with no luck. A week later I had my friends from Dive Tech come in and search every yard in the marina, but still no luck. Seven weeks later, Glen's body was found down river near the 59th Street sanitation piers. I will never forget. Thinking about this present detour from C Dock brings that tragedy back, and I would never want something like that to ever happen again.
The remaining residents here reacted strongly and their first plan was to mount an attack which would stop the Parks Department from proceeding. Considering how much of the marina is now condemned and/or dilapidated, I believed this was not the way to go. Rather than inhibit their plans to move on, why not encourage an exciting new plan, which with updated improvements, would eliminate the many factors that have caused its present demise? I wrote a letter to Boat Basin residents and Community Board 7 explaining in some detail what that could look like. My central message was that it would be far better to seek improvements. The focus should be on the real issue, which is, how does the Parks Department actually plan on rebuilding the Boat Basin?  Otherwise, when we return it will be " take it or leave it."
Advertisement
With November 1st around the corner, they have still not put forth a plan which would provide the most basic and significant information required.
I am deeply concerned and after examining their preliminary proposal, see that nowhere does it address the most important aspects necessary to be included in the reconstruction, which are:
The general layout cannot duplicate the footprint which exists. The southern entrance has to be blocked so ice and debris will no longer enter the marina and destroy it once again. It appears that their illustrations indicate that they are not even thinking about this. Why cheap down on something so important?
What type of sea wall? There are many out there. And what materials and components will be used to construct it?
Three separate cuts into the western sea wall should be the means of vessels to come and go, thus with the entire marina enclosed otherwise, the facility would have the most integrity.
What type of pilings will be used? If they are steel they cannot be mated to finger docks which encase them with metal enclosures. Lincoln Harbor Marina made this mistake and none of the residents could ever sleep with the constant racketing.
Boats cannot be oriented north and south like they presently are, leaving their broadsides open to dangerous and destructive wakes which will always occur here because of the escalating ferry traffic. Any maritime professional in the harbor understands that the impact of wakes far outweigh the ebb and flow of the river. The floating docks have to be aligned so that boats will have their bows perpendicular to the river.
Particularly with dredging, what do they propose? How deep are they going to go?  6,' 8,' 10′? We should be concerned. What assurance will we have that they do the job properly? One of the last outfits who worked here spent two days trying to get out the piling off the port side of my boat and they just gave up and left it! Others were cut and left at mud level until I got on their back with Charles McKinney's help.
Their ideas for a 'dock-master's' office building are horrendous and need to be more artistically mated with a location which abuts Riverside Park, not a municipal parking lot.
I've lived through the shaky beginnings of this present Parks Marine Division and I did have concerns. Now with the daunting task of rebuilding this marina and actually managing it, I am very concerned. They couldn't manage fifty slips before, and now they boast a few hundred to come with petty improvements for publicity! I am the only maritime professional who has ever lived at the Boat Basin with credentials as a captain and shipwright, and as the 'go to guy' helping previous dock-masters here for decades, I believe I have the right to speak up. The desperate shape of this marina is a direct result of their negligence and putting millions of dollars into the hands of those same individuals without supervision, gives one pause, and would actually be insane in the real business world.
The recent past involving the reconstruction of A Dock (public dock) is a perfect example. A Dock was mostly sunk long before Sandy, and when it hit, additional damages allowed the Parks Department to procure funds from FEMA for construction, unlike the many poor people who lost their homes! When this project was in its infancy, I made several attempts to convince Community Board 7 and the Parks Dept. to build a dock with an elevation height which would compensate for the yearly rise of tide and bad storms. I supplied pictures and measurements from all new dock construction around Manhattan verifying the importance. No one listened. They said I was being histrionic and the Parks Dept. proceeded to rebuild A Dock with the plans they had shook hands on previously. Not even three weeks after completion, the newly constructed dock was under water with a storm. They also constructed a large cluster piling which was ridiculously misplaced, protruding from the northern part of A Dock's seawall, making tying up for large boats next to impossible. I sent pictures of all this to Community Board 7, displaying what they and the Parks Dept. had approved.
These are multimillion dollar blunders committed during their watch. What assurance do we have that this same type of stupidity will not take place again?
Who will be supervising this construction now? The Parks Department?
As a remedy, I am proposing a plan which would allow an outside maritime professional source to oversee the construction. It is my sincere hope that with the aid of Community Board 7 and other elected officials, this can be accomplished, and the Parks Dept. might step back a little and listen to the experience of experts. With the right direction, the 79th Street Boat Basin could become the 'Newport' of Manhattan and an incredible 'go to' attraction for the City.
When and if this happens, I know that most of the community which was here will be gone, but the mostly serene and sometimes apocalyptic beauty I've always enjoyed whilst living here on the Hudson will remain. It's not something I would change for anything. For me, it's the best spot in town and I hope they don't screw it up too badly. If they don't, rest assured my boat – the oldest Mathis/Trumpy in the world, listed on the National Register Of Historic Places – will return, and her 'regatta' lights will shine up and over the marina once again. I just hope that little old lady is still around to see them.
Capt. Chris Williamson