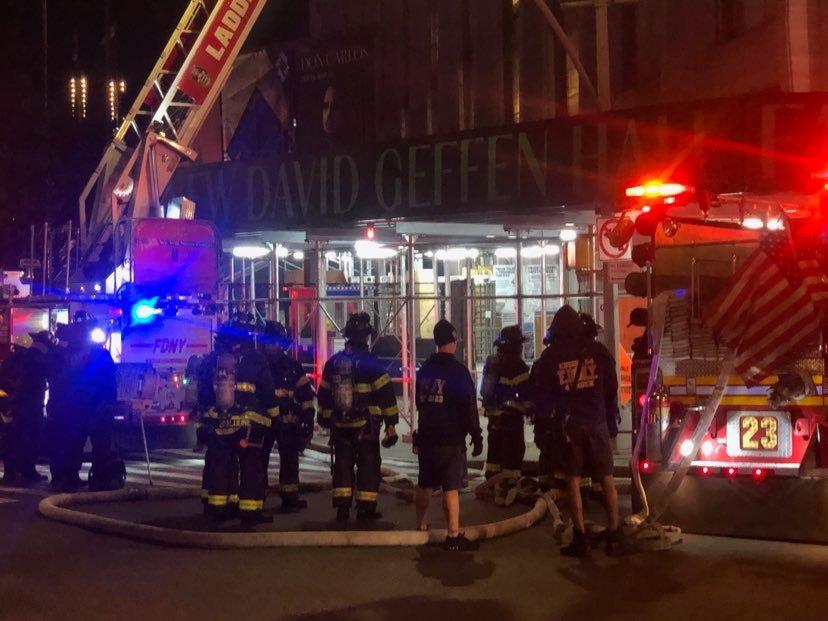 At around 1am on Wednesday, the FDNY received a report that a fire had broken out on the roof of David Geffen Hall, the renowned concert space where the New York Philharmonic performs. The space is currently being renovated for an October reopening.

Advertisement



Roughly fifty firefighters responded to the call with a fleet of firetrucks spread along Columbus Avenue and West 65th Street. The NYPD blocked off traffic on Columbus Ave in front of Lincoln Center Plaza while emergency medical technicians stood by with multiple wheelchair stretchers in tow.
The FDNY extended two ladders to the roof of David Geffen Hall to check on the blaze, with only a few people watching the events unfold from the street below.
"It's just a small fire on the sixth floor," said a firefighter on the scene at 1:55am.
No injuries have been reported at this time, according to the FDNY. The cause of the fire is still under investigation.
An FDNY spokesperson described the response as a "Manhattan all hands call," with the roof fire being extinguished at 2:03am.
Video of the roof fire was posted by @BillDemocrat on Twitter.
@NY1 @wabctv @1010WINS Fire on roof of David Geffen Hall, Lincoln Center pic.twitter.com/ECit4gbTUr

— ????? (@BillDemocat) March 23, 2022