Floating Mountain Tea House is set to reopen at 239 West 72nd Street on August 28, the owner has informed us.

The 2nd floor tea shop, located between West End Avenue and Broadway, first opened its doors in 2017, but was among a long list of places forced to close in 2020. At the time of its initial closing, Floating Mountain relocated to an upstate property in Croton-on-Hudson.
But "after a year of hiatus, Floating Mountain's 72nd Street location is reopening for pre-booked reservations and walk-ins," the website reads.
Reservations for the shoe-free tea house can be made for floor or window tables, which respectively seat up to six and four people. They also have counter seating available which starts at $16 per person. Table reservations start at $48.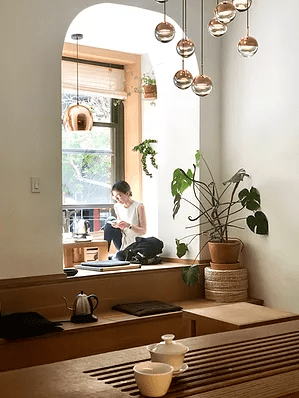 Hours of operation will be as follows:
Monday: 12-8pm
Tuesday: Closed
Wednesday: 12-8pm
Thursday: 12-8pm
Friday: 12-9pm
Saturday: 12-9pm
Sunday: 12-6pm
Learn more at www.floating-mountain.com.