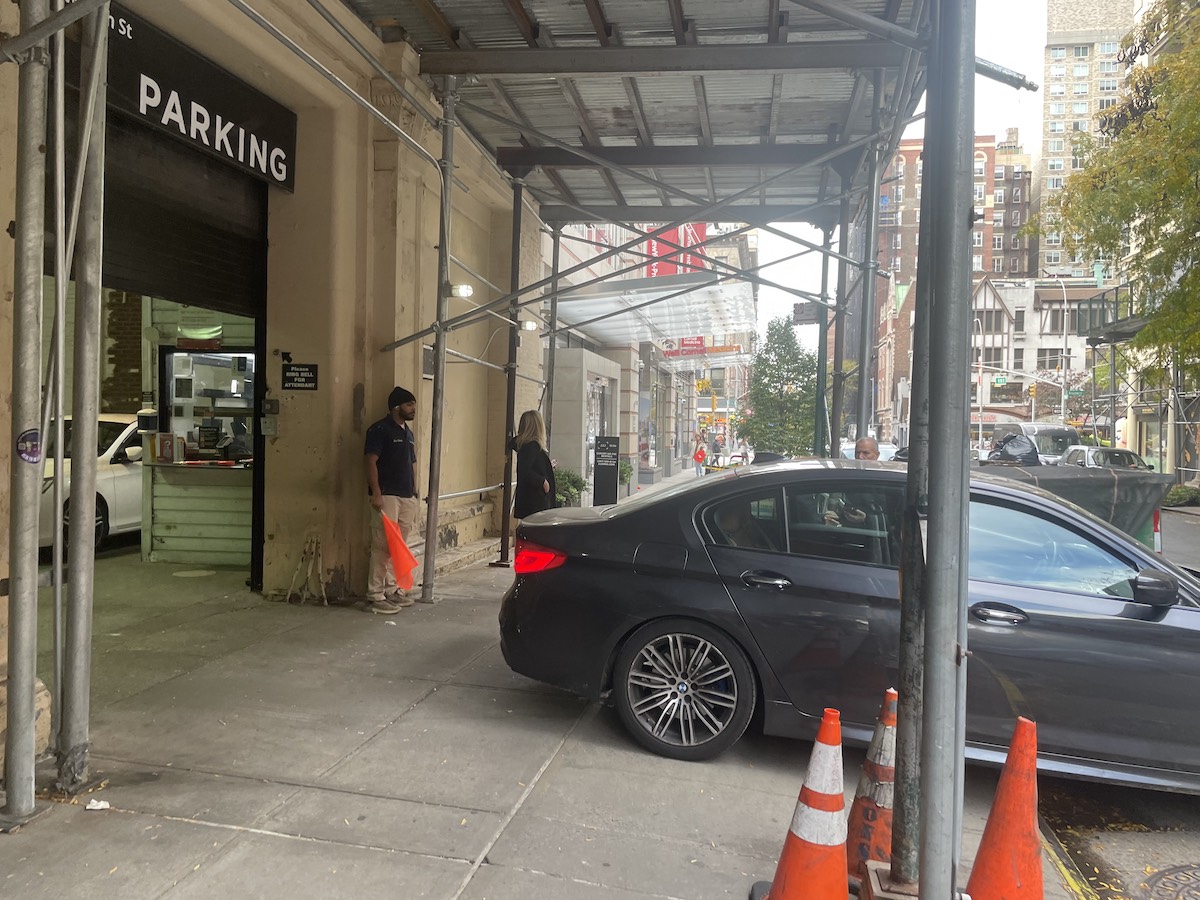 An Upper West Side garage shut down suddenly on Saturday, leaving motorists stranded and unable to retrieve their cars.

Advertisement
Frieland Garage at 214-216 West 80th Street, between Broadway and Amsterdam, was closed by the city after conditions were found to be "imminently perilous to life."
The garage, managed by SP+ Parking, was shut down so quickly and unexpectedly that customers were completely unable to respond. According to one customer, "some people had just parked for a few hours and went to Zabar's. When they came back, the garage was locked up."
One angry customer vented his frustrations on Nextdoor, writing "SP+ did not notify their customers until an hour or so before they were forced to close. There are now something like 80 cars stuck inside. My car has been kidnapped!"
ILTUWS went to Frieland Garage on Monday and found it was finally open, surrounded by customers waiting to retrieve their cars.
According to one woman we spoke to, "SP+ was not picking up the phones" when the crisis occurred. They only began truly responding on Monday, finally coordinating a retrieval system.
It's not clear how much notice the garage had, but according to one employee who didn't give his name, the garage was already in the process of doing construction to upgrade the facility before the shutdown. However, the Department of Buildings made the decision to close them down until repairs could be completed to get them up to code.
Advertisement



The garage issued the following notice to customers (although it was of little consolation to those who found their cars trapped over the weekend):
Thank you for your continued patronage and for being valued customers. Your monthly parking garage has been shut down by the city. With this in mind, if your vehicle is at the garage, we will let you know when to come and remove it. We will help you find an alternative garage until Friedland Garage opens back up. For any vehicles not currently in the garage, you can park it at 165 West 65th Street temporarily.


We will keep everyone informed on when you can return your vehicles to Friedland Garage. We appreciate your understanding and apologize for any inconvenience that this may cause.

The Friedland's told us they will spend the remainder of the week contacting customers to coordinate the retrieval of their cars and SP+ has promised refunds to the irate customers. However, the company has yet to issue those refunds, with one customer telling ILUTWS she was on an email chain "with about 90 people' trying to work through the issues.
However, even with all the stress, she made sure to note that the customers weren't the only ones suffering.
"I just feel bad for the workers," she said. "Lost wages, lost tips, the holidays are coming up. I hope they can find new jobs."