The recent rumors are true. On Thursday morning, the Riverside Park Conservancy officially announced that the goats will be returning to the park on July 14, which will be celebrated with a "Running of the Goats."

This year's announcement was accompanied by a giant billboard in Times Square, showcasing the goats in action, as part of Morgan Stanley's Lights on Broadway Initiative.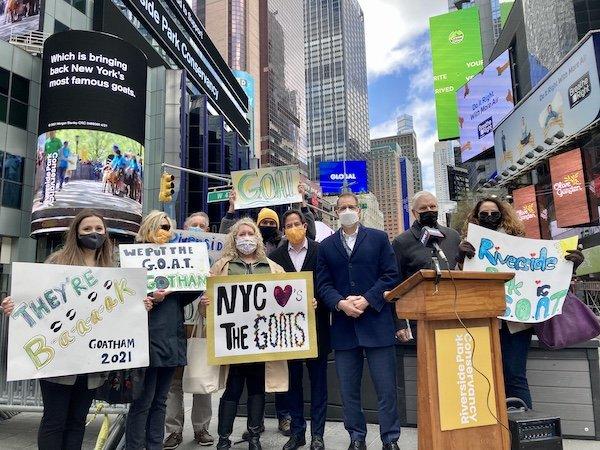 "You've seen Cats, now come see our Goats," said Dan Garodnick, President & CEO of Riverside Park Conservancy. "It is fitting that the insanely popular Riverside Park goats would light up Broadway in celebration of their big arrival."
"Like the annual reemergence of the Swallows in Capistrano, Manhattan now has its very own traditional migration legend – the return of our beloved goats to Riverside Park," said Council Member Mark Levine. "This innovative program has been so successful over the past two years, not only because of the goat's expert ability to eat invasive and dangerous plants that have taken root in the park but because it has captured the admiration and imagination of so many New Yorkers. The Riverside Park Conservancy's GOATHAM program has been an incredible conduit to get our community invested in our public parks and is fun way for all of us to enjoy the joys that come with being connected with nature."
The Conservancy has opted to bring goats to the Park as part of its ongoing work to rehabilitate a woodland habitat in the area between 120th and 122nd Streets, just off Riverside Drive. Goats are an eco-friendly and highly popular way to remove invasive plants.
Visiting the Conservancy's goats was called New York's "best first date spot" in 2019. The goats are expected to stay from July 14 through the summer.