Guardian Angels founder and CEO Curtis Sliwa agreed to meet with the Facebook group Upper West Siders for Safer Streets this weekend. He agreed to meet with them after receiving many messages from local residents distressed about the current status of the streets on the UWS.

Sliwa and his Guardian Angels are credited for helping to clean up the streets in the late 1970s when the city was known as a violent and unsafe place.

"Residents of the City resigned themselves [the] reality as the politicians and police seemed powerless. However a young man from Brooklyn, a former Jesuit student, felt someone had to do something. So he stepped forward. He knew that the City he was born in, the City he loved, deserved better," states the Guardian Angels
website
.
The Guardian Angels program not only helps reduce crime, but has created an outreach program to help under-served youth. Sliwa is also running for Mayor of New York City in the upcoming election.
"He is a real life Batman," said one member of Upper West Siders for Safer Streets. "I hope he knows we feel that way," she said.
The meeting took place on Saturday at 2pm at the Central Park entrance at 72nd Street. Another meeting is scheduled to take place at the same time and place on Sunday, too.
Sliwa committed to having 60 Guardian Angels patrol the UWS.
Photos below by Christopher Yewchuk: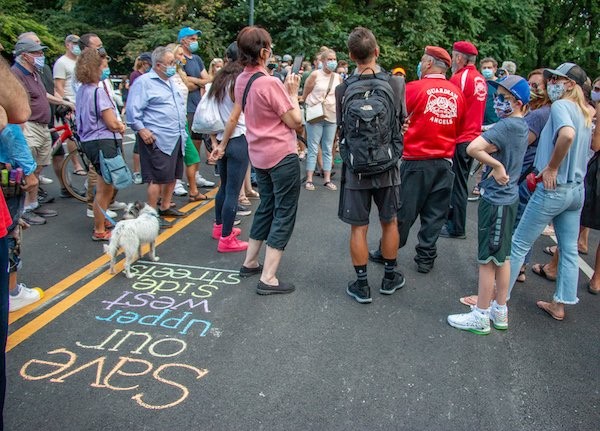 Many people no longer feel safe in the areas surrounding the hotels – with many particularly concerned about the registered sex offenders still residing at Hotel Belleclaire.

Sara Lind
, who is running for
Helen Rosenthal's
City Council position representing the UWS, has been outspoken about her support for those being housed at the UWS hotels. Lind also
launched a second petition
in response to the homeless crisis on the Upper West Side.
"A narrative I've seen about the shelters in hotels is that individuals are being "warehoused" and not getting any services. I'm not sure what "warehoused" is supposed to mean when we're talking about housing large numbers of human beings, but they are getting services," she tweeted on Friday night.
Lind is encouraging people to show up at the hotels and welcome the residents with baked goods and sidewalk chalk on Sunday morning in a show of support for them being in the neighborhood.
When asked if she would be showing up on Sunday to bring supplies or to do artwork, one UWS parent said, "No, and one has to wonder if those showing up to welcome the residents of the hotel are bringing their children with them."