At about 8pm on Tuesday evening, the driver of a grey SUV found himself on the sidewalk on the north side of 77th between Central Park West and Columbus Avenue, right by the American Museum of Natural History.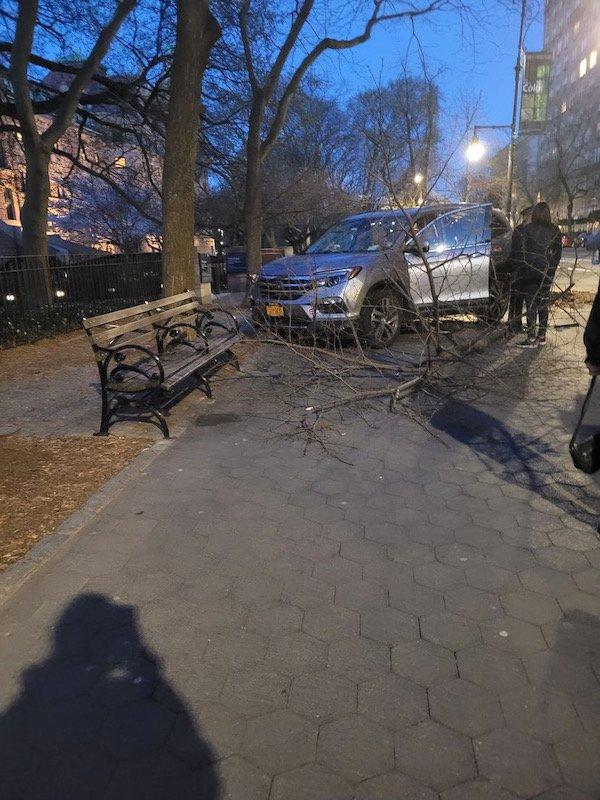 Our tipster tells us that the driver was a doorman parking the vehicle for one of his residents.
The sound of the crash drew a small crowd to the scene, and another doorman reported the incident to the police.
One bystander expressed how lucky he was, as he was just a few feet away from getting hit.
But apparently nobody was hurt, and the car was moved at approximately 8:30pm. We reached out to the NYPD press department and they sent us the following comment:
"On Tuesday, March 6, 2021 at approximately 2000 hours police responded to a 911 call of a single motor vehicle collision in the vicinity of West 77 Street and Columbus Avenue within the confines of the 20th Precinct. Preliminary investigation reveals a 60-year-old male was attempting to park a 2018 Honda, accelerated, mounted the curb and came to a rest. The operator of the vehicle refused medical attention on scene and there were no other reported injuries."
Our tipster and the person who took the photo above was Aliza Ross, whose debut novel was actually just published. Asymmetrical Woman takes place on the Upper West Side.
Ross' smart, racy debut novel follows an UWS woman in a disintegrating marriage who develops Bell's Palsy paralyzing her face and her plans. It explores the inherent contradictions and contemporary dilemmas of marriage, motherhood, and work.

Here's a link to Aliza's book.