Dr. Nalyn Russo Marcus is a New Yorker and grateful marina alumna. An ex-Pat practicing in Pennsylvania, Nalyn is a Chiropractor, writer and mom, and enjoys singing and travel.  A semester abroad was chosen instead of the Navy –  but life on a boat was destiny! Central Park, Zabar's and the 79th Street Boat Basin remain in her UWS Top 10.
Following my heart and an innate sense that time was of the essence, I took advantage of the gifts of daylight and warm October temperatures, filled up my Forester and made my way into the City to say hello and goodbye to my old neighborhood, my magical time as a renter at the 79th Street Boat Basin. (A tea leaf reading on my 22nd birthday said: "I see boats, lots and lots of boats in your future" … another story for another time).
Hospitality was served first. After scoring the elusive NYC parking space, even rarer on a Sunday, I headed down along Riverside Park to the wide, winding staircase below the traffic circle. Passing through the impressive arches of the now quiet rotunda, it was then the first familiar view greeted me. Ah! The Boat Basin! I was full of happy anticipation.
Advertisement



I was met at the gate by my 1980s former boyfriend. Appropriately so. Gary was the first to introduce me to this wonder, and as this visit was likely to be my last, events had come full circle. Having lost my sea legs, he assisted me onto a long stretch of floating docks, since a ferry had just passed causing a wake. (I'm sure I would have handled the rocking motion with ease … 40 years ago).
Gary (white-haired now but still ponytailed) and I quickly caught up on current events and family news. I'd lost precious minutes in my parking scavenger hunt, so in short order he was off to a folk dance class. I greeted his dance partner, said hello to his daughter and he headed out, sending regards to my family but not before guiding me to my next nostalgic moment. A short reunion perhaps, but I call those opportunities 'half a loaf' moments. Glad for at least these few minutes after many years, and better than none. How poignant that the marina would be unlocked for the first and last time by the same friend, four decades between. The moment was not lost on me.
I then boarded the Coda, the charming motor yacht home of my host for the afternoon.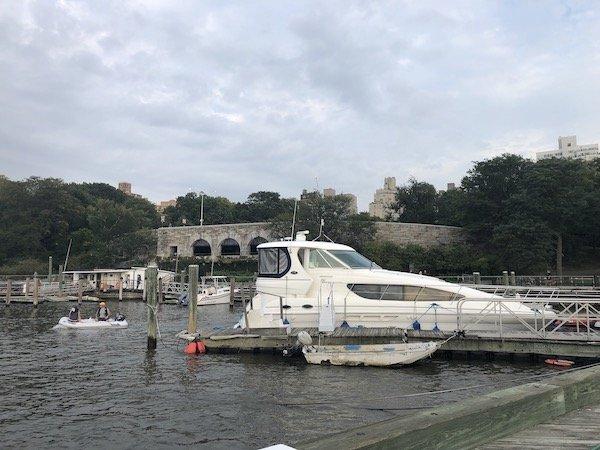 Warmly greeted by Ed Bacon, ever the gentleman, we shared life happenings as the gentle river rocking brought me back to the special calm that was always here. We exchanged easily, touching on life, memories of sailing outings with him and his wife, recalling 9/11 and other stories of Boat Basin neighbors from my time here. All the while getting full attention from their new puppy! So glad I had that time with him. Some folks you can just fall back into easy step and rhythm with, even after years apart. Ed is one of those, and I am grateful.
Advertisement



To this day, living at the Boat Basin aboard the Gloria remains one of the best decisions of my life. Just $250/month in the early '80s got me a sweet rental, a 34 ft Seagoing. My first 'apartment' was a houseboat!
Though the Gloria stayed put on D dock (read frozen engine), I got to experience a floating dream within this tight knit year-round, alternative community. Of course I'm forgetting about the freezing dark and sketchy walks, to and from Broadway and 79th Street to my job downtown. My NYC radar was up as I walked down from the corner to West End and Riverside, through the park, under the West Side Highway and through the rotunda before emerging to the river walk and safety of the marina gates. I can recall too, hunting down the water line to drag it back to fill my tank for a shower. And I'm happy to erase the aroma of low-tide! But it was all part of the marina experience, which included the views, the friendships and sense of community, the beauty and scents of the cherry blossoms blooming above me each spring in Riverside Park. Recalling too, if I was out sick, I could just take my blanket and chicken soup up to the top deck. All of life is pluses and minuses, high tides and low. We often edit the past, saving only the best memories. But I'd do it all again. And though our lives took different paths, I have Gary to thank for introducing me to a chapter of living so uniquely outside the box of Manhattan rentals on land in the 1980s.
The warm October sun moved lower, and as 6pm approached, Ed and others headed out to the docks. Residents slowly made their way to two picnic tables right on the seawall's edge.
Arms toting cheeses, fruits, hummus, strudels and more. Just seeing the Zabar's bags made my heart smile and I sighed. Living out of state now, but proudly born here, a piece of my heart and history will forever be on the Upper West Side. And with the cloudy sunset sky, the gentle motion, and nothing between us and the Hudson, it was like God was letting me taste this sweet memory again, just for this brief moment.
I was totally kvelling.
Advertisement



These boat owners would soon have their meeting, which is what prompted me to drive out this afternoon. Reading the current events in shared emails, if I didn't come back now I might not have a second chance. Non-running boats and floating homes were already gone. Marina resident parking, gone. They'd be discussing what is to become of their final weeks here, as well as what might yet still be done to preserve their right to return to a life here in the future.
The 79th Street Boat Basin is slated to close to all residents on November 1.
Sharing food and nods over criss-cross conversations, I took it all in. My New Jersey childhood just across the river as our backdrop. How many times over the years had I gazed over the boulevard cliffs in Weehawken to view my happy place, the nestled boats across river, once my home.
But on this day, although I'm welcomed, I'm now a guest. An ' I used to live here' spectator from the faraway past.  While this is true, we all share a unique bond; I too had enjoyed this life. These same folks have been here 30, 40 years to my barely 2. And yet, I am still one of them. I KNOW this life; this life was once mine. And I wish that this place, this experience – would always be here to come back to for me and for all of us who ever called the Boat Basin home.
And I don't want this life to change for this community of New Yorkers …
But here we are.
Fast forward. Times do change; policies change. Weathering and unattended disrepairs now mandate their relocation. But couldn't these repairs be done while preserving the Boat Basin as their home? Depending on whose opinion and inspection reports you believe, they could. Two engineering reports don't agree. Legal back and forth has been ongoing.
Arrangements are in place to sail their vessels and their lives away. To assorted other marinas: Jersey City, Rockaway and more. Breaking up this rugged, nautical, urban experience and this floating West Side neighborhood. My heart breaks and if mine does, how must it be for them?
The marina project is not slated to begin until 2023. Then the disassembly, redesign and recreation of a new, more sustainable marina, which will take several more years. Another winter here could be iffy some say, but again, which structural opinion is true? This has been for many, a year-round life (people forget; Manhattan's an island) and these liveaboards will be split up, displaced. And I wonder; some may not weather the long hiatus to return; the core group, though quite hale, is getting up there in years.
My take on it: The NYC Parks Department and politics, policies, the times are all circling the 79th Street Boat Basin. Events and reports and meetings have snowballed into this. And for sure, the cost of living in a future, shiny new (bougie) boat basin will grow to astronomical heights. Talk is, the city powers that be would prefer it not be a year-round offering, so perhaps this was imminent. Let enough upkeep go, and time and nature will take care of the rest. Then, get forced out in the name of safety and progress.
Party's over …
Advertisement



A piece of New York's history and charm, gone. Vanished. I get it. A better, more updated and functional design. But is it really necessary to erase what was, is the question. So many parts of New York have been torn down and lost to progress. Books with glossy images show us the Manhattan of long ago. The 79th Street Boat Basin will be depicted from its heyday, destined to become one more chapter and verse in a sepia tone hardcover book on someone's shelf or coffee table.
So today, I carved out precious time. I drove from my home of now to my home of then. To reconnect briefly with my marina friends of yesterday and take in one last, long gaze at what was an unbelievably wonderful chapter in my life. I was just 23, fresh out of college with many blank pages to figure out and write on. Still writing, still figuring it out.
But this page is indelibly inked.
"I lived here from '80-'82", I share. "D dock. On the Gloria. I'm Nalyn".
'Oh yea! Hi Nalyn!'
So glad I was on the mailing list. Thank you Ed. Gary, Reggie, Princess, Daria, Dick, Simone, Raquel, Werner, Bill, Milo's parents and Mindy. My heart is full. Thank you to those who remember me. I remember you. It was a lovely afternoon, sunset and all-too fast dusk. I hope and pray it all works out fairly and in everyone's best interest. I toast you all. For the boat life you live, and that we all loved here.
Back home now. I didn't plan on writing but it was in me to capture this so I won't forget. I'm tired but with any luck, I'll fall asleep easily, recalling the taut ropes creaking, the Gloria swaying, lulling me under to slumber. Thank you God for this chapter. Lucky and blessed.
PS – I was wrong. Sleep didn't come easy.
Boat Basin memories on the brain …