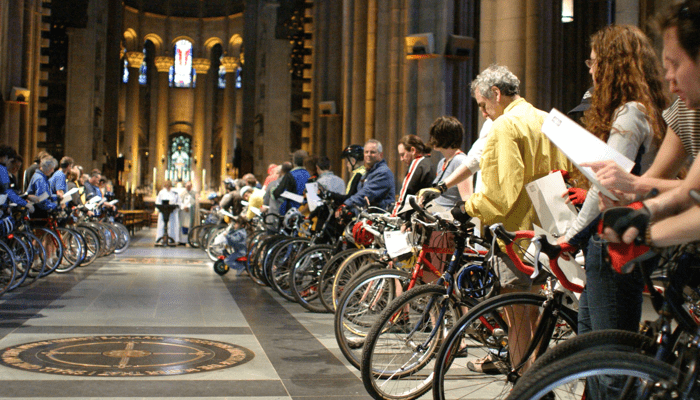 The 24th annual Blessing of the Bicycles will take place at the Cathedral of St. John the Divine on Saturday, April 30 at 9am.

The event is held inside the church, where hundreds of cyclists from different faiths (including those who are not religious) gather while Father Patrick Malloy says "a few kind words and then sprinkle[s] our bikes with Holy Water."
Advertisement



The ceremony is expected to be brief, so those who wish to attend are encouraged to show up at 9am sharp.
There will be a moment of silence to remember cyclists who have passed in the last year. "Everyone will then ring their bicycle bells in celebration of the cycling season to come."
The Blessing of the Bicycles has been a beloved service at the Cathedral for decades, and riders are particularly welcome for this first year back inside after the COVID-19 pandemic. The unique service is open to everyone who gets around town on a bike, scooter, skates, unicycle, or other form of human-powered vehicle.
Here's a short clip from a previous Blessing of the Bicycles:
The Cathedral of St. John the Divine is located at 1047 Amsterdam Avenue (at 112th Street).
To learn more, visit this page.