You've no doubt seen them around the city. Whether on a streetlight, a wall, or increasingly, on the ground. Red and white posters, emblazoned with the words KIDNAPPED and a plea to help bring them home alive. In the middle, a photo of an adult, a child, sometimes even an infant, each one of the nearly 250 people currently held hostage by Hamas.
Advertisement



The posters started as an effort by Israeli artists Dede Bandaid and Nitzan Mintz to bring attention to the abducted, but since then it has blossomed into a global movement, with passionate activists putting up posters (and others tearing them down) across the world, from London to Sydney to right here on the Upper West Side.
ILTUWS ran into one of those activists, Shira Leonard Shailin, as she was hanging one of those posters on a streetlight on 66th and Columbus Avenue. After verifying that we weren't there to tear her posters down, assault or scream at her, she agreed to speak with us, telling us about her motivations, her story, and what brought her to that streetlight that day.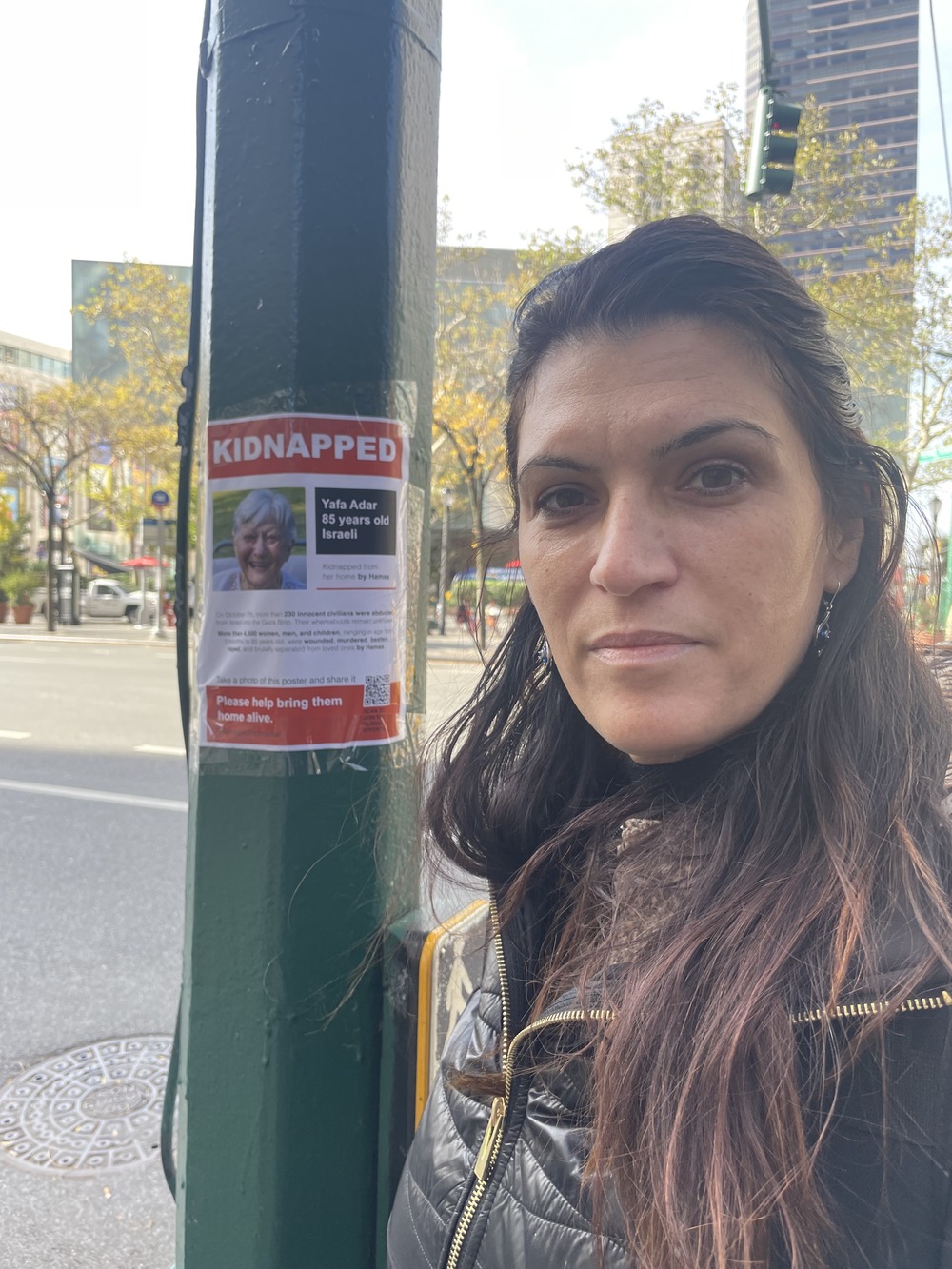 "I'm all for my country, trying to help from here, from away," said Shira, who lives in the city but was born and raised in Israel. "Cousins, aunts, parents, everybody's in Israel right now."
Advertisement
An Israeli flag on her back, her nails painted white and blue, and her ring finger bearing a tiny Star of David, it was clear that Shira was proud to, quite literally, wear her heritage on her sleeves.
"I walk with the Israeli Flag with no fear" she said. "They're not afraid, we should not be afraid."
"I want the world to understand how wrong it is to take a child and put him underground away from his family, he doesn't know where he is. It's a trauma for his entire life."
She was carefully gluing posters of some of those children to a streetlamp when we first encountered her. Gluing, she said, as opposed to taping, in order to keep them safe from some in the anti-Israel movement, who have taken to tearing them down.
Advertisement
"If you just put tape it's an easy rip off but if you spread glue, like Gorilla Glue instead, it's really hard for them, they don't have the patience to try and take it off."
Which is important, because it's increasingly become clear to her that taking them off is exactly what a lot of people want to do.
"I think some people are just waiting for me to leave so they can rip up the posters," she told us. "I had one lady when I was with two of my children…telling me Free Palestine and [getting] really mad."
""I tell them 'these are just civilians, why would you rip that off, I mean we don't want to hurt any civilians.'"
Among these civilians are some of Shira's own relatives.
"We do have a relative that was kidnapped and both of his children were kidnapped," she said. "The house is completely burnt."
For now, the only way she can be there for them is to hang posters, but soon, she prays, she can be there for them in person.
"I hope they're found and I hope they get home, once they do I'm on the next plane to hug each and every one of them."
If you're interested in donating to the fundraiser that has been set up for Shira's relatives, you can find it here.