Levain Bakery is a crown jewel of the Upper West Side. A local, homegrown favorite and tourist destination, there's always been some pixie dust in the air at the bakery's original location on 74th Street. While this store is currently closed due to the pandemic, people come from near and far to munch on Levain's famous cookie mounds and delectable baked goods during normal times.

Advertisement
I had mixed emotions when it was first announced that
Levain Bakery cookies would be sold in supermarket freezers
. I'm a purist who loves an original. Same reason I'm not sure it's a great idea for
Taylor Swift to re-record her catalogue
. I'd even prefer to wait in long lines at the original location than walk a few short blocks for faster service at their newer outpost at 351 Amsterdam, between 76th and 77th Streets (this second UWS location
opened in 2017
).
I feel the same way about Patsy's Pizza: sure, the UWS offshoot is great but it's not in the same league as their 1933 coal oven classic in East Harlem.
This also reminds me of Shake Shack's expansion. The more Shake Shack's that opened, the shorter the lines got at the original. I do love me some convenient Shake Shack, but now I'm re-evaluating using Levain as a leave-behind-treat at client meetings, or my accompaniment to dinner parties and family events. What was once tough to find, highly sought after and beloved is teetering towards Chef Gusteau's Frozen Food line from the movie Ratatouille. In both cases, once the original owners had new representation, frozen options were added to the brand's portfolio. Levain Bakery has also been expanding with new storefront locations, its newest in Georgetown, DC.
With Levain Bakery cookies now available in stores, I decided to do a taste test.
The other day, I walked into the Columbus Circle Whole Foods at 12:24pm. In just 7 minutes, I was through checkout with a box of Levain's classic Chocolate Chip Walnut in tow.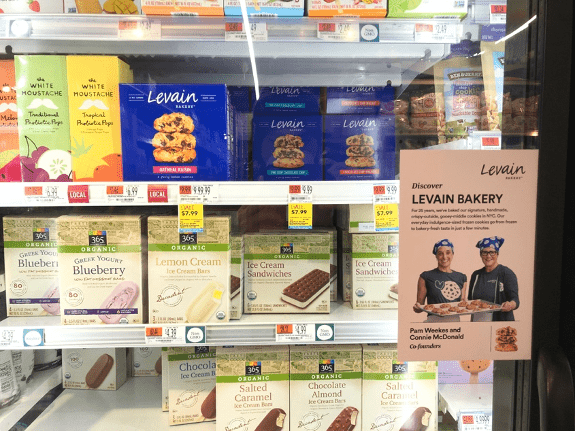 Then I made my way to the 1 train, uptown towards Levain Bakery at 351 Amsterdam Ave.
[adrotate banner="131″]
In five minutes I was out with a warm Chocolate Chip Walnut cookie from the baking tray. Thanksgiving came early this year as this cookie had all the trimmings of the original Levain: crunchy on the outside, gooey on the inside; walnuts and chocolate in virtually every bite. The consistency is what makes this a delicacy.
I lucked out too. This location can be hit or miss when it comes to getting a nice warm cookie. Your best chance for that will always be at the original location at 167 West 74th Streets (between Amsterdam and Columbus Avenues). I'm told their Harlem location virtually never, if ever, has warm cookies available (feel free to leave a comment if your experience has been different).
Back at home base, I looked at the box of Levain cookie dough and caught something glaring: these frozen cookies are considerably smaller than what you'd find at the bakery.
The good news is that this is a quick cookie to bake, so the convenience factor is off the charts. Preheat the oven to 350 F and bake for 5-7 minutes, per the box. I've been running time trials for the optimal baking time; my oven is delivering the best results at the 8+ minute mark.
Bottom line: Both Levain Bakery and the frozen box option turned out excellent. Crunchy outside, gooey inside. The grocery option guarantees you can enjoy it hot off the line if that's your thing – but the ratio, being a smaller cookie, doesn't have the chocolate or walnut consistency like classic bakery cookies. The walnuts come up short with less room to graze. Perhaps they should consider adding a couple more if the machines at the factory can handle it.
Levain's 'Two Chip' cookie might be a better frozen option; I'll try that next.