"Oh, no one knows what goes on behind closed doors" goes on old song by Charlie Rich. I thought of this line when I passed by the original Levain Bakery on 74th Street and saw that they'd soon be reopening after a long 19 months. It was great to learn that Pam Weekes and Connie McDonald, Levain's owners, are "so looking forward to breaking bread and cookies with (us) soon…"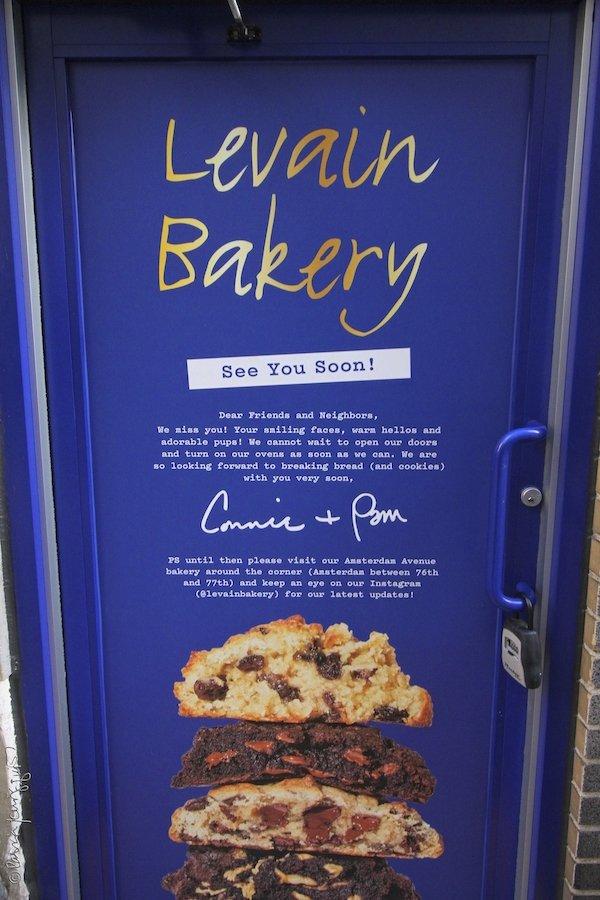 An Upper West Side institution since opening in 1995, the doors of Levain Bakery's original location at 167 West 74th Street will reopen on Saturday, November 6 at 8am.
Advertisement



Levain initially specialized in artisan breads – but the bake shop soon became revered for its 6-ounce chocolate chip walnut cookies.
McDonald and Weekes developed this now signature cookie while training for an Ironman Triathlon. Upon realizing that a large number of calories were required to offset the rigors of training, they created this 6 ounce wonder (which according to fatsecret.com has 563 calories).
Pam Lewy, now a colleague of Weekes and McDonald, says that these cookies are "in a way very much linked to racing and our founding story."
Lewy also explained that "because of [Weekes' and McDonald's] involvement with athletics, the re-opening date is very important," as it's one day before the New York City Marathon, which takes place on Sunday, November 7.
"Our opening also kicks off the holiday season in New York City. This is a magical time to be in Manhattan and for this coming holiday season, our flagship storefront will feature a gorgeous hand-painted cityscape to delight the eyes while you wait for your cookie," says Lewy.
She also tells us that while they were closed, they "took the opportunity to spruce up the space (much needed after 26 years!)"
Now, many Upper West Siders will surely be happy to see what's been going on behind Levain's closed doors!
They've given us a bit of a heads up as far as what to expect:
Pam and Connie will be there on opening day, greeting and helping customers.
A portion of opening day sales will be donated to the West Side Campaign Against Hunger.
On Marathon Sunday, they'll be offering free cookies to the first 200 runners who visit Levain (with their Bib, of course).
Once inside, get ready for an old school playlist that will really bring you back to 1995. (Fun Fact: "River" by Natalie Merchant was the first song ever played at Levain Bakery!)
Holidays in New York are synonymous with the Macy's Thanksgiving Day Parade and this year, after the balloons have all been inflated, Levain will extend its hours to welcome crowds for some "late night" cookies and hot drinks.
From our perspective, we can say that even the bench outside the bakery is ready to accommodate patrons!
As for what has been happening behind Levain's still-closed doors, the owners tell us they've been working on making the space more efficient – both in the back of the shop where the food prep occurs, as well as in the front where customers congregate.
The reopening of Levain Bakery's original location comes during a busy year for the baker – having launched a national expansion into freezers across the country.