9:00am Sunday, the sky is bright blue with only a few white clouds. The air is brisk. There are only a couple of people on the sidewalks and no cars on the side streets. Fraught with anxiety, I went out for exercise, since it's still allowable. The strategy was a 10 minute walk, crossing over whenever I saw anyone approaching. And, I looked for signs of spring.

Maybe people are more intensely focused in times of great stress. It's uplifting to directly experience  these sightings of spring. This is a simple pleasure that somehow diminishes the weight of the huge range of news, tele-health medical guidance, education, culture and entertainment, and other communication that for good or for ill is available to us virtually 24/7 at this time of the COVID-19 crisis.

Advertisement
On the median crosswalk on Columbus Avenue, you've got to smile at the sight of early yellow buds just starting to emerge. Further down toward Amsterdam Ave, some tulip leaves are coming up in brownstone flower beds, and daffodils are already blooming in a number of planters. A woman wearing a mask emerges from a corner convenience store with a bouquet of lilies. Across Amsterdam is a tree covered with tiny white blossoms. At Broadway, a few customers are carefully distancing from others as they approach the Fairway entrance.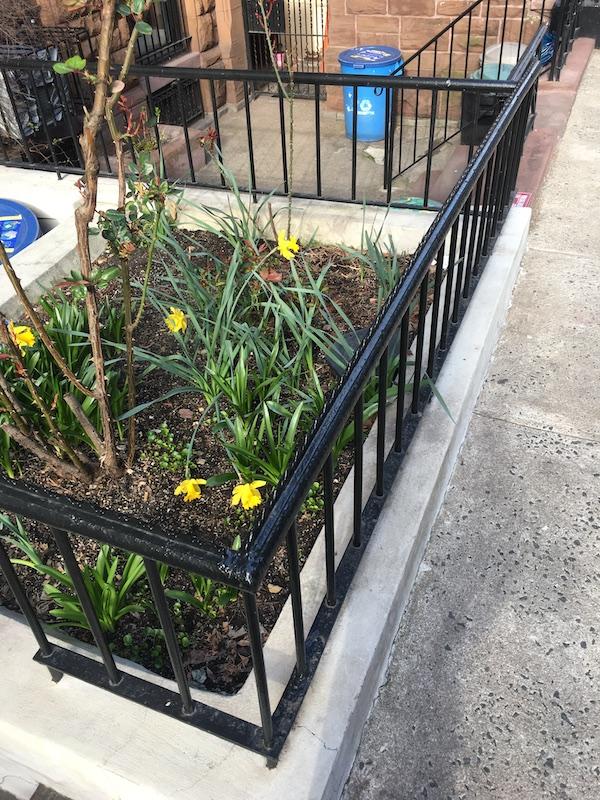 The New York Botanical Garden has in the past offered a horticulture therapy certificate program encouraging prospective students "to learn to heal people through horticultural therapy." Plant therapy experts have documented its benefits for anxiety and depression, but here on the Upper West Side, at this period of transition between winter and spring, most of us do not have access to our own outdoor space. What's available relating to the beginnings of spring? We deliberately focus on signs of spring on our brief sprints outside; we look for trees from the windows of our apartments. And, we need to take good care of our houseplants so that they survive the month ahead, distracting us and providing moments of pleasure.