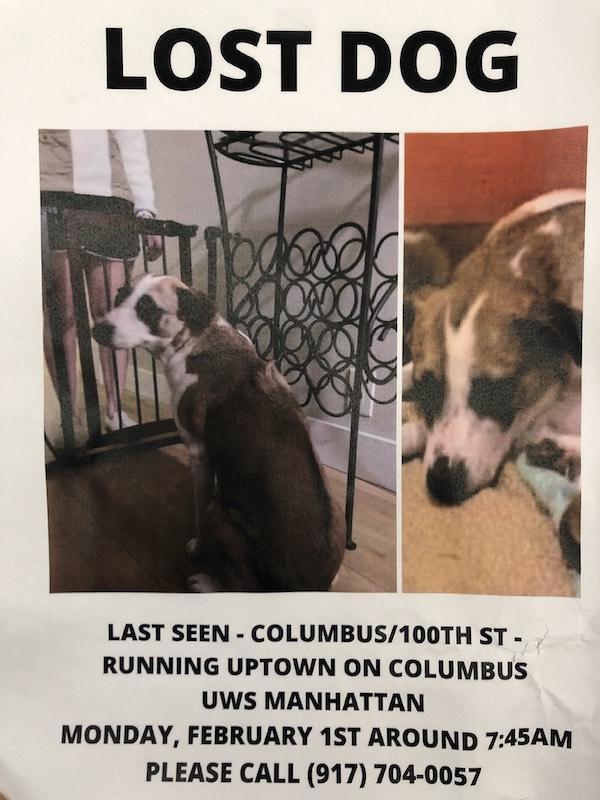 Monday was not a good day to be lost – for any species.
At 10:46am, the 24th Precinct announced that a dog named Destiny had been missing for three hours, having last been seen on 100th and Columbus Avenue.
They released the images above and asked that if anyone saw her, to please call the precinct or the dog's owner.
LOST DOG??Please help us find Destiny & get her reunited with her owner. If found, please call the 24th precinct at 212-678-1811 or her owner at 917-704-0057. pic.twitter.com/Bts0LvRMIU

— NYPD 24th Precinct (@NYPD24Pct) February 1, 2021
According to a number of tips we received, Destiny had apparently been seen on Broadway between 98th and 106th Streets as well.
Given the large amount of snowfall from Winter Storm Orlena, many of our readers expressed their concern over Destiny's whereabouts.
But at about 8:30pm on Monday evening, the Australian Shephard mix's foster mom, Emma Storm, contacted us to tell us that Destiny had been found!
Emma says she was found under a shrub between West End and Broadway, after which she was taken home to warm up.
"It was really touching to see the community banding together like that," says Emma, who also tells us that a Facebook group she is a part of – Buy Nothing 91st-110th St West of Central Park – was instrumental in finding Destiny. "So many people were out looking for her at all hours of the day."
For updates on Destiny – and more of Emma and her partner's foster dogs – follow @ultimuttfosters on Instagram.