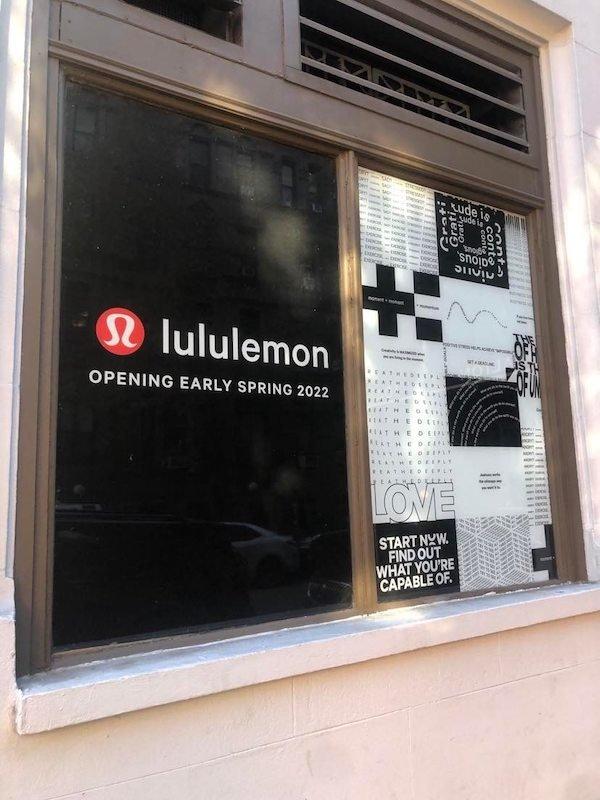 In a rather alpha flex, Lululemon has leased the space previously occupied by Athleta at 216 Columbus Avenue on the corner of West 70th Street. The two brands are strikingly similar; both specialize in active wear, are famous for leggings, and are predominantly frequented by women. Lululemon did launch a men's apparel line around 2015, though, and they've been scaling the business with considerable success ever since.
Advertisement



Founded in 1998 by Chip Wilson in Vancouver, Canada, Lululemon made a name for itself creating high end yoga pants and clothing. The brand has since evolved its offerings to include coats and jackets, swimsuits, underwear, even dresses. Its men's line offers everything from polos and button-downs to tank tops, athletic wear, bags and more.
Lululemon opened its first retail location in 2000 and has over 491 stores internationally. The upcoming location at 216 Columbus Ave, which is expected to open this Spring, will be Lululemon's third storefront on the Upper West Side; the other two locations can be found at 75th and Broadway and at the Shops at Columbus Circle. (Several tipsters have told us Lululemon's 75th Street store is expected to close; we've reached out to the store to confirm this).
Despite its success, Lululemon is not without controversy. In November 2013, there were quality control complaints about Lulu pants breaking down too easily. The company attributed the problems to a style change and production issues. Months earlier in March, Lululemon "pulled its popular Luon black yoga pants from stores after it found that the sheer material used was revealing too much of its loyal customers," wrote USA Today.
The company's founder and former CEO, Chip Wilson, also became notorious for his controversial quotes. Perhaps most damaging was how Wilson came up with the name, Lululemon.
Advertisement



In a 2004 interview with National Post Business Magazine, Wilson was quoted saying, "The reason the Japanese liked [my former skateboard brand, 'Homeless'] was because it had an L in it and a Japanese marketing firm wouldn't come up with a brand name with an L in it. L is not in their vocabulary. It's a tough pronunciation for them. So, I thought, next time I have a company, I'll make a name with three Ls and see if I can get three times the money. It's kind of exotic for them. I was playing with Ls and I came up with Lululemon. It's funny to watch them try to say it." Wilson went on to deny ever saying this in a 2015 New York Times expose which detailed his fall from grace in the public eye and with the Lululemon brand itself.
Chip Wilson served as CEO of Lululemon until 2005. In 2015, Wilson resigned as Lululemon's chairman before stepping down from the board altogether the same year.
Lululemon is a publicly traded company on the NASDAQ, traded under the ticker symbol: LULU. Over the past 5 years the company's stock has risen 689.55% from $57.99 to $457.86 today.