The annual Macy's Thanksgiving Day Parade will be returning to its traditional 2.5-mile route on Thursday, November 25 from 9am-noon. As many people will recall, due to the pandemic, 2020's parade was a television-only spectacle and a much smaller affair than what NYC has grown accustomed to.

The 2021 parade (the 95th for Macy's) will feature 15 giant character balloons, 28 floats and 36 novelty and heritage inflatables.
Advertisement



One of the giant balloons will be Astronaut Snoopy! Charles Schultz's beloved character first appeared as a spaceman during the 2018 parade – in honor of the 50th anniversary of the moon landing. Astronaut Snoopy returned in 2019 but had to fly very low due to windy conditions that year.
Another returnee is Chase from Paw Patrol! He debuted in 2017 …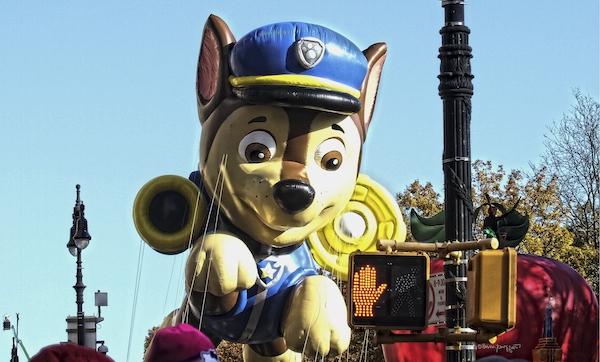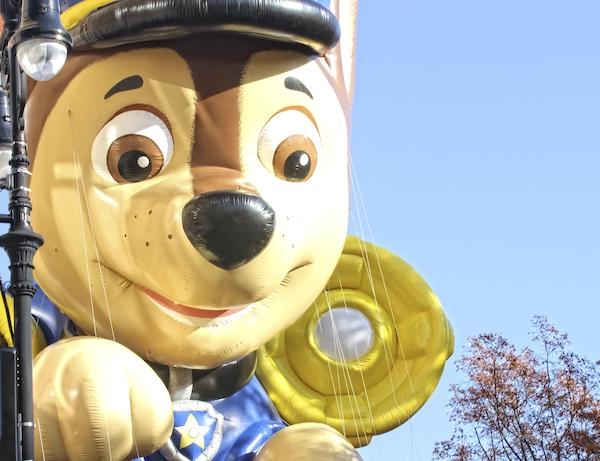 His presence was enjoyed by parade-goers so much that he was chosen to lead the line up in 2018. But that year was so cold that even the diehards didn't come out, so Chase looked forward to 2019 … which due to high winds forced him to lay low!
Hopefully Chase will catch a break this year.
Advertisement



Greg Heffley, the main character of best-selling book series Diary of a Wimpy Kid, will also be in the 95th annual parade.
Heffley first took flight as a giant helium balloon during the 2010 parade. Measuring in at 56 feet tall, 60 feet long and 25 feet wide, the 280 pound balloon cartoon required 90 handlers to be guided through the streets of Manhattan.
In 2012, he appeared to be not so wimpy after all, as he shamelessly stared into windows of a Central Park West high-rise, even though he seemed to be covering his eyes.
The balloon's design featured Heffley with the series signature black-and-white color scheme, as he clutched his journal while making his way through the canyons and skyscrapers of New York City. One can only imagine the musings he recorded in his massive diary!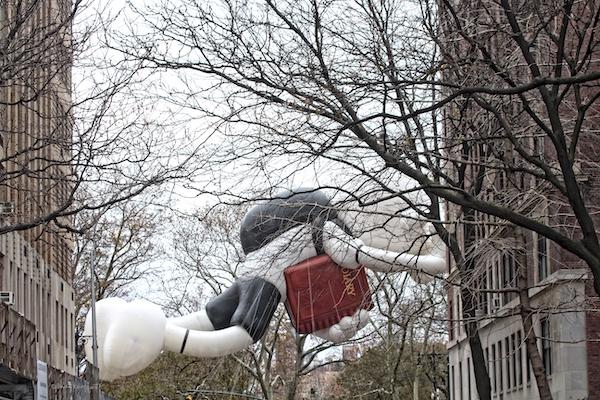 In 2015, he became somewhat bolder about peering into windows, even though he gave the illusion of covering his eyes!
He received a make-over after this parade which may have made him self conscious as he bumped into a lamp post in 2016!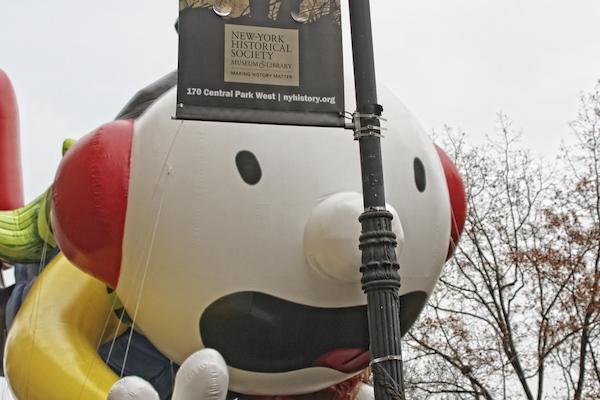 Alas in 2019, he, like many of his balloon comrades, had to lay low due to high winds!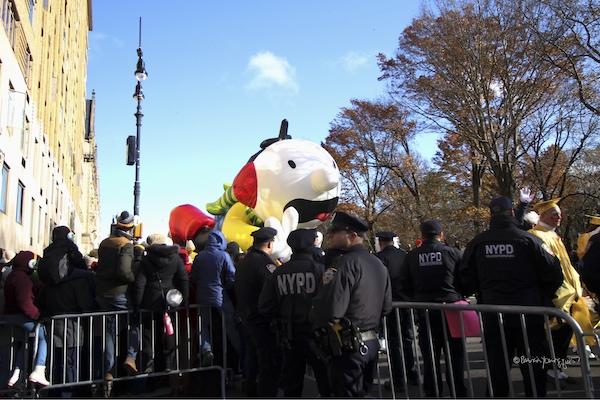 Now, with the return of the parade in 2021, we hope "Wimpy" will travel high in the sky as he has done in bygone years!
Advertisement



Goku is also scheduled to return for 2021's parade! He made his Macy's Thanksgiving Day Parade debut in 2018, but that year weather was super chilly and even many loyal parade-goers opted out of watching in person.
However, Goku did not let 2018's weather conditions deter him from participating in 2019's parade — even though he had to maintain a low profile due to high winds. 
Papa Smurf's balloon will also be back for the 95th event. He was first featured in 2012, and can be seen below with his back to The Majestic apartment building.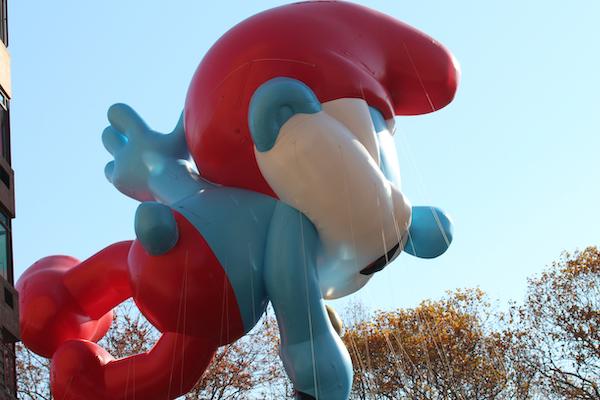 In August of 2020, the Papa Smurf balloon was brought out of retirement and used as a test subject for a newly-implemented five-vehicle framework, which was put in place to reduce the number of handlers and overall parade participants. This test flight marked the first time the Macy's Parade Studio team experimented with new ways to fly the balloon to minimize the amount of handlers due to the COVID-19 pandemic.
His appearance in 2021's parade is to promote the release of "The Smurfs" television series on Nickelodeon.
Many parade attendees will be delighted to learn that the Pillsbury Doughboy (AKA "Poppin' Fresh") will be "marching" this year as well! His infectious smile has delighted thousands upon thousands over his many years in the parade, including 2011, when he waved from the vantage point of The Majestic.
He's also always paid homage to condo dwellers at 101 CPW by waving as he passed by their windows. In 2016, he gave a shout out to the New-York Historical Society, and in 2017 he gave his attention to The Rockettes.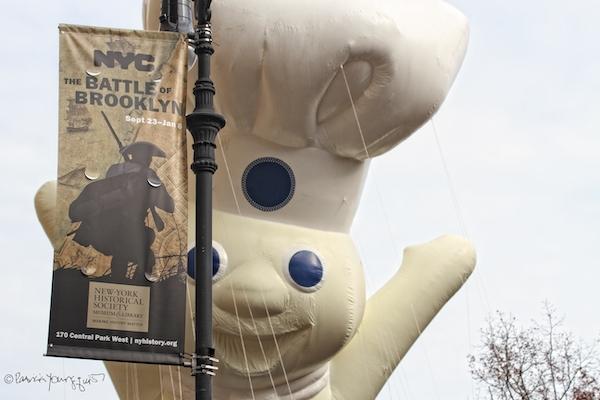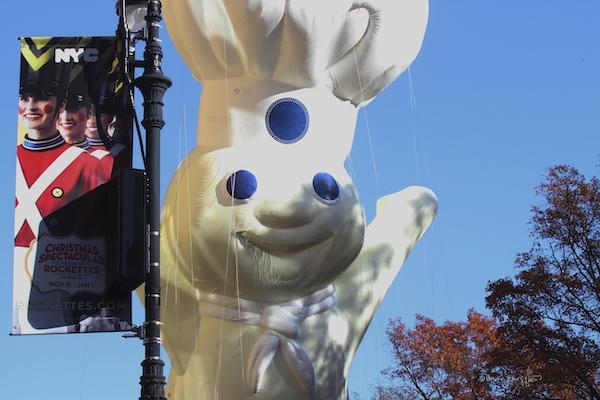 Like many of his ballon comrades, he was forced to remain low in 2019 but that did not deter him from smiling.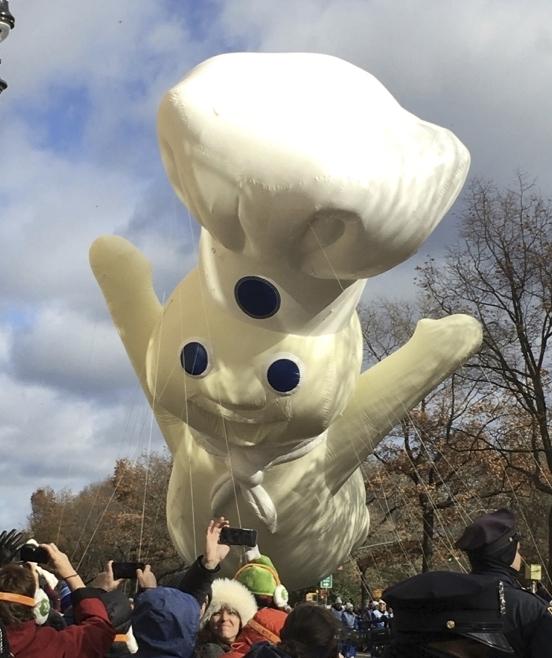 Advertisement
The Sinclair Dinosaur will be back too! He is the symbol for the Sinclair Oil Corporation and his involvement with the parade dates back to the early 1960s. Here he is participating in the 2016 and 2017.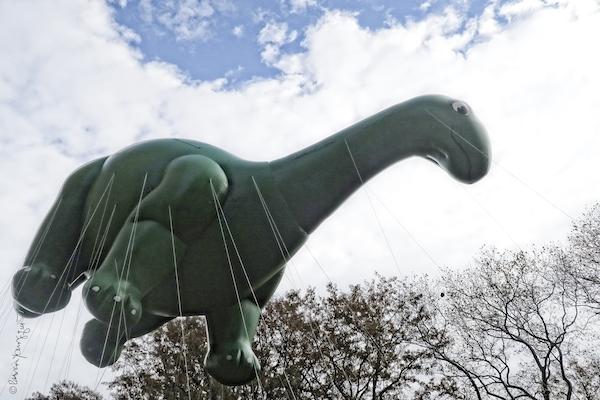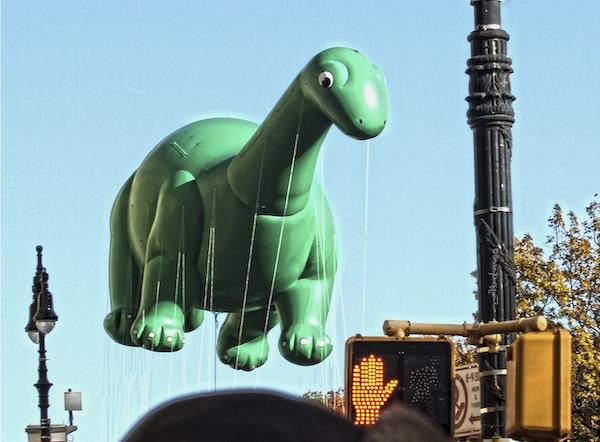 Like many of his ballon colleagues, he was forced to remain low in 2019 and he seemed to enjoy the presence of the NYPD.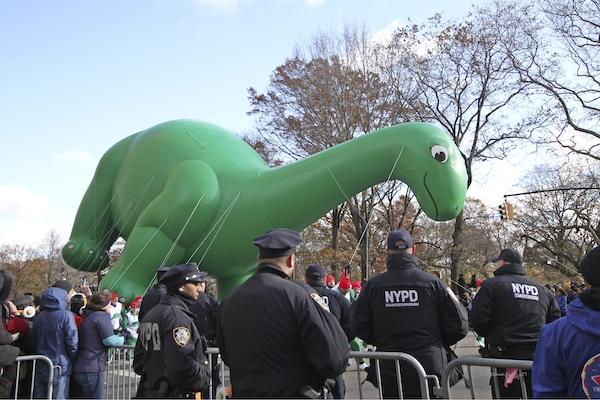 New balloon giants joining November 25 line-up  include Ada Twist, Scientist; Grogu (so-called Baby Yoda from the "The Mandalorian"); and the Pokémon characters Pikachu and Eevee.
As for those classified as "Heritage Balloons" – balloons with sponsors and based on pop culture media – newcomer Santa Starflakes will participate and Smokey The Bear, whose presence dates back to 1962, will return.
In 2019, Smokey returned to the parade after more than 26 years, celebrating his 75th anniversary milestone. That balloon measured 51 feet tall, 16 feet long and 25 feet wide.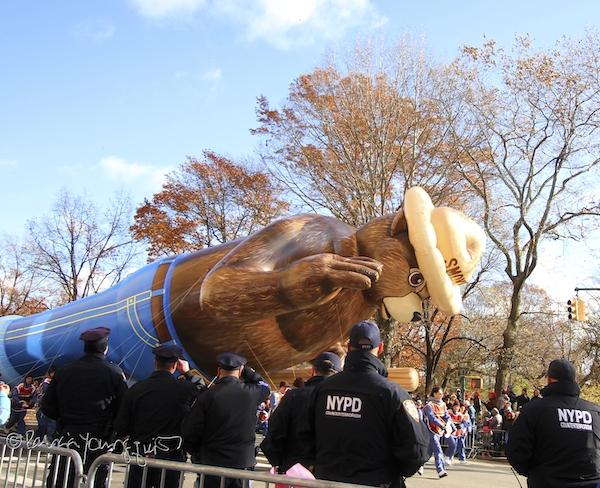 As for those classified as Novelty Balloons, there will be two newcomers: Tiptoe and Tony the Bandleader.
Returning Novelty Balloons include The Believe Stars, Acorn, Blue & White Macy's Stars, Red & Green Candy Cane, Ice cream Cone, Opening Macy's Stars, Pumpkins, Snow Crystal Ornaments, Wiggle Worm and Yellow Macy's Stars.
Advertisement



Happy Hippo is yet another returning Novelty Ballon also scheduled to appear in this year's parade!
The original Hippopotamus balloon first appeared in 1940. The balloon was retired after 1941, having made just two appearances. But Happy Hippo would reappear in 2013, a year that was quite windy with balloons "marching" lower than usual. In any event, Happy's purpose that year was to help promote the Macy's Holiday Parade at Universal Orlando Resort.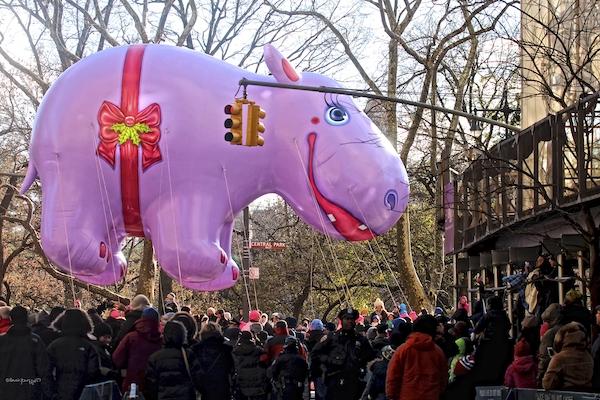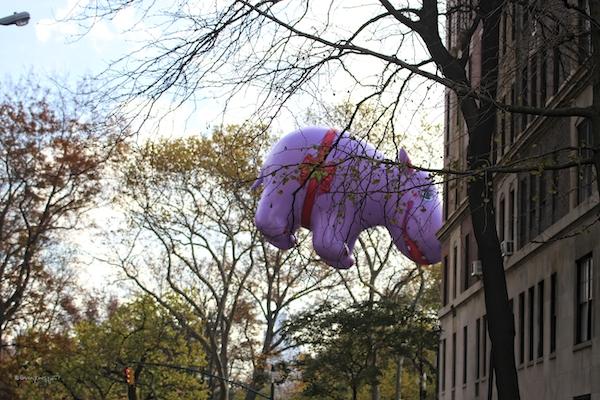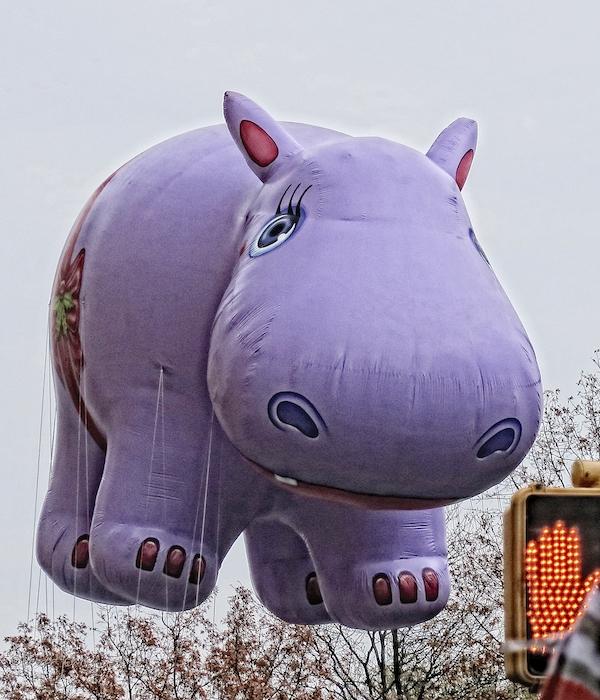 Another returning Novelty Balloon is Arrtle the Pirate, named after master balloonatic Jim Artle. Here he was in 2015.
New floats will also be featured – including one led by the cast of "Girls5eva" and an alligator-themed float with Jon Batiste. And according to AP News, balloon inflation night is also happening this year (all visitors will need to show proof of vaccination).
More details about this year's parade can be found here.