Michael's Arts & Crafts will be closing its store at 808 Columbus Avenue at 99th Street, located within the Columbus Square retail and apartment complex.

Along with Whole Foods, TJ Maxx and Home Goods, Michael's has been one Columbus Square's anchor tenants since the beginning, securing its lease before construction of the complex was completed in 2010.

Michael's
renewed its lease
for the 34,424 square foot space in 2018, but window signage indicates the store is on its way out and is offering some clearance discounts.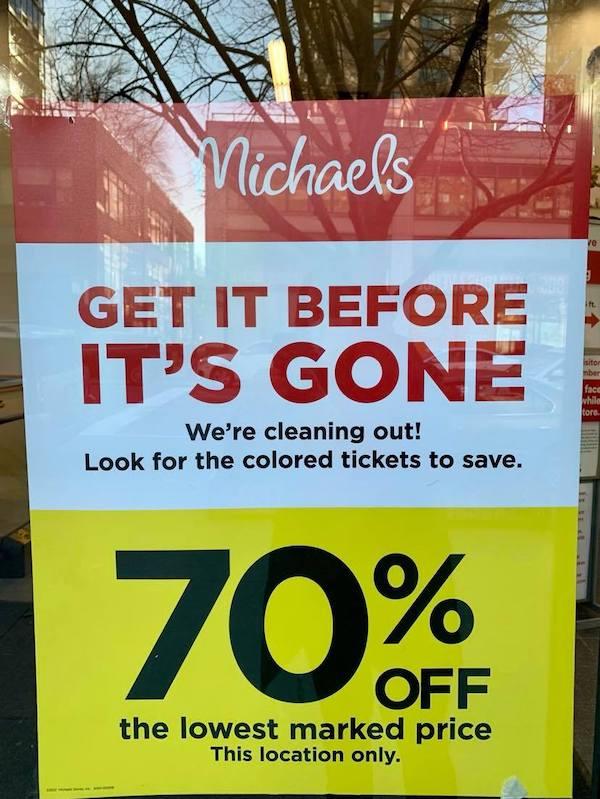 We've reached out to the UWS store and the company's press department for more information, including a target closing date.
Get The Upper West Side Newsletter For Updates
According to its website, the company operates "more than 1,250 Michaels stores in 49 states and Canada," making it the "largest arts and crafts specialty retailer in North America (based on store count)." The company reported $5.3 billion in sales during fiscal 2018.
Michael's has another Manhattan location in Chelsea and several others throughout the boroughs.
Recent announcements have been made that the chain store would be closing some of its other locations – including one in North Babylon, Long Island, and at a mall in North Carolina.

Over 1,000 chain stores closed in NYC during 2020, which is almost one out of every seven stores, according to the Center for an Urban Future's
State of the Chains report
.
Some of the bigger companies which closed UWS locations during 2020 include:
Modell's: closed all store locations, including its two UWS stores.
Century 21: closed all 13 of its stores, which included a location on 66th and Broadway.
Flying Tiger Copenhagen: closed all US stores including its location at 424 Columbus Avenue, between 80th and 81st Streets.
Jean Louis David: closed all four Manhattan locations, including one at 2146 Broadway, between 75th and 76th Streets.
Unleashed By Petco: closed its location at 159 Columbus Avenue, between 67th and 68th Streets.
Papyrus: closed all locations, including three on the UWS: 209 Columbus Avenue (between 69th and 70th Streets), 2157 Broadway (at 76th and Broadway), and their store at the Shops at Columbus Circle.