Despite the seemingly non-stop closings, a number of restaurant owners have recently signed leases and are opening soon (or at some point in the future).

Here's some info we have about UWS restaurants on the horizon:
Tipster 'Upper West Sider' recently informed us that a new restaurant had signed a lease at 225 Columbus Avenue, between 70th and 71st Streets. This was the former home of Bistro Cassis, which closed earlier this year. Construction work for the new restaurant has begun. When we reached out to the broker who rented the space, Rafe Evans of Walker Malloy, he told us he believed it would be some type of reincarnation of Bistro Cassis, with some of the same players involved. The listing brochure indicated that the asking rent was $19,250 per month.
The same tipster more recently sent us a liquor license application which indicates the trade name of the new restaurant will be "Manny's Bistro." Manny Colon was the general manager of Bistro Cassis, and after it closed, there were rumors that he would be taking over the lease and opening a new restaurant. So that seems to be what is happening. We've reached out to him for more info.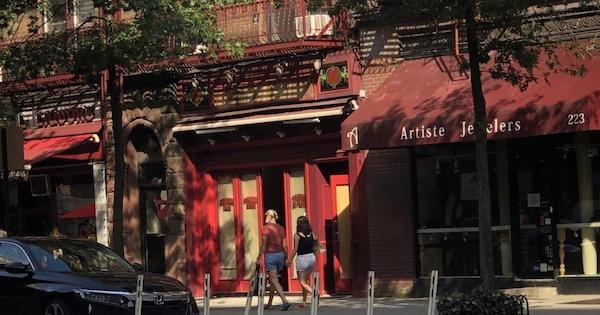 [adrotate banner="124″]
The owner of an upcoming restaurant called Shinbashi 72 was originally expecting to open during the spring of 2020. We first announced this in February, after they had leased a small space at 218 West 72nd Street (the former home of West Side Cafe).
We recently noticed that signage went up, so we reached out to the owner who tells us she hopes to be open by the end of October (though a few factors could put a wrench in that plan).
The Japanese comfort food restaurant will have limited seating and will focus primarily on take-out and delivery.
The original Shinbashi first opened in 1974 and was located on East 48th Street. If you ever ate there, the 72nd Street location will be similar (except that they won't be serving sushi).
A new restaurant called Chick Chick is opening at 618 Amsterdam Avenue, at the corner of 90th Street. This was formerly home to Coffee Berry, which closed in late 2018. The owners of the upcoming eatery are Jun Ha Park and Bomee Chu, who are also the owners of Chelsea's Jun-Men Ramen Bar. We've connected with them, and while they were able to confirm all of the above, they've held off on providing further info about Chick Chick for now. They'll provide us with more info soon. Thanks to 'Upper West Sider' for the tip.
A new "ghost kitchen" will be opening at 446 Columbus Ave, between 81st and 82nd Streets. Skyooerd will be offering take-out and delivery and hopes to open by the weekend of October 10. Skyooerd serves "Worldly skewers cooked over binchotan charcoal," which it describes as a "type of activated charcoal created with Japanese Ubame Oak. It burns clean without chemical additives and preserves the flavorful juices of ingredients with is incredibly high heat." The Instagram page displays images of skewered shrimp, salmon, lamb, chicken breast and more.
When we asked about whether or not a physical location for onsite dining was in the works, the owner told us it would be nice to have in the nearby future but that there are no immediate plans to offer this. View their IG page here.
Advertisement
We recently reported that filing documents seemed to indicate a
new Sweetgreen
would be opening at 159 Columbus Avenue, between 67th and 68th Streets. A new retail listing for a smaller space at the same address seems to confirm this, as it lists Sweetgreen as a neighboring tenant. View the listing brochure
here
.
We'll provide more info once we have it!
Get the newsletter for updates: