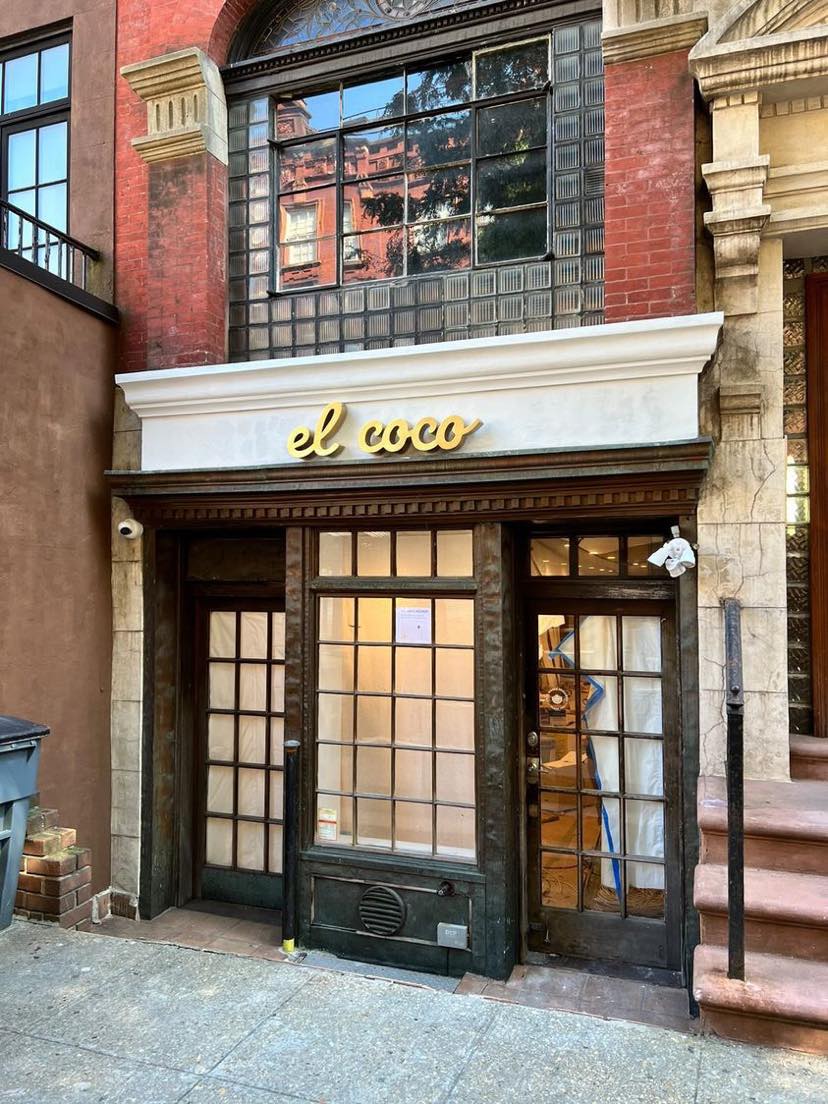 Signage is up for El Coco at 104 West 73rd Street (between Amsterdam and Columbus Ave), formerly home to a Portofino Sun location. (Thanks to Instagram user @frenchgatornyc for the tip and photo.) Portofino has moved to 53 West 72nd Street.

Advertisement



With current locations in Chelsea and Hell's Kitchen, El Coco is a taqueria "featuring authentic mexican dishes, empanadas, traditional tacos, and a variety of signature sauces."
There's a daily brunch from 12-4pm with options including huevos rancheros; ham, egg and cheese burritos; chorizo, egg and queso fresco quesadillas; "al jardin" omelettes; and cocktails including bloody marias, la victoria micheladas, tequila sunrises, and watermelon jalapeño margaritas.
READ MORE: Empellón Opening in Former Dallas BBQ Space on 72nd Street
Brunch cocktails go for $12, but the regular drink menu prices range from just $5 to $8 (however, we hear the drinks are very small…). Beers are also $5.
The lunch and dinner menu's burritos, quesadillas, salads and bowls can be customized with fillings of your choice. A range of tacos are priced between $4 and $5.50 and empanadas go between $3 and $4.50 a piece.
Reviews are mixed. The Chelsea location (202 8th Ave at West 21st Street) has a score of 3.8 stars on Google and 3 stars on Yelp. The majority of zero-star reviews we read were focused on the service being quite bad.
The lower reviews for the Hell's Kitchen location echoed these sentiments, while also touching on the music being way too loud.
READ MORE: Ample Hills Creamery Opens Upper West Side Outpost!
There are plenty of positive reviews, though. Satisfied patrons recommend El Coco for happy hour drinks, reasonable prices, and delicious tacos. Also, a server named Erica. If you go to the Hell's Kitchen location (828 9th Ave between 54th and 55th streets), some customers have been quite taken with Erica's service.
"Was super impressed with the prices and the empanadas and burritos were top-notch with a ton of flavor. 1000% coming back with friends visiting the neighborhood. Also Erica was great!" wrote Alec on Google.
"Erica was incredible!!! We had the best service with great drinks and food. My friends and I will definitely come back and hope to have Erica as our server again!" wrote Nadia on Yelp.
We've reached out to El Coco for a target opening date.