A Vietnamese restaurant called Plum has opened its doors at 210 West 94th Street, between Broadway and Amsterdam Avenue. Also at this address (in a separate space) is the recently opened Taqueria 86. Thanks to our reader, RB Stephenson, for the tip and photos.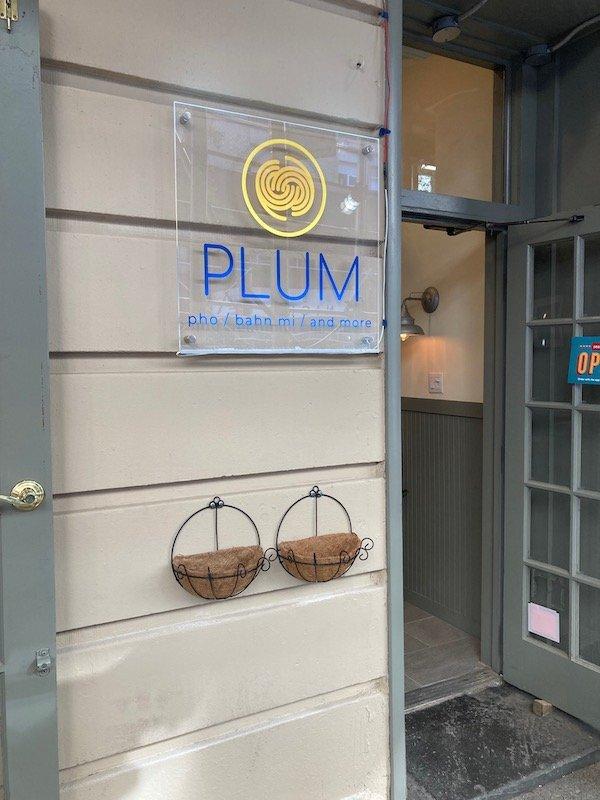 "We bring you delicious food from a land where the plum tree grows abundantly, bearing sweet and refreshing fruit," the new restaurant's website reads. "Throughout Asia, the plum is a symbol of femininity, vitality, perseverance, and hope."
Advertisement



Chef's specials include a ten ounce flank steak with sunny side up eggs, onions, scallions and cilantro served with a baguette; charred Atlantic salmon with fresh ginger, scallions and shiitake mushroom sauce; and a gluten-free Vietnamese crepe with chicken sausage, egg, beansprouts, scallions, shallots and nuoc cham (a fish sauce which Food 52 describes as "Sweet, sour, salty, savory, spicy," and  "[embodying] just about every aspect of flavor that our tongues are capable of tasting."
The menu also includes four Vietnamese sandwiches (banh mi) served with pickled carrot, cucumber, cilantro and spicy mayonnaise on toasted French baguettes; four noodle soups (pho); sides including crispy spring rolls and deep fried chicken wings; and more.
And here's the beverage list:
The restaurant was opened by two sisters who've "grown to call New York City [their] second home"
View the full menu and learn more at plumny.com. The restaurant can also be reached at (646) 884-4289.