Filming for season two of "Only Murders in the Building" is under way on the Upper West Side. Or at least we think so … thanks to a tip and photo from @karlidawn on Instagram.

Hulu and 20th Century Fox Television posted signs last week alerting those in the neighborhood that filming for "The Raven" is scheduled on Monday, December 6 and Tuesday, December 7. Monday's shoot cordons off parking from West 85th to West 92nd streets along West End Avenue, Broadway, and Amsterdam Avenue. Tuesday similarly limits vehicles along West End and Broadway from West 85th to West 91st Streets.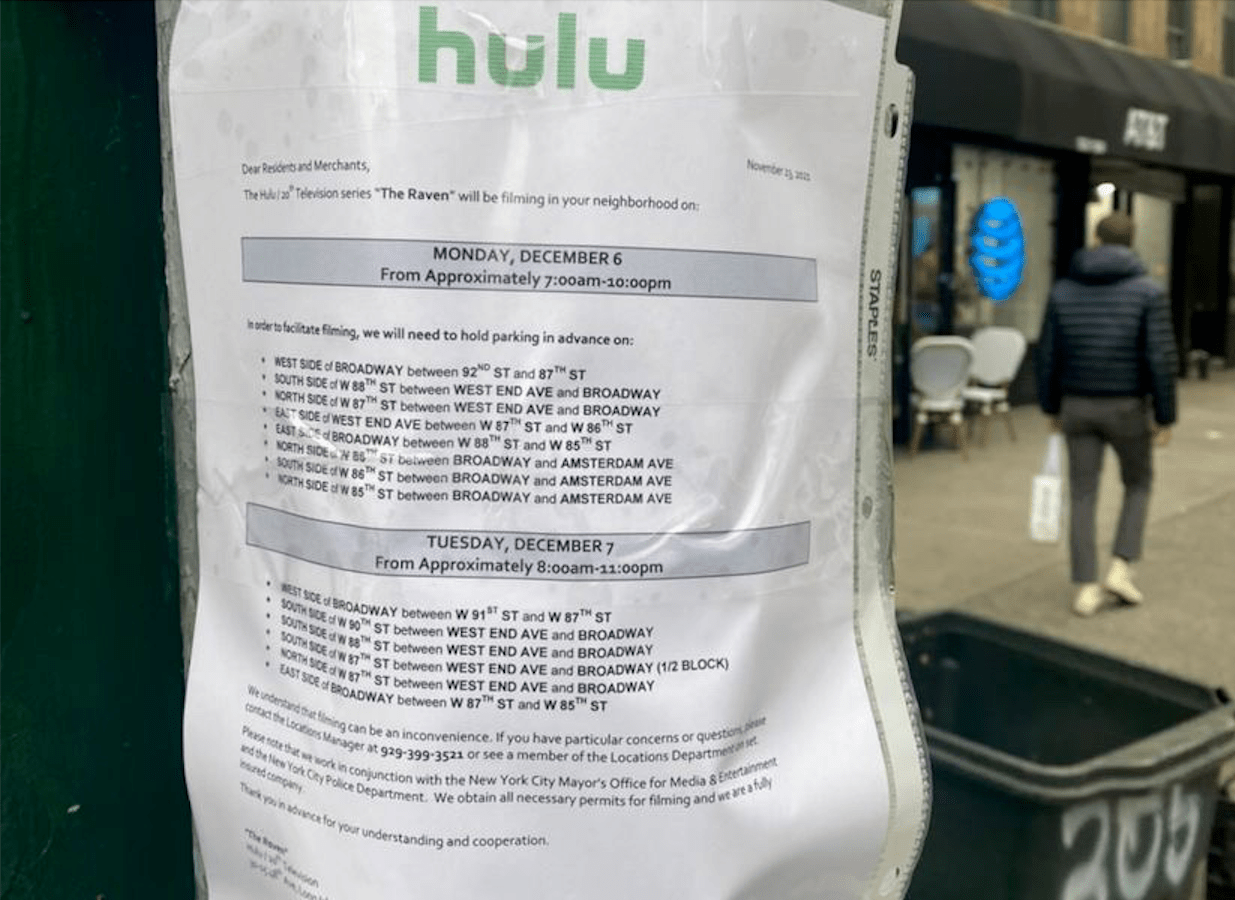 A quick Google search reveals that "The Raven" was a code name the hit show used when it filmed earlier this year. Major publications also referred to the series by this code name before it began streaming. And, Hulu and 20th Century are the production companies for the actual series.
Advertisement



This week's shoot is also set to take place within the same stretch as last season's film shoots. The area is home to West 86th Street's Belnord, the real Upper West Side apartment building that serves as the fictitious Arconia, a stunning residential building under siege by – you guessed it – murders in the building.
The stars of the show lent credence to our theory. Steve Martin tweeted a selfie on December 1 with castmates Martin Short and Selena Gomez, announcing that the trio was back on set for the second season. Gomez also confirmed that filming has started.
READ MORE: Hulu Announces 'Only Murders' Season 2 Premiere Date
True to form, "Only Murders in the Building" has given us a little something to think about. But we're pretty sure we solved the mystery of whether those in the area can hope for a glimpse of the show's stars. And anyone looking to do so, as well as anyone unwilling to have their vehicle whisked away to the impound lot, should eye the sign above for more information.
As for the whodunnit at the Arconia, viewers were left with a true cliffhanger in the final seconds of the last episode. What we know for sure is that Martin, Short, and Gomez will all return for the second round. It seems to be a safe bet that Upper West Sider Tina Fey will also be back. But, according to Marie Claire, there is no official word on whether viewers can expect to see more of long-time celebrity Upper West Sider Sting.
Another lingering mystery is when season two will premiere. There is no confirmed date, but mid-2022 seems like a safe bet.