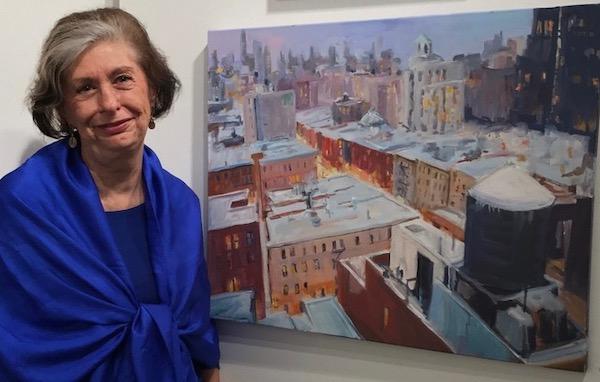 Like thousands of other New Yorkers acknowledging the mandates issued by Governor Andrew Cuomo and Mayor Bill De Blasio, Upper West Side artist Joan Menschenfreund is staying inside to protect her own health and the health of others. How does that work for a landscape painter who frequently paints NYC cityscapes and countryside views?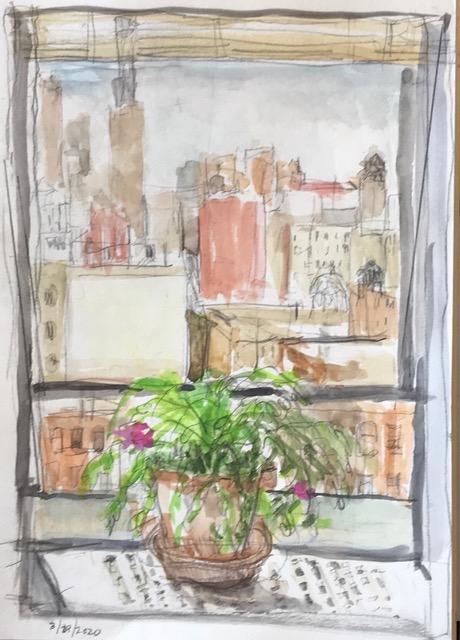 Joan's paintings include a view from her West 86th Street window looking south over brownstone yards. But, an assignment from her painting teacher has opened an exciting new vista focused on finding inspiration in the familiar of the artist's own home. Joan has been going to a class taught by teacher Melanie Kozol on Thursdays for the last 20 years. Most of the other artists in the class are also long-timers. Now, with the COVID-19 crisis, it's not possible to sit in a studio with good light on the ground floor of the 92nd Street YMCA, where classes would normally take place. A necessary change is required departing from the routine of meeting with friends and fellow artists and having their teacher walking over to look over their shoulders to offer a comment. So, they've found a new normal, painting at home and virtually communicating.
Advertisement
"Now, the class is offered via Zoom," says Joan. "Our very talented teacher began the first class showing a slideshow of different artists who painted beautiful interiors, like Matisse's vibrant interiors painted in the South of France. It was really inspiring" she says. Each class participant develops sketches at home. Joan says that while at home, she mostly paints with watercolors, "because no matter how much I protect, something (floor, furniture) gets ruined when I use oils." Her 9″ x 12″ watercolor sketches are lyrical, the colors beautiful and if Joan has any anxiety about staying home, it's not reflected in her lovely paintings. She said the virtual technology allows paintings to be seen full-screen, "or we can hold them up for critiques during the next virtual class." She says she welcomes the discipline of the class. "I absolutely forget the world."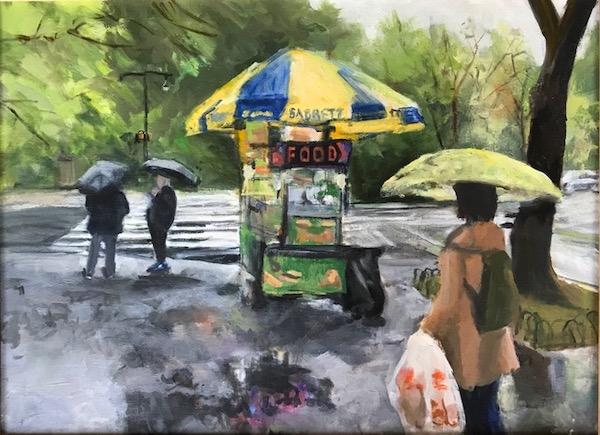 After many years working in interesting and rewarding art-related jobs, Joan, now retired, is joyful about being able to pursue fine arts full-time. Actually, Joan has a positive point of view when discussing her art and travel. She sees the need to adapt creatively to confining circumstances.
Originally from the Bronx, Joan went to the University of Buffalo. She knew then that she really wanted to do something that would use her artistic sensibility. She also cared about developing a financially secure career. So, when she graduated and returned to New York City, she was happy to be hired, during the advertising heyday of the 1960s, at J. Walter Thompson. "But, women were just assigned to answering the phone and typing. All the creative work went to men," she says.
Moving to the field of publishing, working for Harcourt Brace, was a fortunate change. Joan was employed in the textbook division as art and photo editor in charge of selecting and laying out the visuals and creating art programs that brought the text to life and made it accessible. Joan took a break at that point. She and a friend traveled for a year, "to England, all over Europe and wound up in Israel for months working at a kibbutz and also working on an archeological dig."

Advertisement
Joan returned to NYC to apply her expertise at
Holt, Rinehart and Winston
and other publishing companies for the next 20 years. "It was a wonderful career," she says. "In those pre-Internet days, visual research meant seeking out materials in galleries, museums and library archives."
Always open to new challenges and opportunities, Joan then moved to become a photo editor for the news industry. She worked first for The New York Times Magazine and then, for 19 years, for Time Magazine. All along, she continued to travel extensively in the US and Europe and took her own photos making them widely available to publications in need of "stock" photos.
At age 63, Joan Menschenfreund was ready to leave the exciting but extremely demanding deadlines that sometimes required working until 3:00am. She looked forward to pursuing her own art, at her own pace. That has been working out well. Joan is very productive. She enjoys exhibiting at group shows at the 92nd Street Y and in exhibits hosted by the National Association of Women Artists.