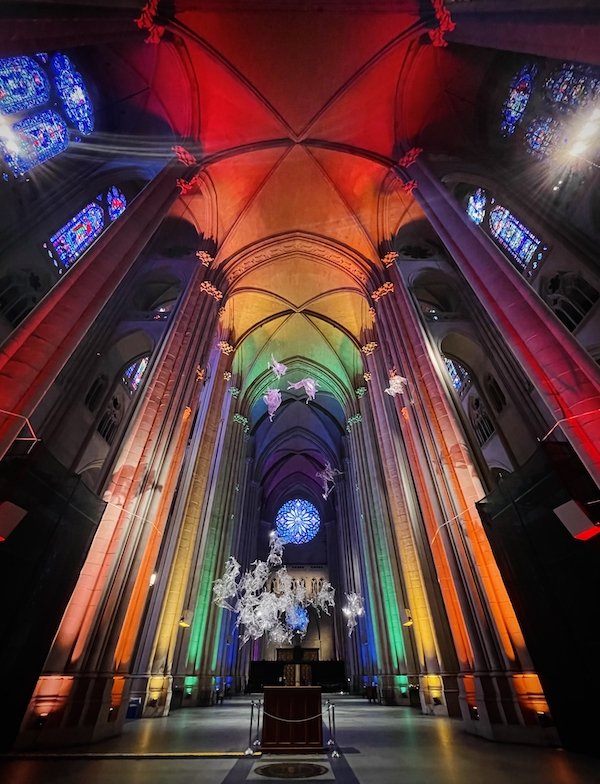 Known for its unwavering support of progressive social causes throughout its history, The Cathedral of St. John the Divine, located at 1047 Amsterdam Ave. at 112th Street, is currently commemorating Pride Month with a series of events titled Iconic Pride.

Advertisement



The Cathedral has long been a bastion of support for the LGBTQ+ community. This year, the festivities kicked off on Wednesday, May 31 with Pride Eve and will continue with a diverse array of events, programs and gatherings until early July.
On Saturday, June 3, the celebration carries on with Pride Family Day. From 12 p.m. to 4 p.m., kids and people of all ages and backgrounds are warmly invited to revel in a day of festivities, featuring an ice cream social and engaging art activities inspired by the Queer Icons. The Queer Big Apple Corps, an LGBTQ+ marching band, will grace the occasion with a vibrant musical procession into the Cathedral.
A Pride Panel Discussion led by a panel of faith leaders discussing the intersections of religion and LGBTQ+ life is set for Monday, June 5 from 6 – 7:30 p.m. This year's ecumenical panel includes "The Rev. Dr. Charlie Bell, The Rev. James Martin, SJ, The Rev. Dr. Patrick Cheng, and The Rev. Dr. Mary Barber. The Very Rev. Patrick Malloy, Dean of the Cathedral, will lead and moderate the discussion, centering the spiritual lives of LGBTQ+ communities within The Episcopal Church and other Christian denominations," said a church representative.
Coinciding with the Feast Day of St. Pauli Murray, the Cathedral's Iconic Pride celebration culminates with the Pride Evesong Service on Saturday, July 1, from 4 p.m. to 5 p.m. This event will include a screening of the documentary My Name is Pauli Murray, shedding light on Murray's groundbreaking journey as a gender nonconforming lesbian. Now regarded as a saint, Murray holds the distinction of being the first Black woman ordained a priest in The Episcopal Church. Her activism spanned various causes including African American rights, women's rights, LGBTQ+ rights, and the struggle against oppression faced by all.
For more information on Iconic Pride, click here.