A red-tailed hawk sighting recently took place on the Upper West Side. Our reader, Jessica Turco, spotted the bird sitting on an AC unit outside of her window, located in a building on West End Avenue between 106th and 107th Streets.

Jessica first saw the bird about a week ago. It's just returned to the window to say hi: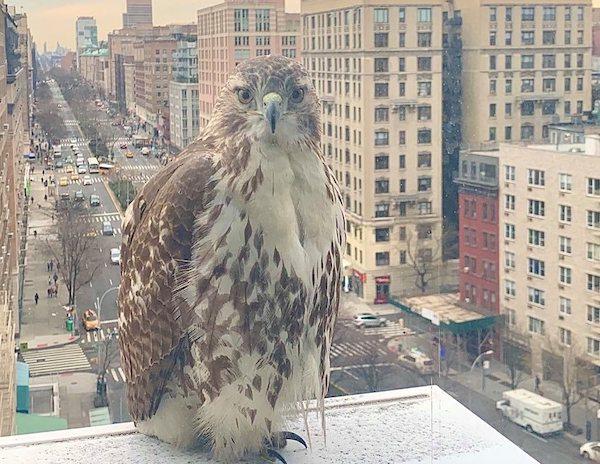 According to Wildlife NYC, there were "at least 20 red-tailed hawk nests in Manhattan" during 2016, and only 8 during 2010. So this is a pretty rare sighting.
The website states that red-tailed hawks – also known as Buteo jamaicensis – are a great match for NYC. The provide free pest control as their diets are heavy in mice and rats. NYC buildings and bridges are also ideal nesting sites for them. The city has worked to reduce the amount of mouse and rat poison used in areas where these hawks have been found nesting.
More fun with animals on the UWS
Red-tailed hawks have been spotted by Fifth Avenue, Washington Square Park and Flushing Meadow Park's Unisphere.
They also tend to occupy the same territories over extended periods of time. So if you're near 106th and West End, keep your eyes peeled for this beautiful bird!
Our reader also experienced this sighting in the same location back in 2016: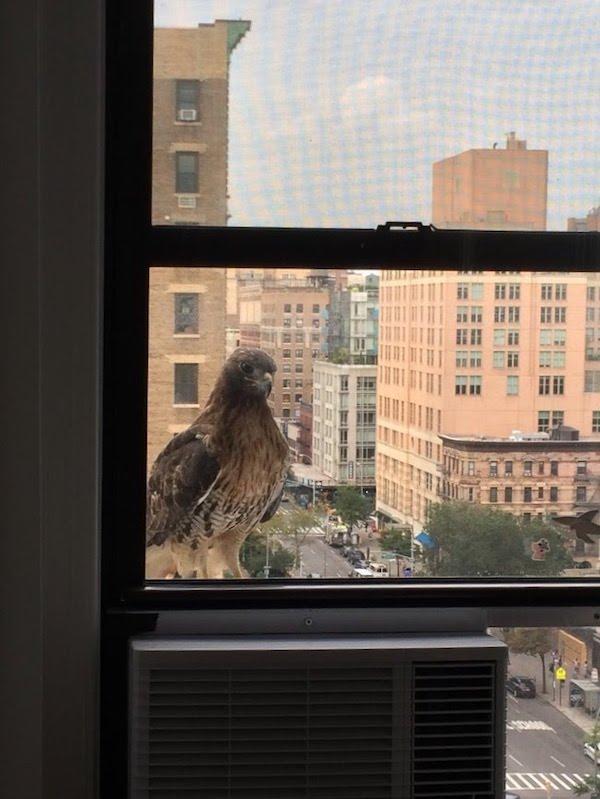 Advertisement
Right after we published this article, another one of our readers, Vinton, reached out to tell us he spotted what he believes to be the same bird on February 26th. This sighting took place on the balcony of his apartment, located on 99th and Riverside Drive.
So maybe it recently decided to move a bit north.
Some of these birds have also gained quite impressive cult followings.
One particularly famous red-tailed hawk went by the name of Pale Male. Apparently, Pale Male lived near Central Park since the early 1990s. A birdwatcher and author by the name of Marie Winn gave him his name for the light coloring on his head. Pale Male was featured in several children's books and films.