The end of next month marks eleven years since Harry the Shar-Pei passed away. "It was the hardest decision we've ever had to make," say Stephanie Roesch and Rita Silke of 115 West 86th Street, Harry's former owners. "People still stop us on the street today."

Harry held court at Firehouse Tavern at 522 Columbus Avenue, between 85th and 86th streets.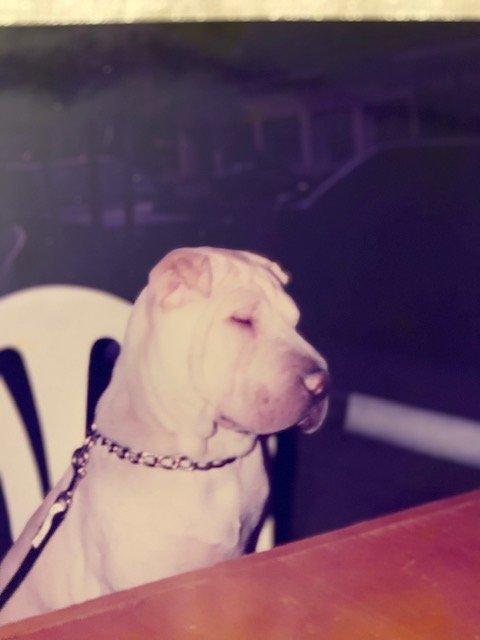 Harry was quite a character. Debonair, charming, always polite. He had an eye for the ladies. I couldn't resist him, it was love at first sight.
Harry had been given to Tom, Rita's father, originally as a pup. Tom lived across Central Park on the East Side and every day would walk Harry across the park, or vice versa, to see his daughter and niece on the UWS. They would frequent The Firehouse and sit in the outdoor cafe. Harry romped in the dog run at the Museum of Natural History as well. His best friend was Mandy the Beagle. He looked out for her well being and protected the other little dogs too. And when it rained, everyone in the building commiserated with Harry, who didn't like to go out and get wet in the rain.
READ MORE: Giant Dogs of the Upper West Side
At the end of one day, when Harry was about two, Tom got ready to head Harry home. But he would have none of it. Harry refused! He pulled at the leash and dug in his heels. He felt the East side just wasn't his scene. And so Harry resided on the UWS. Eventually, Harry became known as the Mayor of West 86th Street, a beloved mascot of the neighborhood, the NY Times noted in a 2010 write-up.
Advertisement



At the age of 14, Harry lost his vision and was in a lot of pain. The vet came to the apartment and he was euthanized while surrounded by adoring family. After Harry's passing, Stephanie and Rita were deluged by loving condolence notes and heartfelt expressions of sympathy.
To this day, West Side Harry's ashes have a place on the piano alongside beloved family members. Harry was his own dog and we were his people.