For anyone who still claims the Upper West Side is a food desert, this expansive list of quality restaurants proves otherwise. But with so many opening and closing in recent times, we're always updating this list. So here are our current picks for the very best Upper West Side restaurants.
Elea
217 West 85th Street (between Broadway and Amsterdam)
Reno Christou opened this Greek restaurant in October of 2018, shortly after opening Kyma in the Flatiron District.  The huge, beautiful two story space features light tones and exposed brick throughout, plush seating, a well-lit 40 seat bar room on the first floor and room for 130 diners downstairs.
The staff is attentive and extremely responsive. This is even the case on a Saturday night, at which time you'll find the restaurant packed to the brim.
Some must-orders for dinner include their sesame crusted feta with dried figs, thyme, pink peppercorns & honey; "Youvetsi", their wine-braised short ribs with baked orzo; and their Greek fries which are seasoned perfectly and just the right amount of crispy.
There's also a raw bar with clams, oysters, salmon crudo and tuna tartare; I recently enjoyed the tartare, which is super fresh and made with yellow fin tuna, orange oil, zeia crisps, dried kalamata olives and fennel pollen.
"Elea" means "olive" in Ancient Greek, and some deliciously juicy olives are served with warm loafs of bread which are brought out before dinner.
Elea features a cocktail list with many signature concoctions. The first recommendation our waiter made was the Kymatini, which is made with Stoli cucumber, Skinos Masticha and mint, and is extremely refreshing and delicious (and went down quickly). Another popular cocktail is Elea's "Dirty Greek", made with Aris Vodka or Bombay Sapphire, Kalamata olive juice, and feta-stuffed Kalamata olives.
The brunch menu at Elea includes a variety of egg plates like Greek Style Shakshuka (baked eggs, tomato, peppers, feta, and toasted Zeia Bread) and Youvetsi Hash & Eggs (Xinomavro braised short rib "hash", soft scrambled egg, anthotyro and toasted Zeia Bread). Additionally, their three signature Bloody Mary's are made with their own vegetable infused vodka.
Advertisement
Jacob's Pickles
509 Amsterdam Ave (between 84th and 85th Streets)
For lovers of all things fried and pickled, Jacob's Pickles is your place. Equally delicious and artery clogging, this UWS comfort foods specialist is one that requires the body to prepare itself.
One notable classic includes their buttermilk fried chicken, which can accompany fluffy pancakes and bacon, or their famous mac and cheese, or simply find itself in a super moist biscuit.
Some other soulful foods to enjoy include their shrimp and grits, catfish tacos and their poutine.
And Jacob's actual pickles come in 8 varieties.
In addition to the great food, Jacob's has a 22-tap beer list and plenty of spirits.
Check out the newest addition to the Pickle Empire, Tiki Chick!
Get The Upper West Side Newsletter!
Cafe Luxembourg
200 West 70th Street (between Amsterdam and West End)
On the Upper West Side since 1983, Cafe Luxembourg is a posh French restaurant which is usually packed to the brim, oftentimes with celebrity patrons. So make a reservation! They are known for their shoe string frites which can come with our without parm (get the parm) and served with mayo. The steak frites entrée is also amazing!
Other popular dishes include their tuna burgers, eggs benedict and omelettes.
Fun fact: This famous UWS restaurant was featured in When Harry Met Sally!
See our full list of the best spots for french fries on the UWS.
The Mermaid Inn
570 Amsterdam Avenue (between 87th and 88th Streets)
Known most for their enticing oysters and raw bar, with east and west coast options for the connoisseur.
Mermaid Inn has an awesome, awesome happy hour with dollar oysters – every day from 5-7pm! Plus cool cocktails like their "jalapeno hospitality" with jalapeno-infused tequila, pineapple juice, fresh lime and agave.
Their "Nearly Famous" lobster roll (on their brunch menu) comes with thick and creamy chunks of lobster on a grilled brioche bun, served with old bay fries.
They also offer a scrumptious side of smoked gouda mac & cheese with scallions on their dinner menu. It's pretty filling and only $9!
Advertisement
Sushi Kaito
244 West 72nd Street (between West End and Broadway)
Sushi Kaito opened in June of 2017 and has since gotten rave reviews and a wild amount of media praise.
They like to keep it simple and run a tight ship.
The menu has two main options: 12 pieces ($75) or 16 pieces ($100).
Seating is offered Tuesday through Sunday at 5:30pm, 7:00pm and 8:30pm.
With the vast majority of fish coming straight from Japan, quality here is just as important as quality control. This relatively new UWS restaurant has quickly become considered one of the best Upper West Side sushi places.
Peacefood Cafe
460 Amsterdam Ave (between 82nd and 83rd Streets)
Peacefood is a casual vegan restaurant and bakery with another location in the Union Square area. Eric Yu opened his restaurant on the Upper West Side back in 2009, to the great delight of local plant fans.
Locally grown ingredients are used in all of their foods, so specials change on a seasonal basis to ensure maximum freshness.
Their sandwiches are served on toasted whole spelt rye bread, and they won a "best sandwich award" in the 2010 NYC Vegan Guide. Try the tempeh avocado: "baked marinated tempeh, creamy avocado, pickled radishes, shredded carrots and cilantro."
Their special menu (offered daily between 11am-5pm) includes a delicious "protein-packed kale salad" served with diced seasonal tofu, tempeh bacon, pumpkin seeds and raisins tossed with the chef's secret dressing.
Another crowd pleaser would be the chickpea fries, with a tad of Indian spices and served with their creamy house dipping sauce.
If you're having trouble shaking that sweet tooth, Peacefood's bakery offers treats made without egg, dairy or refined sugar. The vegan brownies and raw key lime pie are delish.
Leyla
108 West 74th Street (between Amsterdam and Columbus)
There's no shortage of Mediterranean options on the UWS, that's for certain. Despite the abundance, Leyla tops the charts. If you're looking for an upscale and ambient option, look no further.
Noted for its phenomenal hospitality, Leyla is a modern Turkish place that can cover lots of occasions. Think Mother's Day brunch, romantic date, or cocktails at a modern bar. The space is big enough to fit you and your extended family. And the dining room is attractive and spacious enough to guarantee you can always get a table with a date. For just about everything, this is the spot.
It also happens to be the spot for things like flatbreads, lamb shank with mushroom risotto, and eggplant caviar. All of which are delicious. The options for ordering plates to share are endless. Pick between "mezzes", "pides", or artful salads for healthy eaters. Those looking to indulge can feast on flavorful branzino, Turkish pasta, and lamb shanks alike.
Advertisement
Calle Ocho
2756 Broadway (between 105th and 106th Streets)
One of the top picks for Upper West Side brunch spots, and for good reason. Calle Ocho's brunch includes eight flavors of bottomless sangria! Add delicious salsa, tangy chipotle, and delicious rolls with passion fruit butter for a guaranteed good time.
This hip Latin restaurant serves creative twists on traditional foods influenced by Cuban, Peruvian, Dominican, Spanish, Venezuelan and Costa Rican cuisines. Popular choices include all five varieties of their ceviche, poached lobster and Cuban skirt steak.
Jean Georges
1 Central Park West (between 60th and 61st Streets)
This beautiful French restaurant features walls of windows offering views of Central Park, many celebrity patrons, and acknowledgement from many food critics like Michelin and Zagat as one of the best restaurants on the Upper West Side.
Jean George has earned four stars from The New York Times, James Beard awards, and was considered the sixth best restaurant in NYC by Zagat in 2013.
Choice picks include the foie gras, chocolate lava cake and crab and mango salad.
Certainly among the most expensive restaurants you'll find in this list, and in NYC.
Oh, and if you're interested in NYC celebrity sightings, come here.
The Ribbon
20 West 72nd Street (between Columbus and Central Park West)
The first Blue Ribbon restaurant on the Upper West Side, The Ribbon serves new American cuisine with a touch of French influence which is recommended by both Zagat and Michelin.
Patrons love their spit roasted meats, notably their prime rib of beef which can be ordered as an entrée or enjoyed through their excellent prime rib poutine, which is served with onions, cheddar gravy and a fried egg.
The Raw Bar gets many positive reviews as well, and features oysters, clams, king crab, New Orleans shrimp, lobster and American Sturgeon caviar.
Additional treats include generous meat and cheese plates, shareable pates, deviled eggs and the show-stopping Blue Ribbon fried chicken.
For those looking to eat and drink, The Ribbon's bar comes with over 98 whiskeys and bourbons, a 100-bottle wine list, six wines on tap and a collection of local beers and ciders.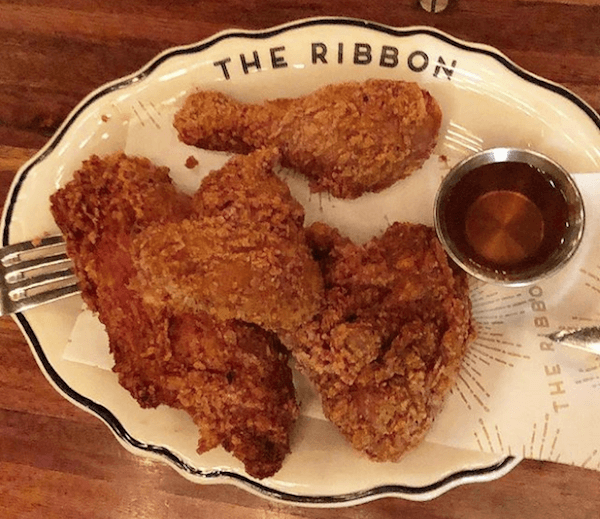 Advertisement
Nobody Told Me
951 Amsterdam Ave (between 106th and 107th Streets)
Like the name mentions, maybe you still haven't heard about this vibrant new cocktail and elevated food spot on the UWS. Located at 106th and Amsterdam, Nobody Told Me is a great new restaurant and one of the most exciting new Upper West Side bars. They've brought a much-needed cocktail menu to an area filled with dive bars, whiskey bars, and pubs.
Nobody Told Me's atmosphere is trendy, dim, and buzzing. A brick wall highlights a bright white neon sign of the bar's logo, and floral walls wrap around the room. The bar has several table tops and booths, and probably enough space to fit 50-60 people. Despite this, it maintains an intimate and cool feeling.
The drinks are all between $12-$15, and the menu has several which really stand out. Our personal favorite is The Sidecar Killer – a tasteful blend of citrus and cognac, which tastes like a lemonade on vacation. The Dia De Los Zombies is memorable too – it's a tequila drink that's served in a Mexican prayer candle.
While the drinks are well crafted, the food is what really seals the deal. Nobody Told Me offers a unique menu of sharable snack plates. Most are less than what you'd spend on a drink at a bar, and all are delicious. Serving up things like truffle queso, Hawaiian shrimp rolls, and blistered shishito peppers, you'll be wondering why nobody told you about this place sooner.
Community Food & Juice
2893 Broadway (between 112th and 113th Streets)
Located in the heart of Morningside Heights, this New American restaurant has a wide array of options for those looking to go organic or meat-free.
The yummy times at Community Food & Juice begin first thing in the morning with their wonderful breakfast options.
They have a weekday pancake special from 8-9am which comes with super fluffy blueberry pancakes, a freshly squeezed small orange juice and unlimited coffee. This special goes for $12 total.
The customizable "Community Omelette" is another popular first-meal item. Filling options include avocado, hickory bacon, turkey chorizo, wild mushrooms, roasted tomatoes, caramelized onions, maple cured ham, sautéed spinach, Vermont Cabot cheddar, goat cheese, feta, fontina and muenster.
For lunch they serve a tangy gruyere quiche, crispy fried fish sandwiches with golden beet chips, and excellent, rich burgers with onions and sweet potato fries. Plus one of my favorite roast chickens in the city for dinner, served with lemon rosemary couscous.
They also have my favorite salad on the Upper West Side; "The Farmer's Chop", made with romaine hearts, green apples, kirby cukes, radishes, carrots, mizuna, chives, tarragon, celery, lynnhaven local feta, sunflower seeds, champagne-cider vinaigrette. Add grilled chicken … it's great.
And don't forget their bowls of mystery vegetables, flatbreads to start, and the extreme-chocolate cake. They also make all their own juices fresh, they have an inventive and rotating list of cocktails, and they butter their cider.
Maison Pickle
2315 Broadway (between 83rd and 84th Streets)
From the owner of Jacob's Pickles, Maison Pickle is a more upscale Upper West Side restaurant with a menu centered around French dip sandwiches and classic cocktails.
They offer four French dip sandwiches: Classic, Deluxe, Reuben and Lamb (the first three are beef)– all served on their house baked French bread and with dill pickles.
You'll certainly want to get their buffalo chicken mac and cheese, which I was very excited to post on Instagram when I first got it. They also offer mac fans one made with sausage, jalapeño, cheese, and a fried egg – the Midnight Mac and Cheese. Other popular items include their deviled eggs, challah French toast (for brunch), and their fried chicken n' toast.
The cocktail menu has some really elaborate options, including their "Death in the Afternoon" absinthe drink. A generous beer list includes ten rotating taps and bottled brews from companies like Founders and Brooklyn Brewery.
The space itself is beautiful. There's a bar in the front and a huge rear dining section with multiple levels, bright liquor-bottled walls, plush green and brown leather seating and great natural light. Maison is definitely a date spot!
Advertisement
Saravana Bhavan
413 Amsterdam Avenue (between 79th and 80th Streets) 
This Southern Indian vegetarian joint is part of one of the world's largest vegetarian chains.
Specialties include doas, idli and vada, all made from ground rice and lentils.
Dosas are crispy crepes that are frequently served with a potato and onion masala. Try their Masala Dosa: Thin rice and lentil crepe filled with mildly spiced mashed potatoes and onions, served with 3 varieties of chutney's and sambar. 
Vadas are savory fried snacks, similar to donuts. Try the Medhu Vada: Crispy lentil doughnut served with sambar and chutney.
And idlis are a savory rice cake which are a staple of Southern Indian cuisine. Enjoy the Mini Ghee Idlies: Fourteen pieces immersed in sambar and garnished with ghee.
Saravana is also popular for their delicious sauces and Madras coffee (made by mixing frothed and boiled milk).
And they are certified Kosher!
The Tang
920 Amsterdam Ave (between 105th and 106th Streets)
Next time you're looking for a cool place on the UWS that brings a fun environment along with great food, we recommend The Tang. The restaurant has an outstanding ambiance. Neon lights illuminate the kitchen area and food is served in trendy platings. They've racked up tons of Instagram followers for their visually stunning presentations, and have been noted by Thrillist, the New York Times, and more.
And although we've never been to China, we imagine that The Tang lives up to the authentic taste of the Chinese food they aim to serve. The menu is filled with hearty noodle soups and platters, and small plates packed with protein. Add on dumplings, a generous sake list and a slew of desserts.
The braised pork belly melts in your mouth. So order anything with pork, and you'll be thankful. Especially the fried pork buns. You can't go wrong with their roasted eggplants either – elevated by soybean paste and bonito flakes. The scallion oil noodles are a fan favorite too.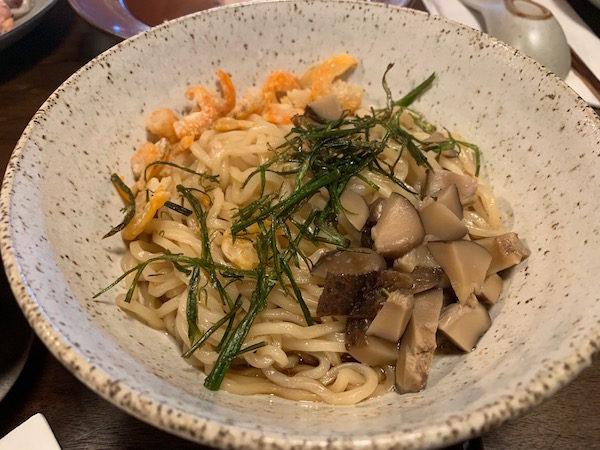 Boulud Sud
20 West 64th Street (between Broadway and Central Park West)
Daniel Boulud's upscale Mediterranean and French restaurant near Lincoln Center offers its patrons seasonal fare, fresh vegetables and seafood, and an extensive wine list.
The seafood section should bring your attention to a wonderful dover sole prepared with lemon, olives, capers and brown butter. The Mediterranean sea bass, also a winner, is served with spring peas, walnut and green cardamom tahini.
The pasta happy hour is a daily celebration; after 9pm between Sundays and Thursdays and after 10pm on Friday and Saturday. All pasta is half-priced and served in the bar and lounge. Boulud Sud's pasta is made-in house using freshly ground local and Italian flavors. Their organic eggs are made at a farm in Pennsylvania.
Another ongoing special is "Paella Sundays". This traditional Paella dinner comes with family-style tapas, paella "Valenciana," churros and a glass of Sangria for $49 per person.
The wine list offers reds, whites, roses and champagnes from France, Spain, Italy, Greece and California, with a separate menu for dessert wines.
Advertisement
Schatzie's Prime Meats
2665 Broadway (between 101st and 102nd Streets)
Schatzie The Butcher – also known as "The Meat Man of Manhattan" – comes from a long line of butchers originating from Germany.
Schatzie has been a butcher from the time he was 11 years old and working at his father's butcher shop in the Bronx.
This is one gritty old New Yorker … an OG to the max … and he is unquestionably one of the best butchers in NYC.
"I know about meat and poultry. I know how to butcher a side of beef, trim a rack of lamb, fillet a duck, cut up a chicken … or discretely make a pass at a customer. I love women almost as much as meat. They are one of my passions along with meat and singing (I have a night club act which I hope you will come and see sometime)."
Schatzie's is a destination for both ordinary and exotic meats. Even if you don't see something on the shelves, Schatzie can get it for you.
Their most popular cut is their USDA Prime Strip Steak.
In addition to their meats, they offer some "heat and eat" options on their menu.
The Meat Man's son Richie has opened up a burger joint next door … aptly named Richie's Burger Joint. Here you can find delicious grass fed burgers, delicious French fries, and a nice rotation of micro brews.
Saiguette
935 Columbus Ave (corner of 106th Street)
This extremely casual Vietnamese eatery is mostly good for take-out, but there are a few stools inside. Regardless, your meal will come in a take-out container.
Ask people in Manhattan Valley and they'll tell you good things about their sandwiches. Called "Banh Mi", they come on Saiguette's home-made bread accompanied by cucumbers, pickled carrots and jalapenos, and a spicy chili mayo. Choices for meats include pork shoulder or belly, flank or skirt steak, a few cuts of chicken, fish and shrimp.
They are also praised for their pho (a Vietnamese rice noodle soup made with beef broth, onion, lime, bean sprout, basil, jalapeno and hoisin siracha). You'll find them in various "Best Pho in NYC" articles, including those by Thrillist, Time Out New York and Eater.
Pho real …
View this post on Instagram
Kirsch Bakery & Kitchen
551 Amsterdam (between 86th and 87th Streets)
The main attraction at this restaurant and bakery is without a doubt their French Toast, which you can enjoy in various forms and at all times.
Their sweet and savory French Toasts are available for breakfast, brunch and lunch.
Savory options include lox and onion or bacon, swiss and egg.
And there are three in the sweet section:
Mascarpone cream and mixed berry jam (this one is also on their kids menu)
Cinnamon and pear
Chocolate peanut butter
And for dinner, a lobster French toast appetizer! Prepared with lemon butter and tarragon.
The dinner menu includes several fresh seafood entrees, like seafood linguine, roasted salmon and sea bass. The wine list is generous and several house cocktails are offered, including a very unique "Kirsch Royal" made with cava and homemade cherry syrup.
Other fan favorites include their spicy avocado toast, mac and gruyere and their quiche – which changes on a daily basis.