We've eaten at so many restaurants on the Upper West Side – and when new Upper West Side restaurants open, it's a celebration.  This post uncovers the very best places to eat, in addition to recent and upcoming openings! We've also included Upper West Side bars, bakeries, supermarkets, and any establishment on the UWS that serves food or alcohol!


Before we start – to get news about restaurants on the Upper West Side before anyone else, be sure to sign up for our newsletter!
Choose a category!
Best Restaurants on the UWS
Recently Opened
Opening Soon
Advertisement
Best Restaurants on the Upper West Side!
Jacob's Pickles: Best Upper West Side Restaurant For Artery-Clogging Comfort Foods!
509 Amsterdam Ave (between 84th and 85th Streets)
For lovers of all things fried and pickled, Jacob's Pickles is your place. Equally delicious and artery clogging, this UWS comfort foods specialist is one that requires the body to prepare itself.
One notable classic includes their buttermilk fried chicken, which can accompany fluffy pancakes and bacon, or their famous mac and cheese, or simply find itself in a super moist biscuit.
Some other soulful foods to enjoy include their shrimp and grits, catfish tacos and their poutine.
And Jacob's actual pickles come in 8 varieties.
In addition to the great food, Jacob's has a 22-tap beer list and plenty of spirits.
Cafe Luxembourg: Best French Fries on the UWS
200 West 70th Street (between Amsterdam and West End)
On the Upper West Side since 1983, Cafe Luxembourg is a posh French restaurant which is usually packed to the brim, oftentimes with celebrity patrons. So make a reservation! They are known for their shoe string frites which can come with our without parm (get the parm) and served with mayo. The steak frites entrée is also amazing!
Other popular dishes include their tuna burgers, eggs benedict and omelettes.
Fun fact: This famous UWS restaurant was featured in When Harry Met Sally!
Nice Matin: Best Upper West Side Restaurant for Tuna Tartare and Escargot
201 West 79th Street (corner of Amsterdam)
Located in the Lucerne Hotel, this bustling French restaurant serves super popular tuna tartare and escargot with tomato fondue and garlic butter, delicious coffee, a stunning interior and large, wrap-around outdoor eating space.
For breakfast or brunch, their eggs are super fresh and the spicy lamb sausage scramble is a winner. As are their fresh juices (including their own mix of orange, mango, cranberry and pineapple).
The pre-fixe lunch of either 2 or 3 courses offers several choices, including their popular kale salad and PEI mussels.
They offer a three-course pre-fixe dinner menu for $42. I would recommend the escargot and spiced salmon, and for dessert the chocolate mousse is amazing. They also have a great wine and craft cocktail menu.
View this post on Instagram
Sarabeth's West: Best Upper West Side Restaurant For Griddle Specials!
423 Amsterdam Ave (between 80th and 81st Streets)
Sarabeth's West opened in 1981, making it the first of the NYC restaurant chain's locations to open. A widely-celebrated Upper West Side breakfast spot, one of their most positively reviewed item is their lemon ricotta pancakes. Other early morning treats include some unique twists on waffles and French toast, and their fresh juices are spectacular! Try the pomegranate.
sarabethsrestaurants.com/locations/upper-west-side/
Barney Greengrass: Best Restaurant on the Upper West Side For Jewish Deli
541 Amsterdam Ave (corner of 87th)
One of the best Jewish delis in NYC has been a staple of the Upper West Side for over 100 years – popular for breakfast, brunch and beyond. They are not Glatt Kosher but given 90% of the items on their menu, you can safely dine here if you follow a Kosher diet.
Dubbed "The Sturgeon King", they're most known for their smoked fish platters and bagels.
Their bagels are outstanding and come in a ton of varieties, as do their spreads.
The décor and ambiance at Barney Greengrass oozes with charm and old-school New York.
In recent news: Barney Greengrass Reopens After Brief Closure
Piccolo Cafe: Best Rustic Italian Restaurant on the UWS
313 Amsterdam Ave (between 74th and 75th Streets)
This rustic Italian spot is cute, cozy and delicious. For early eating, I really love their egg-sandwiches and croissants. And their coffee is amazing (they actually began as a coffee company). If you're running late for work, grab a super strong pick-me-up through their charming espresso window during the warmer weather.
Dinner includes a large list of home-made pastas, including an authentic spaghetti with manila clams, perfected by the chef while still in the mother country.
Dessert options are also plentiful and include a mouth-watering tiramisu.
Best of all, Piccolo Café is very affordable!
Just one more reason it's among my favorite restaurants on the Upper West Side.
piccolocafe.us/313-amsterdam-ave
Han Dynasty: Best Chinese Restaurant on the Upper West Side
215 West 85th Street (between Broadway and Amsterdam)
This Chinese restaurant is part of a national chain which has another location in the East Village. They offer large, family-style dishes which are ideal for sharing. It's a Sichuan restaurant, so expect spicy – but you can ask your server to tone it down.
A couple of major hits:
Dan Dan Noodles – These plump noodles are seasoned with both spicy chili oil and sweet soy and sesame for an interesting and addicting balance. A 6 on the spicy scale
Dry Pepper Chicken – this entrée style is described on the menu as "Triple flash fried with long hot and dry chili peppers", and gets an 8 on the spicy scale. You can also get this style with fish, tofu or shrimp, but these little fried chicken bites are the best.
Red Farm: Best UWS Restaurant for Dumplings
2170 Broadway (between 76th and 77th Streets)
One of the trendiest restaurants on the Upper West Side. This innovative Chinese restaurant serves dim sum-styled dishes with a "greenmarket sensibility" and many modern takes on classic Chinese dishes. Try their scallion pancakes with bacon or their shrimp and snow pea dumplings!
They also offer a bunch of dishes you might not immediately think of when you think of "Chinese": mussels with eggplant and okra, a NY strip steak and shrimp-stuffed jalapeno poppers.
And their "Pac Man" dumplings are a serious fan favorite.
redfarmnyc.com/location/upper-west-side
The Mermaid Inn: Best Upper West Side Restaurant for Oysters + Happy Hour
570 Amsterdam Avenue (between 87th and 88th Streets)
Known most for their enticing oysters and raw bar, with east and west coast options for the connoisseur.
Mermaid Inn has an awesome, awesome happy hour with dollar oysters – every day from 5-7pm! Plus cool cocktails like their "jalapeno hospitality" with jalapeno-infused tequila, pineapple juice, fresh lime and agave.
Their "Nearly Famous" lobster roll (on their brunch menu) comes with thick and creamy chunks of lobster on a grilled brioche bun, served with old bay fries.
They also offer a scrumptious side of smoked gouda mac & cheese with scallions on their dinner menu. It's pretty filling and only $9!
Sushi Kaito: Best UWS Sushi Spot
244 West 72nd Street (between West End and Broadway)
Sushi Kaito opened in June of 2017 and has since gotten rave reviews and media praise.
They like to keep it simple and run a tight ship.
The menu has two main options: 12 pieces ($75) or 16 pieces ($100).
Seating is offered Tuesday through Sunday at 5:30pm, 7:00pm and 8:30pm.
With the vast majority of fish coming straight from Japan, quality here is just as important as quality control. This relatively new UWS restaurant has quickly become considered one of the best Upper West Side sushi places.
Levain Bakery: Best Cookies on the UWS … and anywhere!
167 West 74th Street (between Amsterdam and Columbus)
351 Amsterdam Ave (between 76th and 77th Streets)
The cookie king of NYC.  And maybe Earth. Levain's cookies are giant, soft, moist and perfect. Choose from chocolate chip walnut, dark chocolate chocolate chip, oatmeal raisin or dark chocolate peanut butter chip.
They also serve scones and muffins and more, but the cookies are where it's at.
When Levain Bakery on Amsterdam Avenue first opened, Upper West Siders were in bliss – because the lines at their smaller 74th Street location will often extend far down the block.
Good Enough To Eat: Best Upper West Side Restaurant For Fluffy Eggs
520 Columbus Avenue (corner of 85th Street)
Among a handful of restaurants on the Upper West Side with rabid cult followings. The highlight at Good Enough To Eat are their famous biscuits with strawberry butter. You'll also find super fluffy eggs and delicious pancakes on their brunch menu. Their brunch also comes with some pretty inventive bloody mary cocktails, one of which comes with bacon!
For those with a sweet tooth, start with a signature milkshake, and feel free to have it spiked. And the cakes are amazing and come in all types of wacky varieties.
The Milling Room: Prettiest Restaurant on the Upper West Side
446 Columbus Avenue (between 81st and 82nd Streets)
The Milling Room brings seasonal, locally-sourced American cuisine to an enormous and stunningly beautiful sky-lit space, formerly occupied by both Calle Ocho and Corvo Bianco.
Lead by executive chef Phillip Kirschen-Clark, some dish highlights include the prosciutto croquettes, the grilled octopus and the roast farm kitchen. The orzo mac and cheese is also deliciously creamy and topped in crunchy bread crumbs.
Playa Betty's
320 Amsterdam Ave (between 75th and 76th Streets)
Transport yourself to the beaches of the west coast at this upbeat Cali style eatery. Their Baja fish tacos, queso and guac mix perfectly with the loud and happy dance music.
My drink of choice is the frozen paloma margarita which is made with grapefruit and lime and can be scored for just $8 during happy hour. Another refreshing cocktail is their "Cool as a Cucumber", made with organic crop vodka, cucumber, lime and fever tree tonic.
I'm also a big fan of their chicken wings. Sweet and spicy, their "Rad Wings" are made with a Catalina dressing and are a nice change of pace for any wing fans looking for something new.
Playa Betty's is a great place to go when you want to get into the spirit of vacation before you're upcoming  trip to California. Or if you're less cool, like me, Florida.
Peacefood Cafe: Best Vegan Sandwiches on the Upper West Side
460 Amsterdam Ave (between 82nd and 83rd Streets)
Peacefood is a casual vegan restaurant and bakery with another location in the Union Square area. Eric Yu opened his restaurant on the Upper West Side back in 2009, to the great delight of local plant fans.
Locally grown ingredients are used in all of their foods, so specials change on a seasonal basis to ensure maximum freshness.
Their sandwiches are served on toasted whole spelt rye bread, and they won a "best sandwich award" in the 2010 NYC Vegan Guide. Try the tempeh avocado: "baked marinated tempeh, creamy avocado, pickled radishes, shredded carrots and cilantro."
Their special menu (offered daily between 11am-5pm) includes a delicious "protein-packed kale salad" served with diced seasonal tofu, tempeh bacon, pumpkin seeds and raisins tossed with the chef's secret dressing.
Another crowd pleaser would be the chickpea fries, with a tad of Indian spices and served with their creamy house dipping sauce.
If you're having trouble shaking that sweet tooth, Peacefood's bakery offers treats made without egg, dairy or refined sugar. The vegan brownies and raw key lime pie are delish.
Advertisement
Calle Ocho: Best Latin Restaurant on the Upper West Side
Former Address: 45 West 81st Street (between Columbus and Central Park West)
Upcoming Address: 2756 Broadway (between 105th and 106th Streets)
One of the top picks for Upper West Side brunch spots, and for good reason. Calle Ocho's brunch includes eight flavors of bottomless sangria! Add delicious salsa, tangy chipotle, and delicious rolls with passion fruit butter for a guaranteed good time.
This hip Latin restaurant serves creative twists on traditional foods influenced by Cuban, Peruvian, Dominican, Spanish, Venezuelan and Costa Rican cuisines. Popular choices include all five varieties of their ceviche, poached lobster and Cuban skirt steak.
Jean Georges: The Classic Fancy Restaurant on the Upper West Side
1 Central Park West (between 60th and 61st Streets)
This beautiful French restaurant features walls of windows offering views of Central Park, many celebrity patrons, and acknowledgement from many food critics like Michelin and Zagat as one of the best restaurants on the Upper West Side.
Jean George has earned four stars from The New York Times, James Beard awards, and was considered the sixth best restaurant in NYC by Zagat in 2013.
Choice picks include the foie gras, chocolate lava cake and crab and mango salad.
Certainly among the most expensive restaurants you'll find in this list, and in NYC.
Oh, and if you're interested in NYC celebrity sightings, come here.
Candle Cafe West: Best Vegetarian Restaurant on the Upper West Side
2427 Broadway (between 89th and 90th Streets)
Kosher-certified and 100% plant-based foods. Menu items change seasonally to ensure freshness.
For lunch, try their Cajun seitan sandwich, served on grilled focaccia with steamed kale, ancho chili aioli, red onion, avocado and field green salad.
They have noteworthy beverage menus filled with unique concoctions with and without alcohol.  Fresh juices include a "sun kissed mocktail" made with pear, orange, vanilla and lemon. For later-in-the-day visits, I would recommend their "Garden of Eden" which is comprised of beet-infused vodka, lemon, elderflower soda and agave.
Candle Cafe's dessert menu features amazing sorbet, chocolate mousse and a yummy banana chocolate cake with coconut frosting, chocolate and vanilla coconut ice cream.
The Ribbon: Best Upper West Side Restaurant for Fried Chicken
20 West 72nd Street (between Columbus and Central Park West)
The first Blue Ribbon restaurant on the Upper West Side, The Ribbon serves new American cuisine with a touch of French influence which is recommended by both Zagat and Michelin.
Patrons love their spit roasted meats, notably their prime rib of beef which can be ordered as an entrée or enjoyed through their excellent prime rib poutine, which is served with onions, cheddar gravy and a fried egg.
The Raw Bar gets many positive reviews as well, and features oysters, clams, king crab, New Orleans shrimp, lobster and American Sturgeon caviar.
Additional treats include generous meat and cheese plates, shareable pates, deviled eggs and the show-stopping Blue Ribbon fried chicken.
For those looking to eat and drink, The Ribbon's bar comes with over 98 whiskeys and bourbons, a 100-bottle wine list, six wines on tap and a collection of local beers and ciders.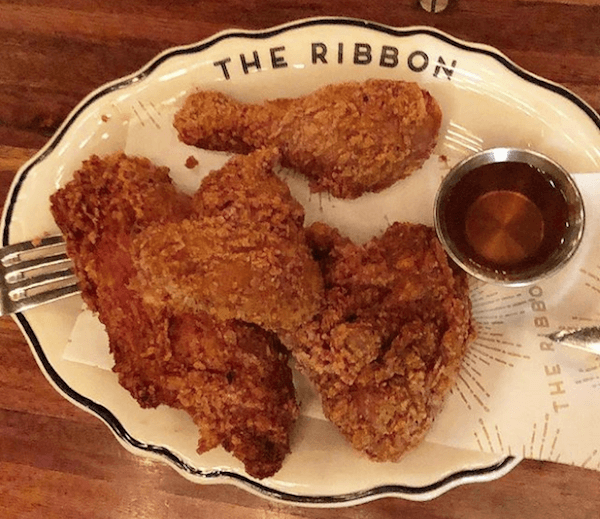 Emack and Bolio's Ice Cream: Best Ice Cream on the UWS
389 Amsterdam Avenue (between 78th and 79th Streets)
Serving "Ice Cream For The Connoisseur", Emack and Bolio's was founded in Boston in 1975 and are considered the "best ice cream purveyors in the country" by Good Housekeeping Magazine. And it's definitely my favorite Upper West Side ice cream shop.
They offer outrageous and inventive flavors made from all natural ingredients. These creative tastes find their inspiration from sources like dessert chefs, ethnic grocery stores, mother nature and even their customers.
Some favorites include the Cookie Monster (Oreos with cookie dough), Red Velvet (chewy cake bits), and the Grasshopper Pie (crème de menthe liquor with oreos and chocolate flakes).
Emack's actually invented the flavored cone in 1980, offering various flavors which can be candy-coated or dipped in marshmallows, Fruit Loops or Rice Krispies.
Emack and Bolio's also offer homemade chocolates and sodas, ice cream cakes and smoothies.
Advertisement
Absolute Bagels: Best Bagels on the UWS
2788 Broadway (between 107th and 108th Streets)
An Upper West Side breakfast staple, this popular Upper West Side bagel spot makes their fresh and fluffy product from scratch with a new batch coming out of the oven every hour. This makes it a popular spot and so the lines can get long. So, if you're thinking of making a stop before work, give yourself plenty of time.
The space is modest, as it should be. But there are a few tables and you'll usually be able to find a seat, if you think you're too good to eat on the subway.
And also, they only take cash. So keep your wallets padded.
Xi'An Famous Foods: Best Upper West Side Restaurant for Spicy Noodles
2675 Broadway (between 101st and 102nd Streets)
This Chinese restaurant serves "hand-ripped" biangbiang noodles which are extremely long and flat and perfect for slurping.
The space is small but there is counter-seating, making it a good place for solo dining (or take-out, but a sign on the wall notifies patrons that the noodles are most enjoyable when enjoyed right away).
My favorite hot noodle dish is the spicy lamb cumin.  Xi'An Famous Foods also serves cold noodles and noodle soups.
You'll also find two salads and two burgers on their menu (a choice of pork or spicy lamb on a flatbread bun).
The Chinese chain opened their first location in Flushing, Queens in 2005.  Today, they have nine locations in Manhattan, one in Brooklyn and two in Queens.
Community Food & Juice: Best Upper West Side Restaurant for Organic Eaters
2893 Broadway (between 112th and 113th Streets)
Located in the heart of Morningside Heights, this New American restaurant has a wide array of options for those looking to go organic or meat-free.
The yummy times at Community Food & Juice begin first thing in the morning with their wonderful breakfast options.
They have a weekday pancake special from 8-9am which comes with super fluffy blueberry pancakes, a freshly squeezed small orange juice and unlimited coffee. This special goes for $12 total.
The customizable "Community Omelette" is another popular first-meal item. Filling options include avocado, hickory bacon, turkey chorizo, wild mushrooms, roasted tomatoes, caramelized onions, maple cured ham, sautéed spinach, Vermont Cabot cheddar, goat cheese, feta, fontina and muenster.
For lunch they serve a tangy gruyere quiche, crispy fried fish sandwiches with golden beet chips, and excellent, rich burgers with onions and sweet potato fries. Plus one of my favorite roast chickens in the city for dinner, served with lemon rosemary couscous.
They also have my favorite salad on the Upper West Side; "The Farmer's Chop", made with romaine hearts, green apples, kirby cukes, radishes, carrots, mizuna, chives, tarragon, celery, lynnhaven local feta, sunflower seeds, champagne-cider vinaigrette. Add grilled chicken … it's great.
And don't forget their bowls of mystery vegetables, flatbreads to start, and the extreme-chocolate cake. They also make all their own juices fresh, they have an inventive and rotating list of cocktails, and they butter their cider.
Maison Pickle: Best Upper West Side Restaurant for Heavy, Meaty Sandwiches
2315 Broadway (between 83rd and 84th Streets)
From the owner of Jacob's Pickles, Maison Pickle is a more upscale American eatery with a menu centered around French dip sandwiches and classic cocktails.
They offer four French dip sandwiches: Classic, Deluxe, Reuben and Lamb (the first three are beef)– all served on their house baked French bread and with dill pickles.
You'll certainly want to get their buffalo chicken mac and cheese, which I was very excited to post on Instagram when I first got it. They also offer mac fans one made with sausage, jalapeño, cheese, and a fried egg – the Midnight Mac and Cheese. Other popular items include their deviled eggs, challah French toast (for brunch), and their fried chicken n' toast.
The cocktail menu has some really elaborate options, including their "Death in the Afternoon" absinthe drink, not to mention a generous beer list with ten rotating taps and bottled brews from companies like Founders and Brooklyn Brewery.
The space itself is beautiful. There's a bar in the front and a huge rear dining section with multiple levels, bright liquor-bottled walls, plush green and brown leather seating and great natural light. Maison is definitely a date spot!
Saravana Bhavan: Best Indian Restaurant on the Upper West Side
413 Amsterdam Avenue (between 79th and 80th Streets) 
This Southern Indian vegetarian joint is part of one of the world's largest vegetarian chains.
Specialties include doas, idli and vada, all made from ground rice and lentils.
Dosas are crispy crepes that are frequently served with a potato and onion masala. Try their Masala Dosa: Thin rice and lentil crepe filled with mildly spiced mashed potatoes and onions, served with 3 varieties of chutney's and sambar. 
Vadas are savory fried snacks, similar to donuts. Try the Medhu Vada: Crispy lentil doughnut served with sambar and chutney.
And idlis are a savory rice cake which are a staple of Southern Indian cuisine. Enjoy the Mini Ghee Idlies: Fourteen pieces immersed in sambar and garnished with ghee.
Saravana is also popular for their delicious sauces and Madras coffee (made by mixing frothed and boiled milk).
And they are certified Kosher!
Advertisement
Silvermoon Bakery: Best Destination Bakery on the UWS
2740 Broadway (corner of 105th Street)
This French bakery has been open since 2000. When it first opened, there weren't many artisan bakeries on the Upper West Side, so it was a big deal.
Notable sweets include their blueberry muffins, chocolate Babka, chocolate croissants and cinnamon brioches.
If you're looking for savory, try one of their six varieties of sourdough bread or their classic French baguettes.
Everything at Silvermoon Bakery is fresh out of the oven and Upper West Siders are more than happy to wait in the confined space for their orders.
Plus, they are Kosher and vegetarian and have outdoor seating. The sidewalk cafe is a popular weekend destination for locals (and their dogs).
Boulud Sud
20 West 64th Street (between Broadway and Central Park West)
Daniel Boulud's upscale Mediterranean and French restaurant near Lincoln Center offers its patrons seasonal fare, fresh vegetables and seafood, and an extensive wine list.
The seafood section should bring your attention to a wonderful dover sole prepared with lemon, olives, capers and brown butter. The Mediterranean sea bass, also a winner, is served with spring peas, walnut and green cardamom tahini.
The pasta happy hour can be enjoyed every day; after 9pm between Sundays and Thursdays and after 10pm on Friday and Saturday. All pasta is half-priced and served in the bar and lounge. All pasta served at Boulud Sud is made in house using freshly ground local and Italian flavors, and organic eggs made from a farm in Pennsylvania.
Another ongoing special is "Paella Sundays" – a traditional Paella dinner with family-style tapas, paella "Valenciana," churros and a glass of Sangria for $49 per person.
The wine list offers reds, whites, roses and champagnes from France, Spain, Italy, Greece and California, with a separate menu for dessert wines.
Schatzie's Prime Meats: Best Spot for Ordinary + Exotic Meat Shopping
2665 Broadway (between 101st and 102nd Streets)
Schatzie The Butcher – also known as "The Meat Man of Manhattan" – comes from a long line of butchers originating from Germany.
Schatzie has been a butcher from the time he was 11 years old and working at his father's butcher shop in the Bronx.
This is one gritty old New Yorker … an OG to the max … and he is unquestionably one of the best butchers in NYC.
"I know about meat and poultry. I know how to butcher a side of beef, trim a rack of lamb, fillet a duck, cut up a chicken … or discretely make a pass at a customer. I love women almost as much as meat. They are one of my passions along with meat and singing (I have a night club act which I hope you will come and see sometime)."
Schatzie's is a destination for both ordinary and exotic meats. Even if you don't see something on the shelves, Schatzie can get it for you.
Their most popular cut is their USDA Prime Strip Steak.
In addition to their meats, they offer some "heat and eat" options on their menu.
The Meat Man's son Richie has opened up a burger joint next door … aptly named Richie's Burger Joint, which serves delicious grass fed burgers, delicious French fries, and a nice rotation of micro brews.
Saiguette
935 Columbus Ave (corner of 106th Street)
This extremely casual Vietnamese eatery is mostly good for take-out, but there are a few stools inside. Regardless, your meal will come in a take-out container.
Ask people in Manhattan Valley and they'll tell you good things about their sandwiches. Called "Banh Mi", they come on Saiguette's home-made bread accompanied by cucumbers, pickled carrots and jalapenos, and a spicy chili mayo. Choices for meats include pork shoulder or belly, flank or skirt steak, a few cuts of chicken, fish and shrimp.
They are also praised for their pho (a Vietnamese rice noodle soup made with beef broth, onion, lime, bean sprout, basil, jalapeno and hoisin siracha). You'll find them in various "Best Pho in NYC" articles, including those by Thrillist, Time Out New York and Eater.
Pho real …
View this post on Instagram
Kirsch Bakery & Kitchen: Best Upper West Side Restaurant for French Toast
551 Amsterdam (between 86th and 87th Streets)
The main attraction at this restaurant and bakery is without a doubt their French Toast, which you can enjoy in various forms and at all times.
Their sweet and savory French Toasts are available for breakfast, brunch and lunch.
Savory options include lox and onion or bacon, swiss and egg.
And there are three in the sweet section:
Mascarpone cream and mixed berry jam (this one is also on their kids menu)
Cinnamon and pear
Chocolate peanut butter
And for dinner, a lobster French toast appetizer! This is prepared with lemon butter and tarragon.
The dinner menu includes several fresh seafood entrees, like seafood linguine, roasted salmon and sea bass. The wine list is generous and several house cocktails are offered, including a very unique "Kirsch Royal" made with cava and homemade cherry syrup.
Other fan favorites include their spicy avocado toast, mac and gruyere and their quiche – which changes on a daily basis.
Advertisement
Gray's Papaya
As a native Upper West Sider, I have to include it. Open 24 hours a day, and first established in 1973, Gray's remains a popular hot dog destination for locals and a must-visit venue for tourists. Single dogs go for $2.50, and their "recession special" (2 hot dogs and a 14 oz drink) for $6.45.  They also serve a bunch of juice drinks including their popular papaya.
Advertisement
Upper West Side Restaurants Opened in 2019 (beginning with the most recent):
940 Columbus Avenue (corner of 106th)
This Cajun seafood restaurant serves fried catfish, shrimp and oyster baskets which comes with fries, po' boys, crab cakes, lobster mac 'n cheese, lobster bisque and gumbo, and lots of boiled seafood options (crab, lobster, shrimp, mussels, clams). They've also got a number of moderately priced cocktails and beers.
566 Amsterdam Avenue (between 87th and 88th Streets)
This sushi restaurant opened on November 29th, replacing Mimi (which was owned by the same people). Takeda is an omakase restaurant with two options and seating for a maximum of eighth people.

519 Columbus Avenue (85th Street)
This French and American restaurant and cocktail bar had its grand opening on November 6th. The Consulate will be primarily serving French and American plates, but the website indicates that a wider variety of cuisines will be available through "Monthly seasonal specials (which) will center around a specific region's recipes and culture, so diners can experience a new country's cuisine each month."

321 Amsterdam Ave (between 74th and 75th Streets)
This is a New York City chain serving bowls inspired by various Asian cuisines. Lots of unique ingredients and spices should be expected. Mighty Bowls opened their Upper West Side location on November 2nd, 2019.
774 Amsterdam Avenue (98th Street)
This funky Japanese pub opened their doors on October 17th, replacing former occupant Boru Boru. The first thing you'll notice at this new Upper West Side restaurant is the vibrant design and color … everywhere you look. Inlcuding the bathroom! While the menu is still being developed, some early favorites include their Pork Bao Buns, Steam Stuffed Pork Buns, Cheesy Corn and Tofu Agedashi (which is deep fried). The soundtrack is also dominated by 80s hits, which the staff frequently sing along to.
795 Columbus Avenue (between 98th and 99th Streets)
This location recently reopened, with a menu that is 50% vegan, an upgraded bar menu, and a new interior. Another Bareburger is scheduled to open soon on 79th and Broadway.

bareburger.com/location/columbus-ave
228 Columbus Avenue (between 70th and 71st Streets)
This handmade chocolate retailer comes from NYC. The soft-opening was on Tuesday, October 8th.  Kee's offers a wide variety of chocolates and macarons priced just under $3 a pop, using fresh ingredients from around the world.
267 Amsterdam (between 72nd and 73rd Streets)
This ramen chain originated in Japan in the 1950s. They are known for serving one of the "go-to" ramens in Japan still today, and their noodles are unique in that they are curlier and crunchier than what you might be accustomed to!
329 Columbus Avenue (between 75th and 76th Streets)
This new restaurant from the owners of Tessa had its grand opening on Thursday, October 3rd. The menu is "New American" with plenty of small plates, pastas, seafoods and meats. The chef is John Schafer, who has joined Asset from the Yankees franchise. The two-level restaurant has a bar on each floor, a DJ booth, a lounge area, and space for private dining and events.
375 Amsterdam Avenue (at 78th)
The cafe and bakery by Danny Meyer opened on Upper West Side on Wednesday, October 2nd, in the former home of White Gold Butchers. This is the popular eatery's second location. Menu highlights include crullers and other desserts, gourmet sandwiches, entrees and lots of coffees. The restaurant is also cashless, which may cause some controversy here on the UWS (as it has been an issue for their downtown location).

508 Columbus Avenue (between 84th and 85th Streets)
Pasta Franco serves Northern Italian cuisine, including salumi, pasta and customs steaks. Drink menu items will include chianti, bistec a florentine and various prosciuttos.
2060 Broadway (corner of 71st Street)
The NYC lunch spot has opened in over the former home of Tasty Cafe. Menu options include sandwiches, paninis, bowls, salads, pastas and more.
2680 Broadway (between 102nd and 103rd Streets)
This new family-owned, hip looking coffee joint was launched by a husband and wife team. They're offering a variety of Stumptown coffees, pastries and cakes, but plan to soon expand by offering salads, sandwiches, bowls and breakfast as well.
522 Columbus Avenue (between 85th and 86th Streets)
Brad's Burgers and BBQ is the reincarnation of GETE Burgers, which opened earlier this year. It's owned by the same man behind the original Good Enough To Eat, located right next door. The new Brad's has a menu filled with barbecue treats like pulled pork, ribs, and a burger with barbecue pork, caramelized onions, pickles and bbq sauce.

141 West 72nd Street (between Amsterdam and Columbus)
This newg Upper West Side restaurant specializes in Vietnamese sandwiches and noodle shops. They've replaced Japanese restaurant Izakaya Ida, and they have another location on the Upper East Side.
Advertisement
449 Amsterdam Avenue (between 81st and 82nd Streets)
This French cream puff bar had their soft opening on Wednesday, August 28th. Barachou is a "French-style cream puff bar" which will offer rotating flavors each week. Through a recent crowdfunding campaign, they raised over $20,000 to make their upcoming opening possible. The new bakery will also serve eclairs, beverages, and avocado toast.
2547 Broadway (between 95th and 96th Streets)
This small NYC chain (they have 3 other locations) has replaced Two Boots, which closed in early 2019. We don't know a ton about them, but it seems like a pretty basic pizza joint with a nice selection of appetizers, subs and salads for pretty decent prices.

718 Amsterdam Avenue (95th Street)
This popular Mexican bar and restaurant opened in Mid-August, taking over the space formerly occupied by Italian restaurant Acqua.
253 Columbus Avenue (between 71st and 72nd Streets)
The artisan ice cream maker opened their second location on the Upper West Side on August 5th. For a limited time, the new shop is serving "Oat Milk Strawberry Fields Ice Cream", which is their first vegan strawberry ice cream.  Van Leeuwen opened their first Upper West Side location, at 448 Amsterdam (82nd Street), in May of 2018, and are still in rapid expansion mode.
104 West 70th Street (between Broadway and Columbus)
This gluten-free and organic bakery had their soft opening in early August. They offer lots of sweet and savory items, fresh breads, muffins, cookies, cinnamon rolls and more. The last occupant at this space was Pain d' Epices; before them, it was Soutine.  Both bakeries as well.
2178 Broadway (on 77th Street)
The Arthouse Wine Bar had their official opening on Wednesday, July 24th, in the lobby of the Arthouse Hotel New York City. They had previously launched with a soft opening. The newly opened hotel bar offers an extensive list of wines from New York state as well as international selections, cocktails, tapas and small bites (including charcuterie boards).
arthousehotelnyc.com/arthouse-wine-bar-cabernet-colored
680 Columbus Avenue (corner of 93rd)
The kosher restaurant, which used to be known as Amsterdam Burger Co, has opened in the space which used to be occupied by Elizabeth's Neighborhood Table. In addition to burgers and beer, the new restaurant will serve items including a lobster roll, chicken curry sandwich, teriyaki wings, salad bowls, desserts and more.
21 West End Avenue (between 60th and 61st Street)
Peperino was recently launched by native New Yorkers. Their menu consists of a number of interesting square slices, small plates like meatballs and fried mozzarella bites, salads, subs, Italian desserts, beer, wine and coffee.

2897 Broadway (corner of 113th Street)
Formerly the home of Nussbaum + Wu, new owners have revitalized the popular Columbia bakery and changed the name around to pay respect to the original haunt. They've also changed up the menu. While they still serve originals like bagels, fish spreads and delicious sandwiches, they've added Chinese favorites for later-day dining. This includes dumplings, noodles, and classics like chicken with broccoli and lo mein.

15 West End Avenue (at 60th Street)
This new bar is located at the Morton Williams at the same address, which opened in June of this year. The food menu includes a lobster roll, tuna tartare, several paninis and charcuterie boards. The drink list includes 5 red wines, 5 whites, a handful of roses and champagnes, 8 beers on tap and a pretty long list of canned and bottled beers. Reviews are positive so far.
467 Columbus Avenue (between 82nd and 83rd Streets)
This Chinese restaurant will be opening in the former home of Canteen 82. They specialize in foods from Shanghai, but also offer Sichuan dishes and dim sum. Tri Dim Shanghai has another location on the Upper East Side.
491 Columbus Avenue (between 83rd and 84th Streets)
Le Petit Rooster had their soft opening on June 17th. The French bistro is offering some classic French dishes with modern techniques, French wines and a variety of low ABV cocktails.
restaurantji.com/le-petit-rooster

Advertisement
2178 Broadway (at 77th Street)
This Kosher bakery is located in the lobby of the newly branded Arthouse Hotel. Their main location is in Lyndhurst, NJ, with this one styled as a "mini cafe". Some of their offerings include danishes, croissants, buns, turnovers, cookies, focaccia, tomato and mushroom pizzettes, cheese twists and more.

2486 Broadway (between 92nd and 93rd Streets)
The award-winning gelato and ice cream company has opened to the public just in time for summer. They offer lots of flavors and also sell treats including ice cream cakes and vegan options. The company was born in New Jersey and has received many accolades for their outstanding product.
One West End (between 59th and 60th Streets)
The supermarket was originally expected to open by the summer of 2018, but it officially opened about a year later (June 7th, 2019 to be exact). The new Morton Williams features a large Kosher section, a bar, huge beer selection and outdoor seating.
951 Amsterdam (between 106th and 107th Streets)
This Manhattan Valley cocktail bar has finally opened their doors on June 6th, after many months of construction. They've got 12 cocktails on their menu – plus some pretty interesting food: starters include avocado tacos and ham with deviled mayo. And they have rabbit, hen and squid entrees!
269 Columbus Avenue (between 72nd and 73rd Streets)
This new UWS restaurant has recently opened in the former home of The Flying Fisherman. The menu features "American-eclectic" items with global influences and lots of organic options. There are plenty of burgers, tuna tartare, rice bowls, potstickers, homemade focaccia and more.
920 Amsterdam Avenue (105th Street)
The Tang NYC is a popular East Village noodle bar. Their second location is here on the Upper West Side, and locals should get excited about their innovative noodle soups, dumplings, pork buns and more!
377 Amsterdam Avenue (between 78th and 79th Streets)
The long-empty storefront which used to house Sugar and Plumm finally got a replacement, in the form of tacos! Tacombi has six other locations in New York, and is popular for the fried fish tacos, fresh juices, cocktails, and upbeat ambiance. This is one of the Upper West Side restaurants we're most excited about!
359 Columbus Avenue (corner of 77th)
This Mediterranean-inspired restaurant recently opened at the former headquarters of long-time UWS restaurant Isabella's.

Advertisement
445 Columbus Ave (between 81st and 82nd Street)
With downtown and Brooklyn locations, About Coffee recently opened their third location on the UWS. They serve a variety of hot and cold drinks and lots of sweet and savory baked goods.

2534 Broadway (between 94th and 95th Streets)
Yep! It has arrived. The long-anticipated southern fried chicken chain has found a home on the Upper West Side. We used to have a KFC on 106th and Broadway, but since it closed, there has been a chicken-shaped hole in our hearts. Not any more!
472 Columbus Avenue (between 82nd and 83rd Streets)
Arba opened their doors on May 8th. This Mediterranean and gluten-free restaurant come from celebrity Israeli chef Nir Zook, who has a huge name back in his country of origin. Expect to find lots of fish and vegetable dishes.
949 Columbus Avenue (between 106th and 107th Streets)
The upcoming Mexican restaurant will take the former space of The Fat Monk. They have plenty of weekly specials, including a daily happy hour from 3-7pm. Expect Mexican classics and some modern twists.

710 Amsterdam (between 94th and 95th Streets)
The Boilery had their grand opening on April 29th, 2019. The Cajun and Creole seafood restaurant has a raw bar, starters including lobster mac and cheese, Cajun waffle fries and crab cakes, and lots of fresh catches of the day.
Advertisement
487 Amsterdam Avenue (between 83rd and 84th Streets)
After an unfortunate fire this past December, Bustan has reopened. They've got a whole bunch of new menu items as well as a new executive and pastry chef!
161 West 72nd Street (between Amsterdam and Columbus Avenues)
Miznon has opened in the former home of Aroma Cafe. This Mediterranean restaurant comes from Israeli chef Eyal Shani. Much of the menu includes pitas with unique and delicious looking ingredients.
100 West 83rd Street (between Columbus and Amsterdam)
Both of these kosher restaurants have just started offering their menus at the address above, which is where Mexikosher has been located since the summer of 2016. So this space now offers three kosher menus!

108 West 74th Street (between Columbus and Amsterdam)
This Turkish and Mediterranean restaurant opened on March 6th. It's located on the ground floor of a townhouse on a residential street, and some of their dishes include flat breads, lamb shank, mezzes and salads.

654 Amsterdam Avenue (corner of 92nd)
This Kosher chain has several locations in New York, but this is their first Manhattan location. As the name suggests, one of their key menu items is schnitzel. You can also find burgers, steak and pastrami sandwiches, a whole bunch of different chicken finger recipes, salads and paninis on their menu.
Advertisement
994 Columbus Avenue (at 109th)
This Italian restaurant opened in late January, replacing another Italian restaurant, Isola. The prices are extremely reasonable, and the reviews are strong so far. Foods include wood-oven pizza, pastas, seafood and meat. The wine list is extensive and they offer prix-fixe lunches with two courses for $14 or three courses for $18.
1207 Amsterdam Avenue (between 119th and 120th Streets)
This Mediterranean restaurant offers lots of spreads, small shareable plates including octopus, meatballs, and cauliflower fritto, as well as a full bar and daily special cocktails. They also serve traditional Greek plates including souvlaki, kebab and moussaka.

472 Columbus Avenue (83rd Street)
This kosher and gluten-free bakery serves a whole host of sweet and savory, oven-baked goodies.

2791 Broadway (between 107th and 108th Streets)
This Italian restaurant recently opened their second location at the space previously occupied by Mezzogiorno. FUMO has another location in Harlem. It's a casual place, popular for their pizzas, pasta and cocktails.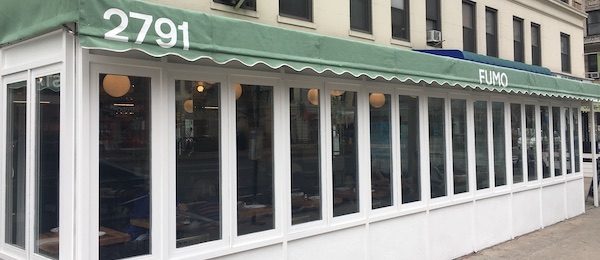 Advertisement
410 Columbus Ave (at 80th Street)
With three other locations in NYC, this popular bake shop is popular for their red velvet and icebox cakes. They officially opened on January 23rd.
466 Amsterdam Avenue (between 82nd and 83rd Streets)
This Italian wine bar has locations spread throughout the city; their new Upper West Side venue is their seventh. They offer an extensive list of wines, cocktails, and appetizers including paninis, meats and cheeses.
483 Amsterdam (between 83rd and 84th Streets)
Marinara Pizza opened their third NYC location in the former home of Polpette during January of 2019. They consider it a classic pizza joint with a modern twist, offering creative slices including a cauliflower pie.
274 Columbus Avenue (between 72nd and 73rd Streets)
This coffee and pastry place opened in the former home of Birdbath Neighborhood Green Bakery in early January of 2019.
Restaurants on the Upper West Side Opening Soon
2756 Broadway (between 105th and 106th Streets)
Calle Ocho recently announced they'd be opening at the new location on January 3rd, 2020. After eight years at the same location, they had their last day at 45 West 81st Street this past summer. We are looking forward to enjoying their sangrias and more at the huge new space (which comes with outdoor space!).
2014 Broadway (between 68th and 69th Street)
This Indian restaurant closed their previous location at 1845 Broadway (at 60th Street) due to a nearby construction project. The previous occupant at 2014 Broadway was Sole Bistro Italiano, which closed this September (after only being open for about a year).
620 Amsterdam Ave (between 90th and 91st Streets)
This giant Japanese BBQ chain will open an UWS restaurant in the former home of Saigon. Things to look forward to include personal grills at every table, lots of beef, and a really generous happy hour (I'm talking cocktails starting at $4!). They seem to be getting close to an opening date: they now have a Facebook page for their UWS restaurant. Follow them for updates here.
Bareburger
2233 Broadway (between 79th and 80th Streets)
Upper West Side burger fans were recently surprised to learn that they would soon have TWO Bareburgers opening in the neighborhood.  Their upcoming restaurant at 2233 Broadway will replace Ikinari Steak, a standing Japanese steakhouse which closed pretty quickly after opening. The second Bareburger location, at 795 Columbus Avenue, recently opened its doors (for the second time, as they used to have a restaurant there).

200 West 84th Street (between Amsterdam and Broadway)
This upcoming cocktail lounge will be a relaxed, low key spot which will play old records and vinyl. They are hoping to open in the spring of 2020, and will offer signature cocktails and sake, small plates and appetizers.

426 Amsterdam Avenue (between 80th and 81st Streets)
This Hawaiian poke bowl restaurant just leased space at this address, which was formerly home to kosher joint Big Bag Burger.  Humble Fish has another location in lower Manhattan, and stresses freshness above all else in their fish preparations.
Advertisement
2911 Broadway (between 113th and 114th Streets)
Columbia University recently announced that they'd be leasing space to this Cali-style taqueria, which has locations all over the city. Their upcoming location in Morningside Heights is slated to open in the fall of 2019. They're big on sustainability and offer both vegan and gluten-free options.
655 West 59th Street (between Riverside Boulevard and West End Ave)
This Mexican restaurant is scheduled to open in the Waterline Square complex in the fall of 2019. They have another location in the West Village and offer some pretty unique taco twists; some include pastrami, fish tempura, duck and lamb. They also have a big cocktail list with lots of margaritas and some great looking desserts.
40 Central Park South (between Fifth and Sixth Avenues)
Due to redevelopment efforts, this Italian restaurant and long-time favorite recently closed their location at 11 West 60th Street, where they had been since 1991. They plan to re-open nearby by March of 2020, at which point they will continue to serve their beloved breads, pastas, gelatos and wines.
2001-2007 Broadway (between 68th and 69th Streets)
We recently learned that this hip coffee place would be opening a second location on the Upper West Side. It will be located in the retail section of Dorchester Towers, and the space will measure 1,000 square feet. More coming soon!
2060 Broadway (between 70th and 71st Streets)
Information about this upcoming pizza place is limited at this point. But we do know that the owner is Gabriele Voci, who is the head chef of the popular downtown Sola Pasta Bar.
Advertisement
518 Columbus Avenue (85th Street)
The popular downtown ice creamery will be opening up in the former home of Birdbath Bakery.The ice cream shop serves their custom flavors in the form of pints to go and all sorts of fun soft-serve creations. Try their sundaes and milk shakes, and their "gobblers": traditional pie flavors with soft serve, pie crumbs and whipped cream!
44 West 63rd Street (between Broadway and Columbus)
This French restaurant and steakhouse has three downtown locations, and it was announced that they'd be replacing Ed's Chowder House in the lobby level of the Empire Hotel. Boucherie is popular for their dry-aged steaks, duck, French onion soup and drink list.
Advertisement
505 Columbus Avenue (between 84th and 85th Streets)
It was just announced that Don Pedro's will be setting up shop at Kefi's old location, some time next year. Don Pedro's is a Latin and Carribbean restaurant; they used to have a location on the Upper East Side.
Tiki Chick
517 Amsterdam Avenue (between 84th and 85th Streets)
Tiki Chick will be yet another new spot by Jacob Hadjigeorgis (owner of Jacob's Pickles, Maison Pickle and Lucky Pickle Dumpling Co.
Expected offerings include small plates, a fried chicken sandwich and drinks.
588 Amsterdam Avenue (between 88th and 89th Streets)
We recently learned that the popular Upper West Side bar would be expanding with a second location further north! For local beer lovers, this is very exciting, as Ale House has always been known as a great spot for a large beer selection. To add to that excitement, the new spot is supposed to have a backyard!!
592 Amsterdam Avenue (89th Street)
This upcoming restaurant is located in one of four buildings which were purchased for $33 million back in 2013, all of which the developer has been renovating to attract new, higher paying tenants. While we don't know much about this place, it is expected to have its own outdoor seating area.
2901-2913 Broadway (between 113th and 114th Streets)
The coffee retailer will be opening their second UWS location in a Columbia-owned property, which will also soon be housing Mexican spot Dos Toros, as well as board game cafe Hex & Company.
452 Amsterdam Ave (between 81st and 82nd Streets)
This casual dumpling chain will be setting up shop in the space formerly occupied by Treat House, which closed earlier this year. The restaurant serves hand-made fried and boiled dumplings, noodle soups, bubble teas, buns and stuffed pancakes. In addition, they sell bags of frozen dumplings you can take to go!

Our Upper West Side restaurant guide is constantly evolving, so make sure to bookmark this page!
And join the Upper West Side newsletter for non stop food news!