When Billy Joel refers to the Upper West Side's Riverside Drive in New York State of Mind, he says "… Don't care if it's Chinatown or up on Riverside." I don't know a lot about Chinatown, but I do know a thing or two about Riverside Drive and it's easy for me to see how it can put anyone in a "New York State of mind…"

A number of years after I moved to the UWS in the 1980s, I met an elderly woman, Rosemary White, who had made her living as a model and a showgirl back in the day of glamor.
Rosemary lived on West 72nd Street, specifically 330 West 72nd …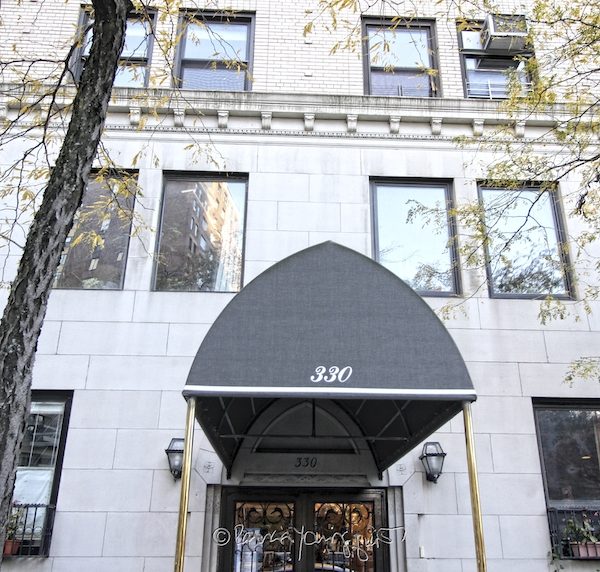 … and her building faced the M5 Bus's entrance to Riverside Drive.
Advertisement
The Riverside entrance on the northeast corner begins at 1 Riverside Drive where the Islamic Cultural Center is located. We featured this beautiful building in our
list of UWS mansions
.
This structure is part of three interconnected townhouses that were designed by architect Charles Pierrepont Henry Gilbert.
The limestone façade and typical Baroque ornamentation are not typical for any Islamic center. The mansard roof is another atypical feature for a building that is home to an Islamic center.
Other features of the building include lacy details in the molding, typical of the French Gothic style. The windows have "Fleurs-de-lis", a stylized lily composed of three petals bound together near their bases. It is especially known from the former royal arms of France, in which it appears in gold on a blue field. Window details are incorporated into the ornamentation, reflecting the French Gothic style.
Directly across from The Islamic Center, there is a statue of Eleanor Roosevelt.
Out of the 150 or so historical statues in all five boroughs, only five depicted real women until very recently.
Two of these female statues can be seen from Riverside Drive: Elenor Roosevelt at 72nd and Joan of Arc on her stallion at 93rd Street.
Advertisement
The legacy of Joan of Arc is appreciated by those who visit this monument, evidenced by this single rose that was left at the base of her feet by a passerby.
Slightly southwest of this statue, at 89th and Riverside Drive …
… is where the Soldiers' and Sailors' Monument is located.
The design (in and around the monument) is by Paul E. M. DuBoy, who also planned the Ansonia, located between 73rd and 74th Streets on the west side of Broadway.

Advertisement
The Soldiers' and Sailors' Monument stands 96 feet high, is made of marble and granite, and is patterned after the Choragic Monument of Lysicrates in Athens. Its ornamental stone terraces surround a marble cylinder capped by a pyramidal roof and ringed by a colonnade of 12 Corinthian columns. To the south of the monument are two mounted cannons.
Both the Yeshiva Ketana Of Manhattan…
… and some of the apartments at 160 Riverside Drive face the Soldiers' and Sailors' Monument.
160 Riverside Drive, a pre-war cooperative building built in 1929, was once home to theatre critic Brooks Atkinson.
But residents in apartments on Riverside Drive are hardly the only ones to take in the views.
Birds and squirrels often seem to be in a New York State of mind on Riverside Drive, too.