On Thursday, November 4, the Columbia Spectator released an explosive report detailing a litany of allegations collected from former female bartenders of 1020 Bar, a popular Columbia University hangout on the corner of West 110th Street and Amsterdam Avenue.

Advertisement



In the story, Barnard student Riley Callanan recalled the time she was interviewed by one of the bar's owners, Michael McKiernan, in his apartment above the bar. Callanan first sat in a chair but was allegedly "pressured" by McKiernan to sit next to him on his couch as he tried to get her to drink. Callanan noted how the conversation immediately became inappropriate, as McKiernan told her he was against the #MeToo movement.
Callanan claims the interview lasted three hours – 70% of which consisted of McKiernan telling sex stories. Needing money, Callanan still took the job. She told the Spectator she worked at 1020 Bar for two years and "suffered constant harassment" from McKiernan, including the time he asked her to come upstairs to his apartment to get ingredients for a drink; she says that when she got to his door, McKiernan greeted her in nothing but his underwear.
"Almost all the former bartenders interviewed by Spectator discussed having similar experiences. Many alleged that McKiernan emphasized that he hired young Columbia students in an attempt to bring more underage women through the door. They also described being shown McKiernan's bedroom, where he kept over a dozen cameras across from his bed displaying footage of the bar downstairs," the Spectator reports.
Another former bartender named Sara told the publication that her interview was essentially McKiernan eyeballing her and asking, "When was the time you realized you were pretty?" – adding that McKiernan said he hired college students because "he's sexually attracted to [them]." Sara also claims to have received a "slew of angry messages from McKiernan" in which he asked why a man had left her a Secret Santa present at the bar, then making her pick it up in his apartment.
Over and over were stories of alleged inappropriate behavior by McKiernan. A source named Taylor claimed that bartenders were taught to expose themselves to earn better tips at the bar – while Callanan says she was told bartenders weren't allowed to have boyfriends because McKiernan saw "all of the girls that work there as his girlfriend." She also told the Spectator that McKiernan was calling her every night following her interview to confirm she'd broken up with her high school boyfriend – while telling her how "sexy" she looked in Facebook photos he had found of her high school prom.
Advertisement



"Callanan described how McKiernan told her 1020 would host a fundraiser for a Columbia club she was a member of, on the condition she eat dinner with him in his apartment. Following dinner, Callanan tried to leave McKiernan's apartment, but she alleges he said that the fundraiser would not be allowed to happen unless she 'stayed all night.' After she left, he refused to give her permission to host the fundraiser at the bar," wrote the Spectator.
With reports of inappropriate behavior swirling around female bartenders at 1020, the alleged victims say the bar's co-owner, Gene Steinhart, didn't make any "real attempts" to stop the continued abuse. They added that once Steinhart handed over scheduling duties to McKiernan, bartenders were required to cover for those who cancelled – alleging that McKiernan would threaten to withhold their shifts the following week if they didn't change their schedules. Many of these requests allegedly came just hours before the shifts were supposed to begin.
Columbia student Madison Andrus told the Spectator that McKiernan "used his newfound responsibility over scheduling as a way to get attention from people, especially [girls]. You basically had to be here to suck up to him … not just [to] get a good shift, but to work at all."
It's been alleged that McKiernan would call down to bartenders multiple times a day to correct them for things. If they didn't answer the phone, McKiernan would allegedly "spam" their phones with agitated messages until they responded. "He liked correcting me a lot, bossing me around, telling me I'm doing something wrong when I'm obviously not," Bess, another former bartender, told the paper.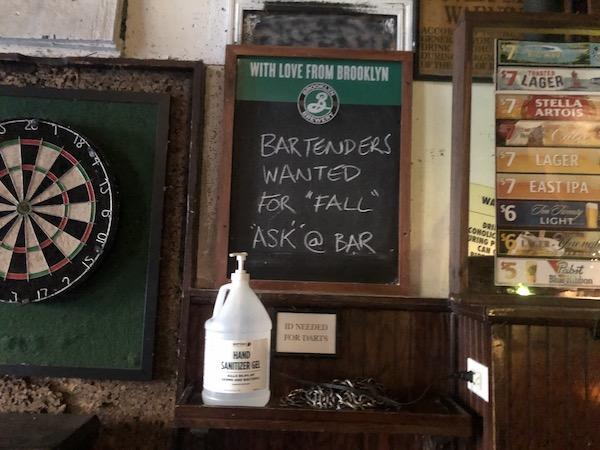 Bartenders additionally allege that they were expected to look at pictures of McKiernan's "sugar babies" and "sex workers" on his phone. These photos allegedly portrayed women in bondage gear, naked, or performing sexual acts on themselves – and when bartenders confronted Steinhart, they were apparently told there was nothing he could do to make McKiernan stop.
"It feels almost like it's a running joke: 'There goes Michael being Michael again, hitting on an 18-year-old girl and making her feel sexually uncomfortable,' another accuser told the Spectator.
Advertisement



Columbia Spectator states that Madison Andrus provided them with a recording in which Steinhart admits to knowing that misconduct had been taking place for decades but that McKiernan was "incapable of changing," and that there was nothing Steinhart felt he could do about it. "The most anxiety-producing part of my last 25 years with this f*cker [McKiernan] is dealing with his inappropriate behavior. It's been since day one," he apparently said in the recording.
Bartenders also reported feeling unsafe and unprotected at 1020 Bar, being harassed by regulars with less than adequate support from the bouncers. One reported incident involved bartender Bess, mentioned above, who was tipped $100 then allegedly grabbed by a customer who would not stop lunging at her from over the bar. Bouncers reportedly refused to help her – and she claims that McKiernan said she "should have known better" to keep the tip, because the customer was attempting to buy more than drinks. Steinhart and McKiernan allegedly told Bess she had made matters worse, and the customer apparently become more aggressive because she called a man for help.
Bartenders claim conditions worsened when the pandemic hit, with McKiernan becoming more openly racist and sexually explicit.
"The bar was just getting run into the ground. [McKiernan] became a lot more overt with his racism during COVID, basically saying that he didn't want Black people playing at the pool table when he was opening it for other people. He didn't want Black people hanging around and drinking outside and [in] the outdoor dining area," Andrus told the Spectator. Numerous bartenders reported how McKiernan was intentionally less hospitable to Black patrons and made stereotypical remarks. "We don't serve Hennessy. We don't want it to attract those kinds of people," Andrus claims McKiernan told her.
Multiple bartenders report that McKiernan also held ill will towards Asians and the Chinese community, saying Chinese people were "ruining the neighborhood." During a COVID-19 trivia night held at 1020 Bar, McKiernan allegedly played East Asian music. "When COVID happened, [McKiernan's racism] turned to Chinese people. He also always thought the Chinese were coming to destroy the country, and Columbia was letting in too many Chinese people," Callanan said.
After the Spectator story was released, 1020 Bar's Google page was altered to show the article as the bar's official website.
Advertisement



ILTUWS visited 1020 Bar at 4pm on Friday, November 5. While we didn't find either of the owners, we did witness a male bartender take a phone call in which taking down the "hacked" (his words) website was discussed, though he was too busy working to do it at the time. Once he was off the phone, he yelled "idiot!" which we believe was directed to whomever was on the other line.
When we asked the bartender if we could discuss the allegations with him, he simply said "The stories I could tell you about this place …" but the current business of the bar would preclude him from doing so. We said we would come back.
We returned on Saturday, November 6 at about 4:30pm – to find the bar closed despite the hours of "4pm-4am daily" being posted on the door. We stuck around the neighborhood and a little after 6pm, noticed owner Michael McKiernan posting signs on the windows which read "Vacation. Finally. After two years of work! Over 85 hours a week for 51 weeks. I am going on vacation. Tim will take over while I work on my sailboat. The bar will reopen on Friday, November 12 at 4pm."
Advertisement



We asked McKiernan if we could interview him to discuss the allegations. He told us he was now on vacation and would only give us an interview if we waited for him to come back on November 12 (making clear that he would only speak with us if we didn't write anything until then).
We pressed him to speak with us right away, as this story wasn't going on vacation with him. McKiernan's response was that a "woman" sued him because he wouldn't sell her the bar and that the judge threw out the lawsuit. McKiernan claimed that this woman was mad and was out to get him, but with the judge having thrown out the case, there was no story. McKiernan then proceeded to walk away and told us we could not walk with him as he's on vacation.
We're unclear about the connection between the above described lawsuit and the various allegations against McKiernan, but we've followed up by email for further clarification.
We've also reached out to Columbia University which has yet to respond.
In 2013, 1020 Bar was fined $1,500 fined for underage drinking in a police sting.