An Upper West Sider spotted and photographed this weird looking (but kind of beautiful) insect on their 18th floor terrace in the West 90s: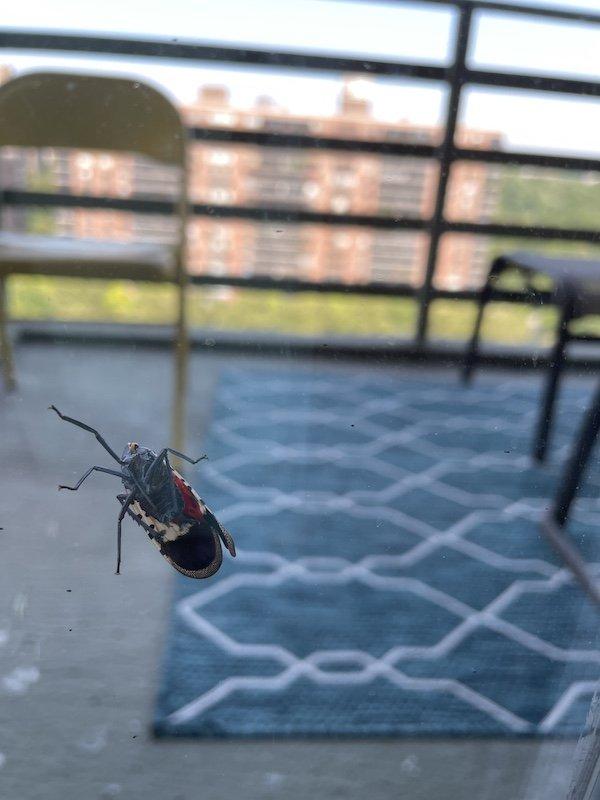 The local resident believes it's a spotted lanternfly (SLF), and after doing a Google image search for "spotted lanternfly," that's certainly what it seems to be. Though we haven't found a single report of these being "spotted" in Manhattan.
Advertisement



Recent news reports state that spotted lanternflies have been aggressively invading New Jersey, and eight NJ counties are actually under a quarantine as a result of their widespread presence. Residents are encouraged to destroy them at first sight, as they can potentially kill trees, plants and crops.
More Animals + Animal Sightings
The invasive bugs hail from China, India and Vietnam. They were first seen in Pennsylvania in 2014 and have since spread to other states including Maryland, Delaware, Virginia – and New York.
According to New York State's Department of Environmental Conservation, the state's first SLF sighting took place in Staten Island during August 2020.
Read More: Spotted Lanternflies are EVERYWHERE
According to New York State's Department of Agriculture and Markets, spotted lanternflies have since made trips upstate to Port Jervis, Sloatsburg, Orangeburg, and Ithaca. (We've reached out to this agency to confirm that the photo above is in fact of the same species).
While the agencies above didn't include this incident, NBC New York reported in September 2019 that a cargo ship off of Brooklyn had been put under quarantine after being infested with the bugs.
Advertisement



The Department of Agriculture and Markets says that the SLF "can be transported on outdoor goods and equipment" and "can also hitchhike in vehicles."
Trending: New Dessert Spot Opening this Month
If you see something which you believe to be a spotted lanternfly:
Take pictures of the insect, egg masses, or infestation. Include something in the photograph for scale, such as a coin or pen.
Collect the insect and place it in a freezer or a jar with rubbing alcohol/hand sanitizer.
Note the location (address, intersecting roads, or GPS coordinates), shipping information, and any other relevant information.
Email the information to: spottedlanternfly@agriculture.ny.gov