It's getting bad. On a recent evening I called 311 twice to file illegal fireworks complaints. One of the operators told me that our best bet of actually solving the problem is catching someone in the act of lighting fireworks, and then calling 911 with an exact location of the incident. This doesn't seem like a reasonable expectation from people who are trying to sleep, and tracking blast-off locations is not exactly in my skill set.

After about an hour, when I realized neither of my 311 calls seemed to get passed on to the police, I called 911 directly. I waited about 25 minutes while I continued to hear fireworks and didn't hear police cars. So I called again, this time with more of a frantic tone (it was late and I was exhausted, but I've had a lot of practice complaining to customer service, so I was able to manifest the drama pretty easily). I eventually heard sirens at about 1:30am. While police had arrived, people continued to light fireworks until about 2am. So I'm not sure what impact the NYPD presence actually had. Or maybe it just took them a while to pin down the exact location.

Advertisement
We've received a bunch of messages from Upper West Siders who've been struggling with this a lot. We asked them to include their locations and how late they've been hearing the fireworks. You'll see that all of the complaints we've received are located between the upper 80s and low 100s.
@Vinyl_45rpm: "We live on CPW near the old New York Cancer Hospital at 106th. I've been awoken as late as 2:30am but most nights we hear them between as early as 8:30pm to after 1am. I guess this depends on how many fireworks they have and police presence."
Anonymous Reader: "I live on West 101 Street and called 311 on Sunday night. The fireworks were so loud that the operator advised me to hang up and immediately call 911. I called 911 twice on Sunday night and once last night, Wednesday night. It is HORRIBLE. So loud, so consistent, so dangerous. I reported the incident to Levine in District 7 last night. This morning I heard from someone name Kyshia who said that they would be following up with the police (I think)."
Resident of Park West Village (97th – 100 Streets on Columbus Ave): "My neighbor just called me crying asking for help. She's a senior and can't sleep after the fireworks attacks begin in the evenings at about 8pm until after 2am. The community is in dire need of police protection. We need more police cars surveying the area.  We are in desperate need.  This will go on until after July 4th! We need all our community leaders to continue to figure out a solution with police, etc., so we can live in  a safe community."
"It's been horrific!  Last night the full blast lasted until after 2am. My dog has had to get anxiety medication from the vet and my blood pressure is up. I've filed numerous complaints with 311 and 911 to no avail. We need more police surveillance from about 8pm until about 2:30am. Please we need help. There are many seniors in the area are feeling unsafe and sick by this. We need our community leaders to be strong and help their constituents."
This resident also sent us these images of fireworks left in the grass nearby: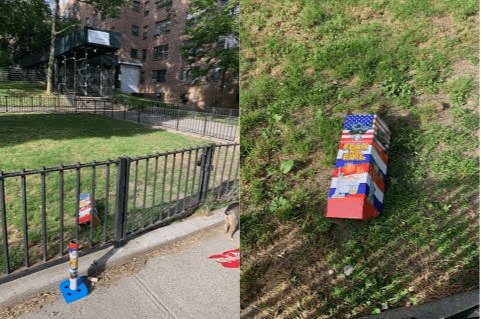 Advertisement
Shari Siegel: "This has been a big problem up here at Central Park West and 109th Street. I was awakened last light about 2:30am by bright lights outside my window. Thought I was dreaming! It's been going on all month."
Anonymous reader: "I live on Amsterdam and 89th and hear fireworks almost nightly. Lately I've been seeing aerial fireworks that look very close (see video). I woke up to more of these at 3am this morning. Couldn't get them on video because I was busy trying to comfort my dog. He has not enjoyed them!"
People are losing it. Seniors are being impacted. Dogs are freaking out. One of my cats took shelter in the bathroom last night (though he actually seemed calm … I guess because he's gotten used to it.)
The problem is impacting zip code 10025 by far the most. To see a list of complaints, click here and type the zip code into the search bar (so it reads "Fireworks 10025.")
We recently reached out to Linda Rosenthal, Helen Rosenthal and Gale Brewer. As of now, we've only heard back from the office of Helen Rosenthal; a representative stated that "This is happening across the city and it's important that folks call their complaints into 311. The NYPD has to catch someone in the act of setting (off) fireworks, which is not an easy thing to do."
So keep calling 311. But if nothing happens, call 911.
Please also reach out to the 24th Precinct, located at 151 West 100th Street, between Columbus and Amsterdam Avenues. We've also reached out to them for comment and will provide an update if they get back to us. They can be reached by phone at (212) 678-1811. You can also visit the 24th Precinct website, Facebook page and Twitter feed.
What else can be done? Maybe it's a long shot, but share this article as much as you can; maybe some of the culprits will read it. And maybe, just maybe, they'll realize the negative impact they've had on their neighbors.
My message to those lighting fireworks in the middle of the night: if you're actually adults, please act like adults.