On Sunday, January 17 at 12pm, Columbia University student organizers of 'Tuition Strike 2021' held a press conference with New York politicians to discuss affordable education and Columbia's gentrification of the Harlem Community. They were joined by students of Columbia and its adjoining colleges, many with posters citing their demands.

Before the press conference began, I spoke with organizers Christian Flores and Matthew Gamero.
Advertisement
Christian Flores, a Columbia College economics student and
YSDA
Secretary, was the first to address the crowd. Protesters stood behind him holding posters and a large banner that read, 'Education For All'.
Then came Maria Ordoñez, Candidate for City Council in District 7 and Columbia University student:
Mayoral candidate Dianne Morales also spoke at the protest.
Other speakers included Joshua Clennon, Candidate for City Council District 9, Assembly Member Ron Kim from District 40, as well as Council Members Mark Levine and Ben Kallos, from Districts 7 and 5. Tahanie Aboushi, running for Manhattan District Attorney, took the megaphone after Jaslin Kaur and Alexa Aviles, candidates for City Council in Districts 23 and 28.
It was a united front amongst the speakers, enforcing every single demand on the Tuition Strike 2021 online petition. With over 4,200 signatures and counting, Columbia students want to see a 10% decrease in tuition with a 10% increase in financial aid due to "exorbitant fees" and "financial hardship" during the pandemic economic depression.
In addition to reducing tuition costs and increasing financial aid, the demands of the Columbia University students include:
Ending expansion in West Harlem and providing jobs, education and affordable housing to the people who live there.
Defunding public safety and investing in "community safety solutions that prioritize the safety of Black students and West Harlem residents, and repair harm caused by prior racist practices of Public Safety."
Achieving transparency about university investments and giving the student body a say in where this money is sent. "This includes respecting the referendums at Barnard and Columbia College to divest from companies involved in human rights violations, divesting fully from fossil fuels, and respecting the results of future referendums relating to investment decisions."
Working to meet the demands of campus unions for "improved compensation, benefits, and protections. This includes guaranteeing protections to international students and granting union recognition for MA and undergrad student-workers."
The last speaker at the press conference was organizer Matthew Gamero, Columbia College Sophomore and YSDA Campaign Coordinator.
Advertisement
After the press conference, speakers joined together with students and Tuition Strike organizers for a unity picture.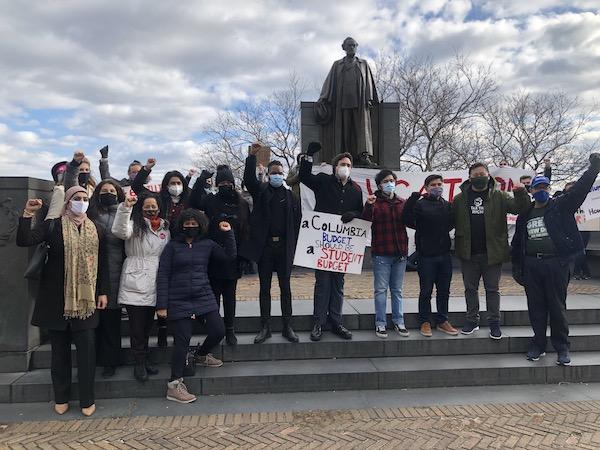 After the photo, the megaphone was handed to organizer Willem Morris, Columbia College Senior and YDSA Social Media Coordinator. Morris galvanized the crowd, announcing the protest would march to Columbia's 'Alma Mater' statue on the steps of the University's library.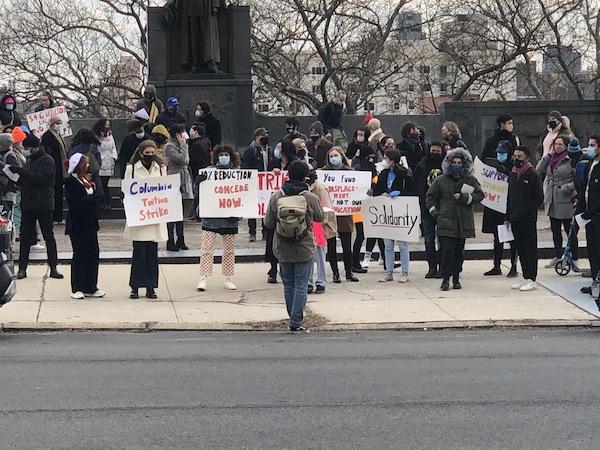 Participants marched through the Columbia University gates and up the steps of the University's library to the Alma Mater statue, chanting "When I say tuition, you say strike."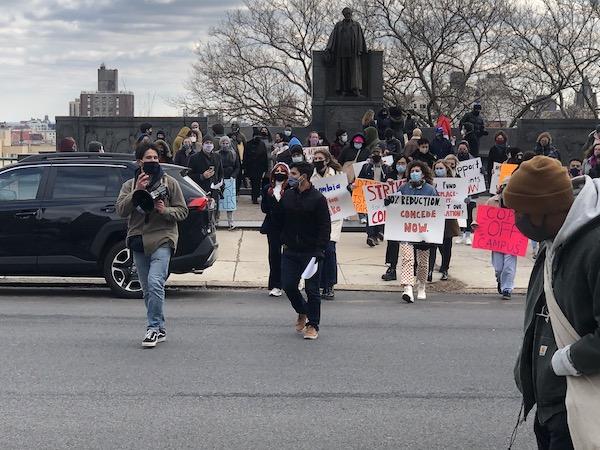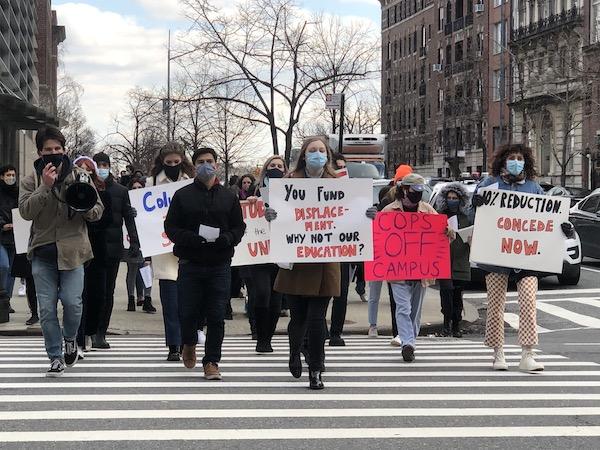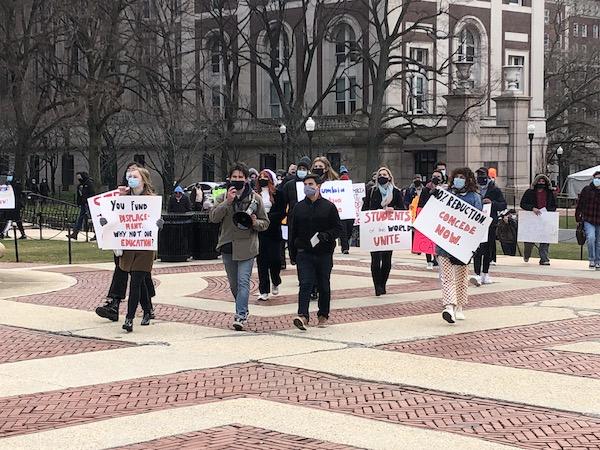 Once attendees were socially distanced, Willem Morris gave his closing speech on the library steps.
Advertisement
When asked about the events that took place today, a University spokesperson provided ILTUWS with the following statement:
"We are focused on protecting the health and safety of our community, educating our students using the most creative and flexible formats available, and continuing the scientific and other research needed to overcome society's urgent challenges. Now the nation is confronting not only an overwhelming public health crisis, but also a reckoning with long unresolved structural racism, and a test for American democracy with few parallels in our history. This is a moment when an active reappraisal of the status quo is understandable, and we expect nothing less from our students. Their voices are heard by Columbia's leadership, and their views on strengthening the University are welcomed."