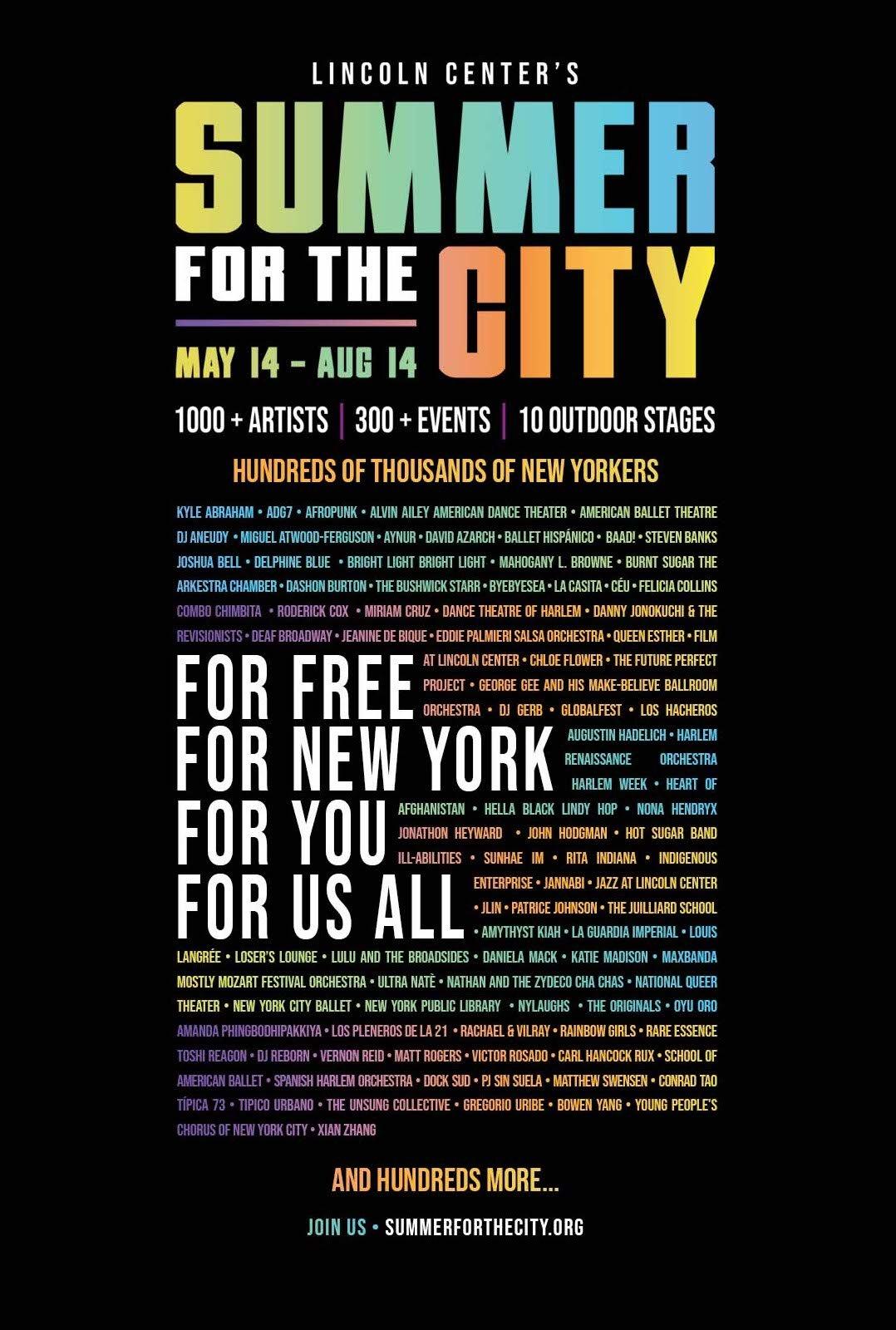 The Festival of New York is a citywide collaborative movement featuring more than 200 diverse organizations taking place this summer, and Lincoln Center is proud to be one of those organizations with a program called Summer for the City.
Advertisement



"One of the most basic jobs of the arts is to help heal. This summer we will do exactly that, with moments to rejoice, reclaim, and remember within a city transformed," said Shanta Thake, Chief Artistic Officer of Lincoln Center for the Performing Arts. The festival runs from May 14 to August 14 and will feature over a thousand artists performing across ten outdoor spaces. Most of the 300+ events will be free, with some offering a pay-what-you-can option.
Spanning this three-month event — which will be kicked off by Sing New York, a massive sing-along at Josie Robertson Plaza — New Yorkers will be able to enjoy a vast array of programming, encompassing all the performing arts.
If dance is your thing, you'll be able to check out The Oasis, a dance floor being laid out at Josie Robertson Plaza, where classes and dancing events will be held, with salsa, swing, bachata, merengue, soul and more, accompanied by live music. There's also the BAAND Together Dance Festival, featuring performances by Ballet Hispánico, Alvin Ailey American Dance Theater, American Ballet Theatre, New York City Ballet, and Dance Theatre of Harlem.
Advertisement



For music lovers, two versions of Mozart's Requiem will be presented, one of which is by the Mostly Mozart Festival Orchestra, one of six concerts they'll be performing this summer.
There are also several special events designed to bring New Yorkers back together, such as the "(re)Wedding" event called Celebrate Love, where couples forced to cancel their weddings, or greatly scale them down due to the pandemic, are invited to come together for a massive ceremony together, complete with a reception on the dance floor.
To celebrate Pride Month this June, there are special events including the Mini Kiki Ball presented in collaboration with BAAD! Bronx Academy of Dance, National Queer Theater, ULTRA PRIDE!! presented in collaboration with Peace Bisquit, and The Future Perfect Project.
---
For news across the park visit EastSideFeed.com
---
For movie buffs, The Outdoor Cinema in front of David Geffen Hall is a three-week mini festival in collaboration with Film at Lincoln Center. The films will be shown with Quiet Event headphones, and popcorn and drinks will be available.
Speaking of drinks, "The Speakeasy" is a pop-up bar and performance space built in the underground driveway at the front of the southeast corner of campus. Sip on a drink there and enjoy a variety of performances including cabaret acts, poetry reading, spoken word, jazz and comedy.
Tickets are available on a first-come, first-served basis. To see the full line up, visit summerforthecity.org.