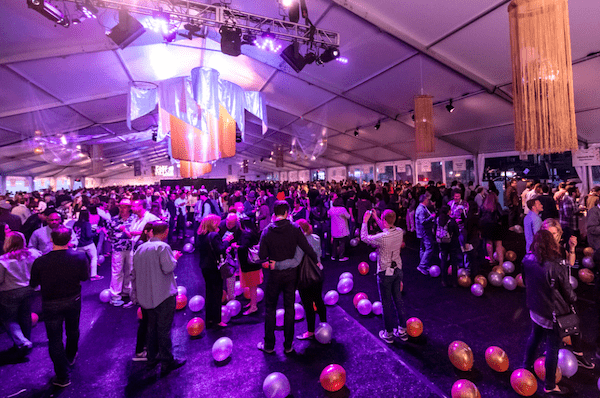 Over sixty restaurants — some of which have not yet opened — are participating in the 14th annual Taste of the Upper West Side, taking place on September 30 and October 1 at the playground on 77th and Columbus Avenue.

Advertisement



Both evenings will come with unlimited wine, beer and spirits, as well as live music. Tickets for each night are $110 for general admission and $165 for VIP. (General admin is 7:45 p.m. entrance. VIP is 7:00 p.m. entrance).
Farewell To Summer will take place on Friday, September 30 from 7 – 10 p.m, and it's been confirmed that at least three restaurants will be making their UWS debuts.
Louis Skibar and Chef Julian Medina are bringing El Fish Shack to 153 Amsterdam Avenue (at West 67th Street), right next to Old John's Luncheonette, which Skibar is also behind. The seafood restaurant "puts a contemporary American spin on the traditional New England fish and seafood eatery," a representative tells us. The menu will offer lobster in various forms (lobster rolls, stuffed lobster, lobster mac and cheese), fried shrimp and calamari, a raw bar, po boys, fresh fish and more. Previously a popup eatery in Astoria, El Fish Shack also plans to bring a selection of summery gin cocktails to the neighborhood.
Friend of a Farmer, a farm-to-table Gramcery restaurant, is expanding to 70 West 71st Street, between Columbus Avenue and Central Park West (previously home to Pasha, which closed in September 2021). Established in 1986, Friend of a Farmer is known as a pioneer in the farm-to-table scene, known for its rustic decor and simple staples like their Barn Burger or the Old-Fashioned Chicken Pot Pie.
Advertisement



Salil Mehta — the owner of southeast Asian restaurant Wau, on 81st and Amsterdam — is bringing a Northern Indian kebab spot to 247 West 72nd Street, between West End and Broadway. We last wrote about it in April, before it had a name, but we've come to learn that it will be called Kebab Aur Sharab. The last restaurant to occupy this space was Most Favorite Food, which closed its doors earlier this year.
Autumn Ball will be on Saturday, October 1 from 7 – 10 p.m. As of writing, we're aware of two new restaurants that will be featuring their foods.
William Greenberg Desserts will be opening (soon, we think) at 285 Amsterdam Ave between 73rd and 74th streets, where the old Jacques Torres used to be. Best known for its black and white cookies, the sweet spot has been a long-time staple on the Upper East Side, where late last year it expanded its footprint. In addition to its black and whites, which in 2015 Gothamist ranked as second best in the city, popular Greenberg desserts include their brownies, tarts, cakes and Schnecken: "Delicious sour cream dough rolled together with the finest raisins, pecans, brown sugar, and cinnamon."
Advertisement



Chef Christophe Bellanca is bringing Essential by Christophe to 103 West 77th Street — most recently home to Leonti, which opened in November 2018 and closed in early 2020. Dovetail occupied the space from 2007 until it closed in 2018. Bellanca has served as the executive chef at Le Cirque on East 58th Street; L'orangerie in Los Angeles; and at Atelier Joel Robuchon's NYC and Miami locations, according to his LinkedIN profile. We're told Bellanca and his team have been working on a gut renovation, and a job description site (they are currently seeking a general manager) includes a few teaser photos.
To learn more and purchase tickets, visit tasteuws.com.