Taste of the Upper West Side (Taste UWS) has been scheduled to take place on October 1 and October 2, with two food-filled evenings featuring live music and samples from over 80 chefs. Each event will take place under a tent in the playground on Columbus Avenue between 76th and 77th Streets.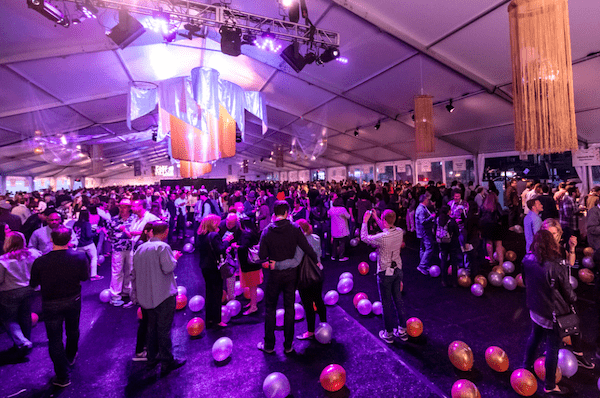 All attendees will be required to show proof of COVID-19 vaccination at the entrance. Taste of the Upper West Side will also be honoring all tickets purchased for 2020 on its newly scheduled dates.
Grillin' in the City, taking place on October 1 from 7-10pm, will feature two restaurants – Pekarna and Covacha – making their Taste UWS debuts.
Slovenian-American restaurant and cocktail bar Pekarna opened its doors at 594 Amsterdam Avenue (89th Street) towards the end of 2020. For those of you who haven't yet been, the space comes with two floors, a backyard patio and three private banquet rooms. Some noteworthy menu items include a Crispy Wild Boar with Rice appetizer, Herb Crusted Rack of Lamb entree, and Slovenian Apple Pie. Pekarna's extensive cocktail offerings – which include "Summer Slushie Drinks" and absinthe drinks – have also received much praise.
Advertisement



Mexican restaurant Covacha opened its doors at 368 Columbus Avenue (between 77th and 78th Streets) in April 2021, replacing Cafe Frida after it had served the UWS for 22 years. While Cafe Frida's late 2020 closing was undoubtedly a loss for the neighborhood, its former owner – Cristina Castañeda – is also the current owner of Covacha, which she considers a revival of her original eatery.
Get The Upper West Side Newsletter
Castañeda describes Covacha as "a tribute to the food of the western Mexican 'Ranchos,' particularly inspired in Jalisco, honoring the 'Milpa' culture (a pre-colonial agricultural system configured around polycultures)." Covacha offers "revised versions" of traditional Mexican dishes (including vegan and vegetarian options), Mexican spirits and natural wines (with a focus on small-batch producers).
Castañeda Beyond Restaurants Hospitality also owns and operates El Mitote and Ella Social, both of which will be making Taste UWS appearances this year.
MORE: NEW + OPENING SOON on the UWS
Also participating in Grillin' in the City:
Bareburger
Big Gay Ice Cream
Bodrum
Billy's Bakery
Da Capo
El Mitote
Gazala's
Hudson West
Insomnia Cookies
Jacob's Pickles
Jing Fong
Make My Cake
Osteria Cotta
Pappardella
Playa Betty's
Rosa Mexicano
Shake Shack
Tacombi
In addition, bartenders from Tiki Chick and Nobody Told Me will be serving beer-inspired cocktails "in the TASTE Beer Garden," and there will be unlimited wine and spirits.
Tickets are $99 each. Learn more and buy your tickets here.
Advertisement



Best of the West will be helf on October 2 from 6:30-9:30pm (with a VIP reception taking place during the first hour). VIP ticket-holders will get to meet and mingle with chefs and will have access to an exclusive Bubbly bar and seating area.
The second evening of Taste of the UWS will feature live music by Project Orange and will be hosted by NBC's Lauren Scala. The focus will be "elevated cuisine" and "the perseverance of restaurant owners on the Upper West Side."
Several Saturday night participants will be making their Taste of the Upper West Side debuts as well. These include Italian restaurant Felice, which opened in August at 240 Columbus Avenue (between 71st and 72nd Streets); Mediterranean and Israeli restaurant Dagon, which opened in February 2021 at 2454 Broadway (between 90th and 91st Streets); Spanish and Latin-Caribbean restaurant Tasca, which opened in November 2020 at 505 Columbus Avenue (between 84th and 85th Streets); and Kissaki, which brought its omakase to 286 Columbus Avenue (between 73rd and 74th Streets) in September 2020.
Also participating in Best of the West:
Alice's Tea Cup
Bluebird London
Cafe Luxembourg
Calle Ocho
Crave Fishbar
Dizzy's Club Coca-Cola
Elea
Ella Social
Gabriel's Bar and Restaurant
Good Enough To Eat
The Gin Mill
Jake's Dilemma
Harvest Kitchen
Kefi
Leyla
Magnolia Bakery
Maison Pickle
Make My Cake
Mille-Feuille Bakery
Nobody Told Me
Orwashers Bakery
RedFarm
Salumeria Rosi
Shake Shack
Storico
Sushi85
Tavern on the Green
Tessa
The Consulate
The Smith
The Leopard at Des Artistes
The Mermaid Inn
The Smith
The Ribbon
VIP tickets are $215 and general admission is $135. Learn more and buy tickets here.