For most of my life, fried chicken was not something that was treated with much respect on the Upper West Side.

We've always had murky fast food options and Chinese takeout spots featuring dishes that were not quite so commonly found in China. And, of course, the many Latin restaurants would have some sort of fried chicken dishes available for you. But outside of Blondies wings, few places have done justice to the battered bird up until a few years ago.
Advertisement
Charles Pan-Fried Chicken
In addition to being the birthplace of the great American combo of chicken and waffles, Harlem was also the birthplace of this beloved and untouched fried chicken joint from Chef Charles Gabriel. A north Carolina native, Charles learned his pan-frying technique from his mother. He came to New York as a teen and spent many years cooking in other people's kitchens until the '80s when he began taking his chicken to the streets … literally. From his apartment kitchen to a folding chair outside his building, then to a food truck and ultimately to his first brick and mortar restaurant. Chef Gabriel has since continued to grow, expand, shift, and multiply. And as a long-time fan of his Harlem spots, I was over-the-moon excited when I first heard he was bringing his crispy poultry to the Upper West Side, just blocks from my day job. The venue is simple, because you don't need much when you're food is that good. And this stuff is mouthwateringly juicy and full of flavor. I've said for many years that Charles has the best fried chicken in the whole city, and now we can grab some without even having to hop on the subway!
146 West 72nd Street (between Amsterdam and Columbus avenues)
charlespanfriedchicken.com
READ MORE: Best Brunch Spots on the Upper West Side
Chick Chick
While Charles is serving up soul food, my next pick is serving up Seoul food. Chef Yun Park's determination to bring his favorite foods to the Upper West Side is not only admirable, but has already been lauded as a Michelin Bib Gourmand, an honor bestowed upon the best restaurants with (what Michelin defines as) affordable options. When the pandemic hit New York, it also hit his bottom line as most of his backers bailed out of an industry that became even rockier than it already was. But Jun stubbornly saw his vision through and it's now on us to enjoy what he's dishing out. And there are so many ways for you to get your chicken fried up here. You can have it as a sandwich, you can have it as a side, you can have it Heavenly or with French Toast along for the ride. I, personally, love the marriage of flavors and textures in the KSG-Wich, but you really can't go wrong.
618 Amsterdam Ave (at 90th St)
chickchicknyc.com
Advertisement
Koko Wings
Yes, it's more Korean fried chicken, but Koko has been delivering its Korean fried chicken to the mouths of Upper West Siders for a few years now, and we're very grateful to them for doing so. Their double-fried wings, drumsticks, and strips are impressively crispy with tender chicken inside and a coating that will last longer than most other dishes could dream of. These tender eats are so flavorful that you don't even need to add one of their sublime sauces–but if you want to, then by all means do–because they definitely won't take away from their glory. I personally love the option to do a mix and match combo so I can get a well-sauced wing and a purebred Original Crispy all on the same plate. And if, for some reason, you're not in the mood for fried chicken, then they've got plenty of other Korean dishes that will make you happy.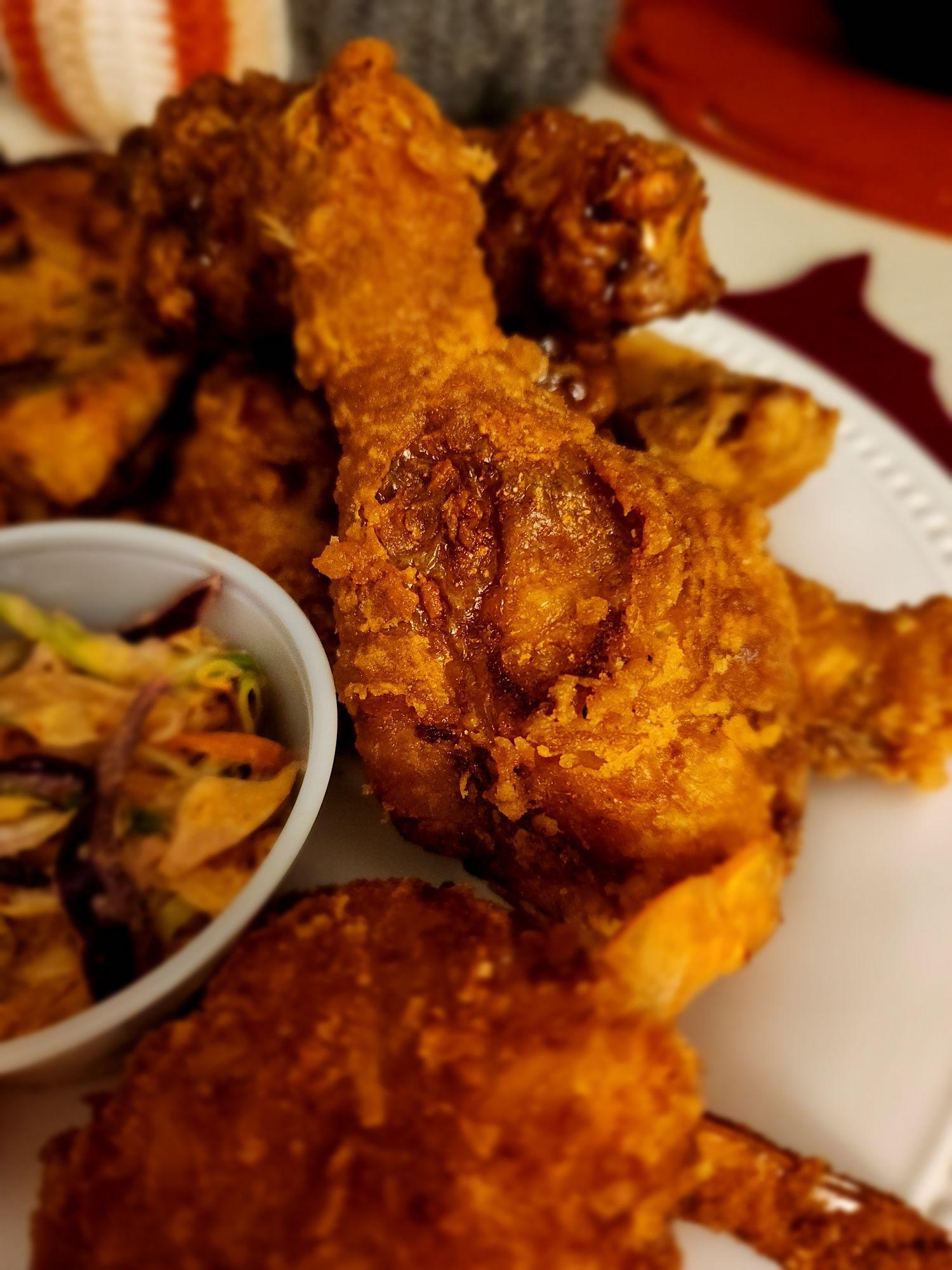 248 West 106th Street (between Broadway and Amsterdam)
kokowingsnyc.com
READ MORE: The Best New Upper West Side Restaurants, According To Our Readers
The Migrant Kitchen
If you haven't been to this newer kid on the block, then you must–whether it's for their Crispy Chicken Sandwich or anything else on their eclectic menu, you won't be disappointed. This restaurant also evolved through the pandemic as the initial business was a catering company founded by Daniel Dorado and Nasser Jaber. The pair brought their distinct but somehow familiar backgrounds together, fusing Latin American and Middle Eastern cuisines to produce delicious food–while also donating one meal to a New Yorker in need for every meal purchased. The knowledge that your dollar has gone further than your own plate is certainly helpful in adding to the comforts of their cooking, but it stands on its own without the philanthropy. Here, the flavors of the Earth come through the sumac whip that tops your sandwich that's accented by a pickled jalapeño that all highlights the dark meat chicken sandwiched between a toasted bun. Doing good does taste better.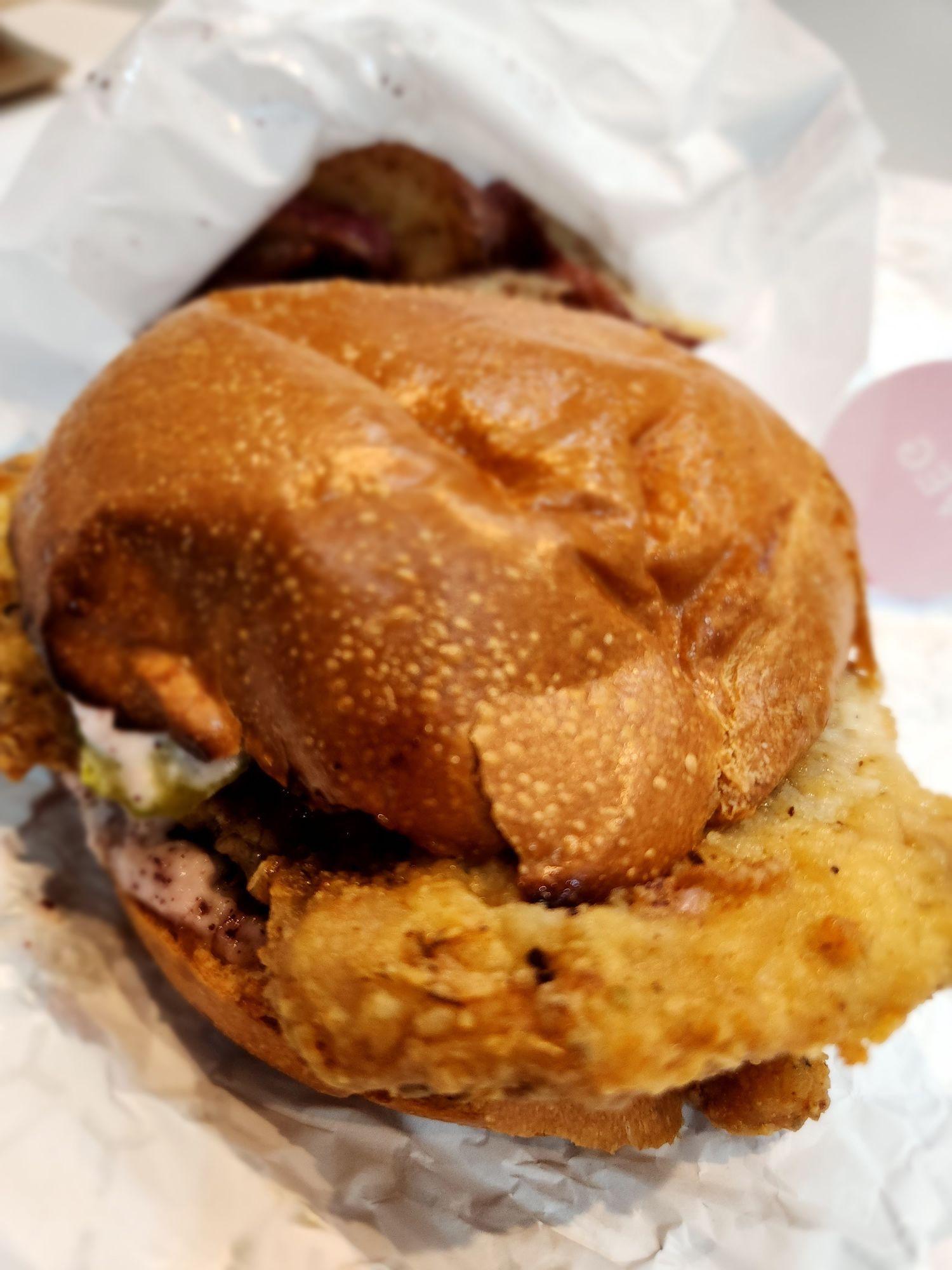 157 Columbus Avenue (between 68th and 69th streets)
themigrantkitchennyc.com
Advertisement
Blondies Sports
While I'm not much of a sports fan myself, I have plenty of friends and family who feel differently–so If I'm going to watch a game with them, I at least want some tasty Buffalo wings to pick apart as my company keeps tabs on the scores. And there is nowhere better in the city to do so than our very own longstanding UWS institution, Blondie's. Every year they sell out of their Superbowl eats pre-orders. It's exactly what you want and expect from a sports bar with the game-time classic dish done just as it should be, served up with a selection of spiciness or other flavored sauces to toss your fried chicken in. They're glossy, tangy, and as spicy as you want. Add a side of their signature waffle fries and you'll be happy to be there, even if your team loses.
212 West 79th Street (between Broadway and Amsterdam)
instagram.com/blondiessportsny