Hanukkah is here, and sufganiyot, also known as jelly donuts, have arrived at bakeries all around the UWS, and we've curated a list of local favorites. Hanukkah is 8 days long, so these donuts will be around for a little while, but make sure to get to the bakeries early in the day as these sell out fast!

I've enlisted the help of my 3 year old, Halle Bella, to sample the donuts, so we could make sure our recommendations are acceptable to all ages. If you know anything about 3 years olds, they tell you exactly how they feel.
Daily Provisions
375 Amsterdam Avenue (78th Street)
If you want something special and unique, you'll want to head over to Daily Provisions. These are not your classic jelly donuts, but jelly crullers – which will make you reassess what you want your jelly donut tradition to be going forward.
Jessamyn Rodriquez, the Managing Director at Daily Provisions, said that every year when she celebrated Hanukkah with her family, she always wondered what a cruller would be like stuffed with jelly. She said the team discussed it and finally decided to go for it.
"I went to Christine Lisa, who's our pastry chef, and said I think the Upper West Side and our stores are ready for our Hanukkah offerings, so what can we do to a cruller? I was assuming that she would do a glazed for me, but she was game to try stuffing a cruller, which was amazing. I've tried a lot of crullers in my time and this is by far the best cruller we have ever made," Rodriquez said.
Word got out that the crullers would be hitting stores on Friday, and I've received so many messages about our thoughts on them. Well, good thing we arranged a tasting!
( Yes, that's Prince in the background )
These are a very special treat this season. While you're at Daily Provisions, don't forget to try their Matzo Ball soup or the extra special custom Hanukkah gelt, which is around for a limited time as well. The chocolate gelt is made in partnership with Vesta Chocolate and Halle wants everyone to know she really loved it. Make sure to get your preorders in for the jelly crullers; they will go fast!  You can place the order here.
( see more of me on my mom's Instagram! )
Advertisement
By the Way Bakery
2442 Broadway (between 90th and 91st Streets)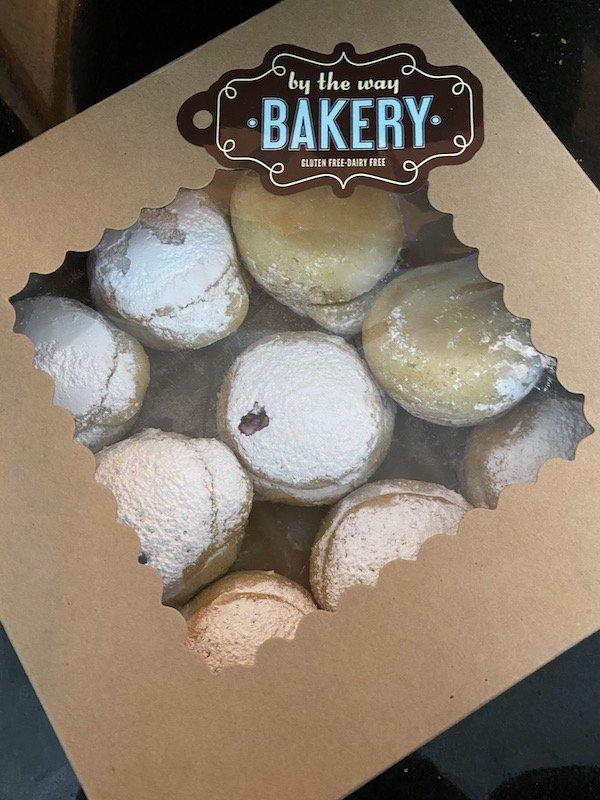 This jelly donut is gluten free, dairy free and kosher. Here's the best part: it's as good, if not better, than most of the conventional donuts we tasted.
I discovered By the Way Bakery when I decided to cut back on dairy. And I was blown away. I actually prefer their pastries to ones I've had with dairy. But what would Halle think? Watch her reaction below.
By the Way Bakery's owner, Helene Godin, told me a funny story about her 2016 Hanukkah celebration. She was told that cupcakes were going to be the hot item that year, and learned the hard way that Hanukkah is and always will be about the jelly donut. Since then, she's worked to perfect this version of the donut found in stores today. "They're lighter and fluffier and they're filled with luscious, all natural raspberry jam."
One thing you can expect from these donuts is a focus on the cake. Just like their Thanksgiving tarts, there is a good crust to filling ratio. So if you like the dough part, this one is for you.
Even though Helen's bakery is kosher, they also offer gorgeous Christmas items.
Get The Upper West Side Newsletter!
Breads Bakery
1890 Broadway (between 62nd and 63rd Streets)
If you want something decadent to bring cheer to your holiday table, Breads Bakery has you covered. Owner Gadi Peleg told us how this time of year is very special … because it's the only time of year they make donuts!
"We start planning months in advance and select flavors based on what inspired us throughout the year. Of course, strawberry is a must, and chocolate is always a crowd favorite. All year we have been experimenting with cardamom in various products. There is something about the combination of coffee and cardamom which just works. When we added it to Sufganiyot, it really became obvious that this is going to be this year's special flavor," said Peleg.
Breads is well known as a high quality bakery which offers both sweet and savory options. Their reputation for being the "quintessential New York Bakery" means they have to get this right. Check out Halle's reaction to the chocolate Sufganiyot below. A winner for sure.
"We are excited to share this year's sufganiyot selection with our neighbors on the UWS. We love the neighborhood and are so grateful for the warm feedback we have received from Upper West Siders who thank us for remaining open," said Peleg.

Advertisement
Zabar's
2245 Broadway (between 80th and 81st Streets)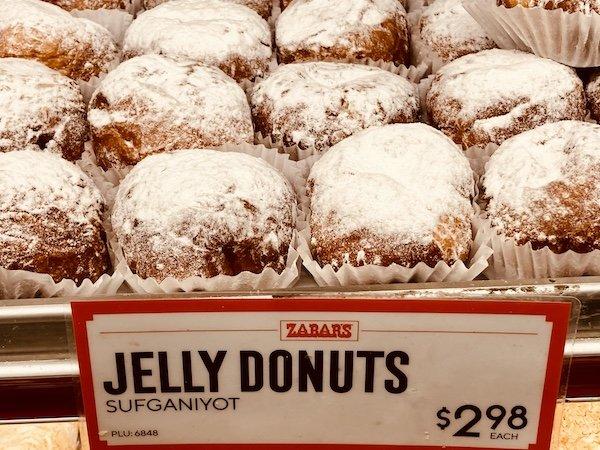 For over 70 years, Zabar's has been an UWS staple. Stopping into the store to stock up on holiday foods is a tradition for many people. People have lined up around the block to get jelly donuts here, but is it the donuts – or all the other delicious foods – that keep people coming back?
David Zabar explained that the donuts are really just one of many hot holiday items. They've also got latkes and blintzes!
Zabar says to come on in. "Foot traffic is down," he said. He also detailed all of the efforts the store is taking to enforce social distancing and avoid overcrowding.
Even though traffic is down, Zabar says to come early in the day, because the jelly donuts do sell out quickly.
Upper West Side resident Erica Bersin says these jelly donuts are pretty heavy, but very good; she's enjoyed them for many years!
Orwashers
440 Amsterdam Avenue (corner of 81st Street)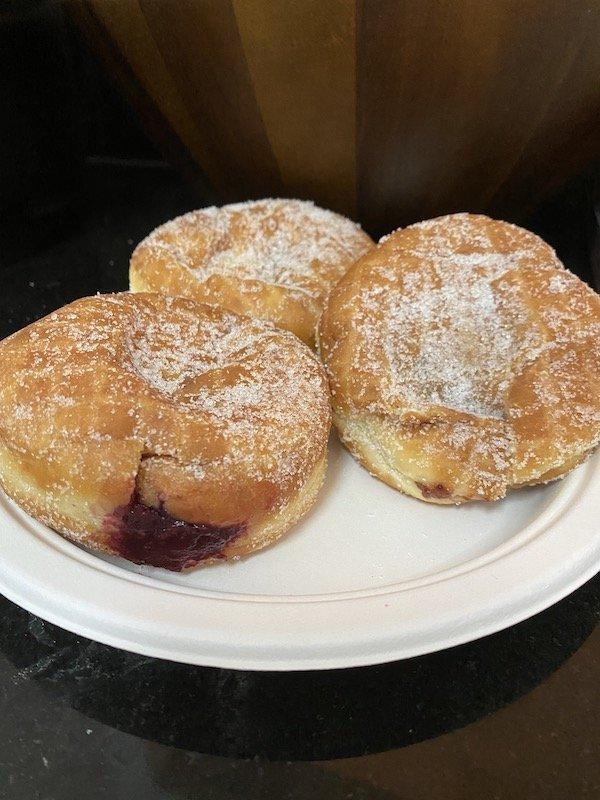 If you check any mom blog for where to buy your donuts this holiday, Orwashers will always top the list. For Halle and I, it was the jelly. So much jelly.
"Tender, airy donuts dusted with sugar and custom-filled with upstate NY fruit preserves" is how Orwashers describes these donuts.
I personally really enjoyed them. Halle didn't really get much of a sample because I took a bite out of each one before giving them to her. The jelly is insanely good, and plentiful. This donut is for true jelly lovers!
Orwashers was founded in 1916 with a mission to serve the local immigrant community. Passed on from generation to generation, and now owned by Keith Cohen, the mission is still to serve the local community.
"We are grateful for the rich history and loyal patrons that have brought Orwashers this far and look forward to baking great breads for many more decades to come," they state.
Sydnee McBride, the Chief of Staff, said that if you love the jelly, you can pick up a can of it at the store. She explained that because of the pandemic, they've added a section for provisions so you can bring home some of your favorites. McBride also wanted the UWS to know that they are taking extra precautions to protect everyone from COVID-19, so they are fulfilling orders on Postmates and DoorDash which can be delivered to you contactless!
With so many great places on the UWS to try, you could have a different option each day of Hanukkah! If you try these, or any others, let us know what you think in the comments below!
PS: If Halle had it her way, all the jelly fillings would be changed to chocolate next year. I conveyed the message to the bakeries and they said they'd take it into consideration.