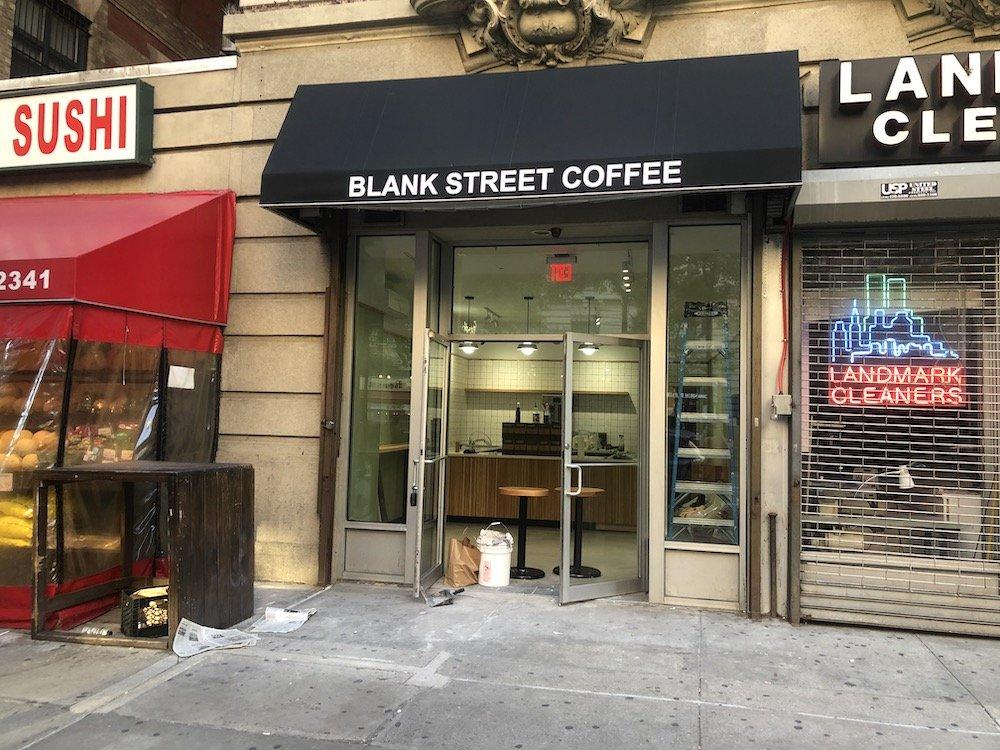 Blank Street Coffee opened its first Upper West Side location at 79th and Broadway in October 2021. It recently expanded with a second spot on Columbus Ave between 68th and 69th streets, and now there's a third — at 2345 Broadway between West 85th and 86th streets.

Advertisement



When we last connected with Blank Street at the end of April, a spokesperson for the Brooklyn-based company told us they had 32 shops and four carts in Brooklyn and Manhattan at the time (including two across the park). Another six have opened since then, making this third UWS shop the company's 39th location. When asked if any more Blank Street's were planned for the Upper West Side, they responded that this one "is the only additional UWS location planned for now."
Blank Street runs a minimalist operation, utilizing micro-retail spaces which make it easy to get people in and out with low overhead. Some might say the spaces lack character or charm, but the brand will tell you, "As part of our commitment to create a better coffee experience for you and our planet, we are committing to funding at least 1KG of C02E for every item we sell, which is the equivalent amount of carbon offset per the average seedling tree in the rainforest in a single year. In other words, for every item we sell, we are offsetting the same amount of carbon as a newly planted tree in a single year."
READ MORE: Friend of a Farmer, Pioneer in Farm-to-Table Dining, Opening UWS Location
Given that Blank Street Coffee raised $25 million in series A funding in Q4 of 2021, just months after securing $7 million in seed funding from three venture capital firms, we also inquired if they had a goal to open a certain amount shops over "X" amount of years. The response we got was, "While the team doesn't have a specific number of stores to disclose, Blank Street plans to expand across the East Coast including Boston and D.C., as well as London, before year's end."
Advertisement



Blank Street locations offer Parlor Coffee, teas, espresso and baked goods like cookies, doughnuts and cakes from King Street Baking Co. Pain d'Avignon provides the fresh croissants, and breakfast tacos from Brooklyn-based King David Tacos round out the menu.
Blank Street says free drinks will be available on opening day (June 10) from 8 a.m. to 4 p.m.