In New York City, the entryways to apartment buildings are like the driveways to homes – they begin the transformation from being out in public to entering one's personal private domicile. Our little stoop on West End Avenue was kind of like that – just 8 steps into the building and up the stairs and down the hall to one's cubicle of various square feet (for me not so many).

When the pandemic lockdown began on March 13, 2020 – those steps seemed even more symbolic as they led to quiet and isolation. It was a challenge for this very extroverted and social person who prided herself on hosting Hannukah parties, Seders and Dinners to be constantly home alone.
Advertisement



During the spring of 2020, while home and observing a self-imposed quarantine, I received a text from a dear friend to go outside and clap for essential workers at 7pm.
I texted neighbors and ran to the stoop and we clapped our hands at the designated time. Initially it lasted about five minutes and by 7:05pm, everyone returned to their homes. For me, that led to many, many quiet evenings.
While the days and nights were often solo for me, at 7pm the sounds of clanging bells, clapping hands and hollers were heard up and down West End Avenue. I would eagerly watch the clock and race to the stoop for the 7pm clap. I saw the lady to my right banging on a lid of a pot with a wooden spoon and learned that she was Catheryn. I met Sue, who lived across the street and could be seen waving from a window three stories up. Faces became familiar, names were exchanged, and we began to recognize each other. For some of us, it was the only in-person exchange of the entire day. We started to call out to one another.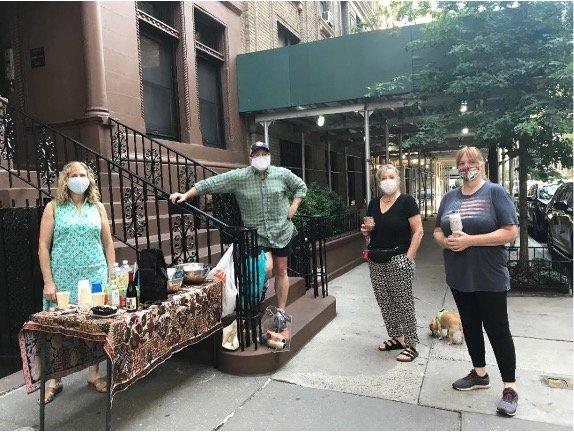 The stoop became a place to gather – not just for the residents of our building – but for neighbors and their dogs. I set up a table next to the steps, bought wine and drinks and packaged treats. It started with red solo cups, soon graduating to flowers, outdoor lights and baked goods. Friends arrived with their own bottles of wine to contribute. We did this all while keeping socially distanced and wearing masks.
After 17 years, I finally met my neighbors on the stoop.
During a June walk with a stoop friend named Elissa Weiss, we spotted a small wooden table with two benches and an umbrella with a paper sign that said "free." I thought it was perfect for the stoop, so we hailed a cab, loaded it up, and took it back to my place. There was no room for Elissa so she ran back to my place and "Chez Joday" was born!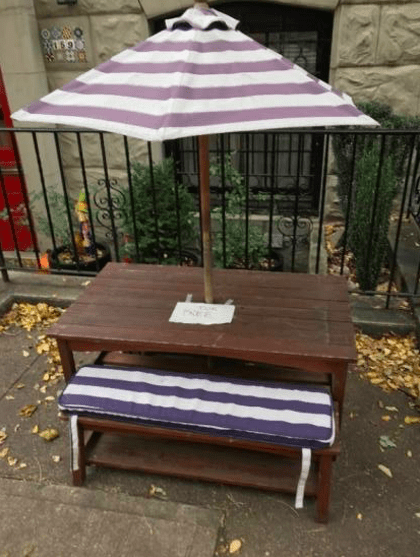 The wooden table was great for outdoor bagel brunch visits during the spring and summer, and while the benches were a bit low to the ground (and probably designed for kids), we made it work. "Coffee and conversation in covid" was our catch phrase. The need and desire to connect with people was real. Being able to be with friends and family outdoors became essential. No amount of movie streaming and pizza consumption could ever replace seeing a friendly face for a "hello."
Advertisement



October came and for Halloween, I placed pumpkins in front of my neighbor's doors with a note which read "bring your pumpkin and pooch to the stoop." They created carvings out of the pumpkins and placed them on the stoop, acting as messages of friendship and support. The isolating feelings lessened with every gathering.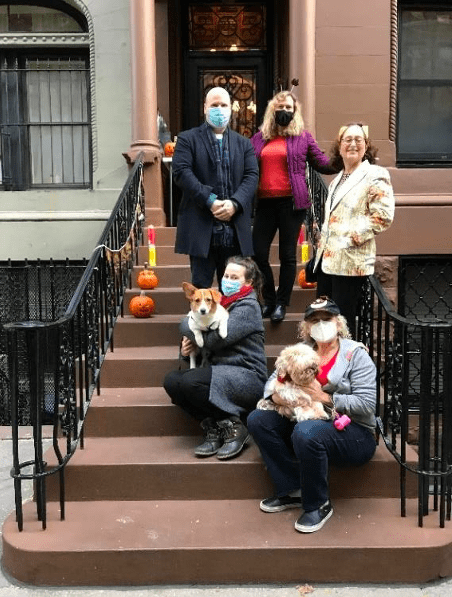 December brought Hannukah. There was latkes and neighbors played their clarinets. We lit the menorah and sang the blessings.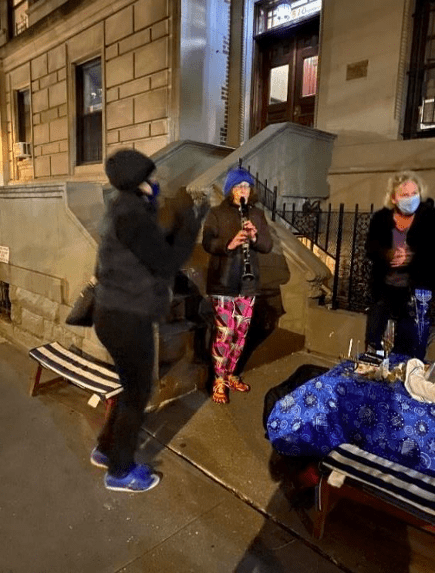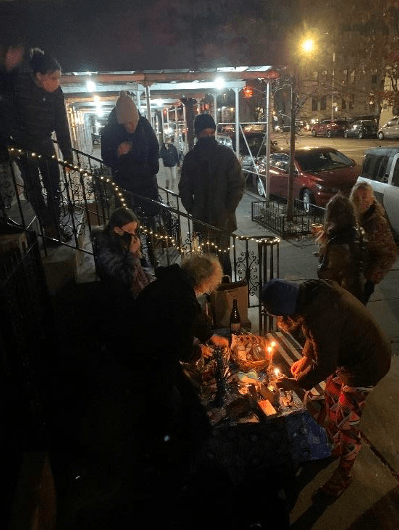 It was a rough year for the pets in our group, and we used our stoop meetings to remember cats and dogs who had passed. We raised a glass and gathered to honor Scotty, Luna, Raven and other pets from the past. It was so moving as we stood in a circle and people recalled their pets' names, and this again validated and strengthened my belief that the stoop was a necessary and meaningful place to be.
When the first female vice president was elected, we had bubbly.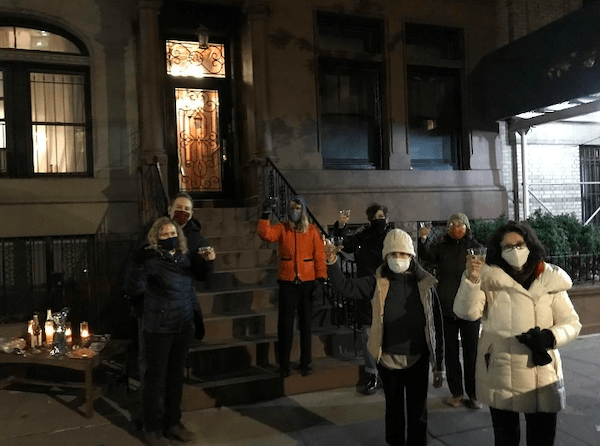 For single and coupled friends the stoop has offered a place to gather safely and to have social interaction.
In a moment of "I've been in my apartment too long" I ordered a fire pit on Amazon and a special s'mores log (and also walked to Target to buy a fire extinguisher). We had our first s'mores event, which was fun until everyone went home and I was left standing by an open flame on West End Avenue in the dead of winter. But it was worth it.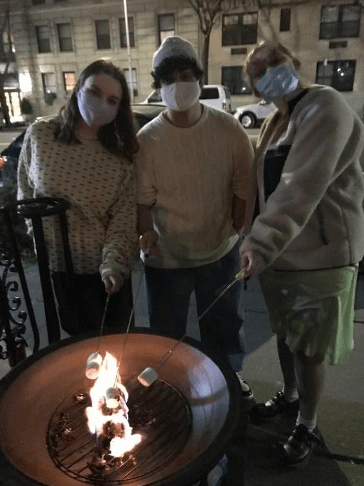 Among the group of regular stoop-goers included a couple of Broadway composers, a neighborhood nanny, a veterinarian, a PhD nurse, a marketing executive, lawyer, publicist, ex-nun and other passersby.
Our cups became fancier. People brought cookies and nibbles. One time I made root beer floats. Months and months passed. We were hot, then we were cold. Sometimes when we gathered there would be a new face, or we would have a reunion with people I hadn't seen in years.
Many enjoyed and found comfort in seeing new and familiar faces during a very long year of social distancing.
The stoop gained so much cache that a friend wanted to bring her new beau as a rite of passage – and so she did.
I'm always going to remember this time when neighbors gathered – exchanged pleasantries and frustrations – and then returned to their respective homes in a variety of buildings. As we all get vaccinated, places reopen, and people return to restaurants, I'm going to miss when the stoop was the place to gather. There were fewer distractions, genuine conversations, and meaningful connections.
Thank you to the many friends who made the Stoop what it is today. In memory of Scotty – who was often on the stoop.