Cookies, cookies, cookies. Cookies everywhere. Cookie mania seems to be upon us, so we made a list to show you where.

Behold: The Upper West Side Cookie Crawl.
What we've done here is fashion a wonderful walking route all throughout the Upper West Side for showcasing its most noteworthy cookies for you to try. A fun experience with friends or on your own. Whichever you choose, peace be the journey.
Advertisement
1.
Breads Bakery
(1890 Broadway by West 63rd Street)
Call it a coincidence. Sixty-third and Broadway was co-named Sesame Street in honor of the show's 50th anniversary in 2019. It's also the site of the Sesame Workshop offices, so you just might find the Cookie Monster out and about to wish you well as we kick off the cookie crawl here by Lincoln Center. Josie Robertson Plaza is a great spot to get your stretching and pre-crawl calisthenics in, too.
Recommendation: Chocolate Chip Cookie ($4.50) with dark, milk and white chocolate. Quality versatility with a crunchy exterior, getting softer as you get to the center.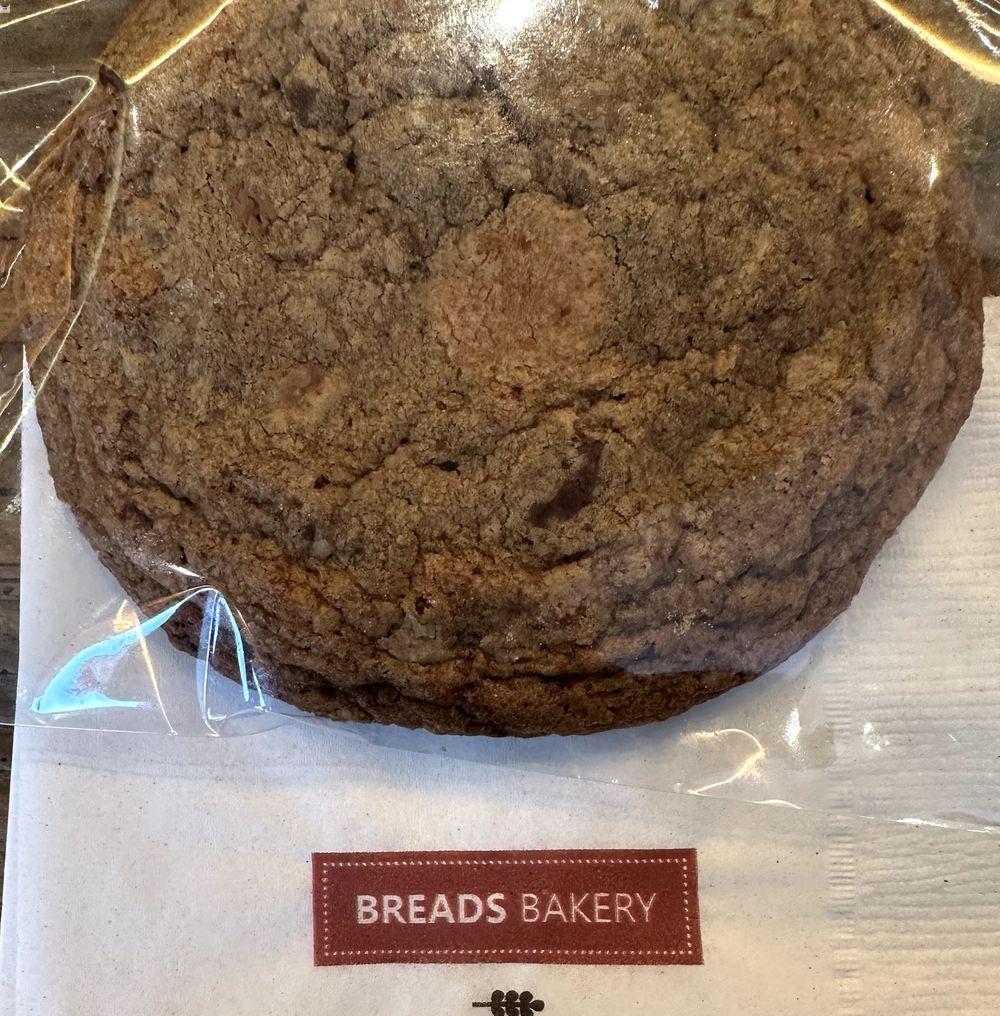 2. Maman (152 Columbus Avenue between West 66th and 67th streets)
Another New York City original, Maman first opened in Soho in 2014. They now have two Upper West Side locations, the second at 429 Amsterdam Avenue between 80th and 81st streets (if you decide you want to double down on this one). At the Columbus Ave. location, though, you're right across the street from ABC Studios, so you might fancy picking a cookie to enjoy while some ABC 7 news is being broadcast live to the country.
Recommendation: Maman's Nutty Chocolate Chip Cookie ($4.50). This delectable was voted one of Oprah's favorite things in 2017 and comes loaded with almonds, macadamia nuts, walnuts and dark chocolate with pinch of sea salt. Got milk?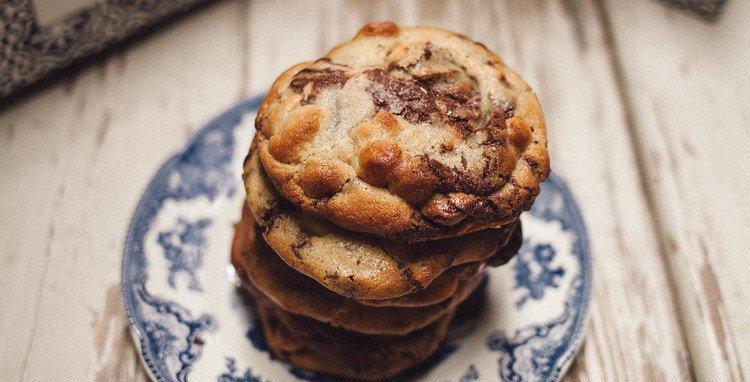 3. Épices Bakery (104 West 70th Street Between Columbus Ave. and Broadway)
An Upper West Side stalwart since 2021, this French bakery does everything so well. Good luck not getting distracted by the ham and cheese croissants or cinnamon swirl bread as the aromas of handmade baked goods prepared from scratch fill the air.
Recommendation: Chocolate and Vanilla Sugar Cookie Sleeve ($6 for six). They're right in front of the cash register, so you can try and avoid the non-cookie temptations. Sometimes they look like checkerboards, other times it's a marvelous swirl of the two (as pictured). Since there's no seating inside Épices, you can consider these your "road cookies" to enjoy along the way if you start experiencing withdrawal symptoms.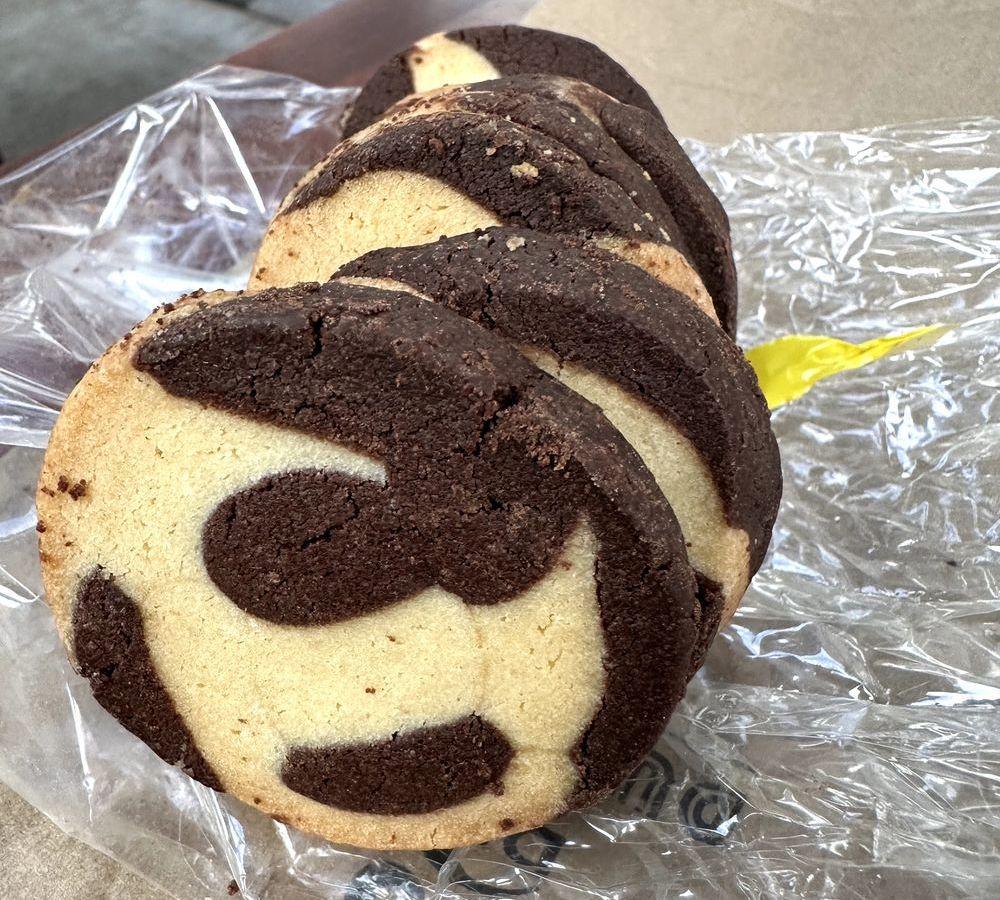 Advertisement



4. William Greenberg Desserts (285 Amsterdam between 73rd and 74th streets)
Some may say the black and white cookie is the definitive cookie of New York City. William Greenberg Desserts, which first opened on the Upper East Side in 1946, is a titan in this category. If you want to stock up, they're famous for their red tins, as seen in a 2012 episode of "Mad Men" when they were carrying brownies.
Recommendation by Jerry Seinfeld: "The key to eating a black and white cookie is that you want some black and some white in each bite. Nothing mixes better than vanilla and chocolate. And yet, somehow racial harmony eludes. If people would only look to the cookie, all our problems would be solved."
William Greenberg sells $2 mini black and white cookies and it's $5 for a large.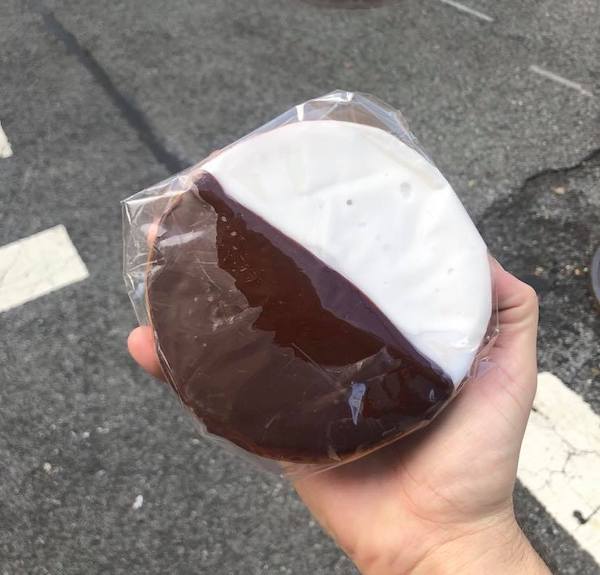 5. Levain Bakery (167 West 74th Street between Amsterdam and Columbus Avenues)
Giddy-up-yoo-hoo. Cookie hallowed ground right here. The original Levain Bakery, which opened in 1995, serves six-ounce mounds of cookie goodness to people from all around the world. They opened a second location a short way up at 351 Amsterdam Avenue (between 76th and 77th streets) in 2017 amid expanding across the country.
Recommendation: Levain's quintessential cookie, of course: the Chocolate Chip Walnut ($4 each).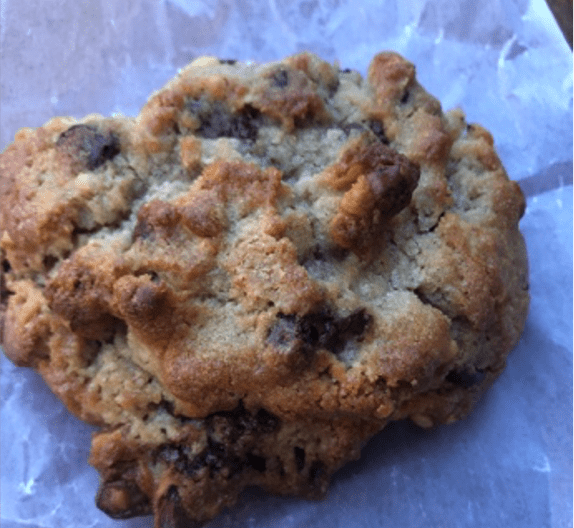 6. Crumbl Cookies (305 Columbus Avenue between West 74th and 75th streets)
The new kid on the block, Crumbl Cookies from Provo, Utah, first opened in 2017 before coming to the Upper West Side in January 2023. Crumbl offers an ever-rotating cast of six cookies every week, with their milk chocolate chip as the anchor, meaning it's always on the menu. Their pink frosting is another fan favorite you'll frequently find on the menu as well.
Recommendation: They say their Chocolate Chip Cookie ($5 each) is the best in the world. With more than 600 locations open across America, it's the cookie that got them here.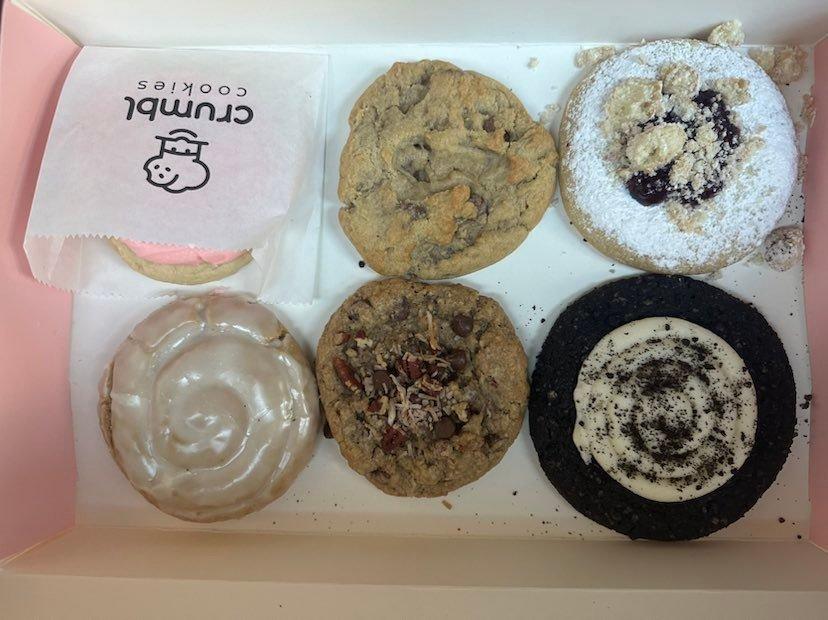 Advertisement



7. Chip City (370 Columbus Avenue between 77th and 78th streets)
Interestingly enough, Chip City was born in Astoria in 2017 and, like Crumbl, offers a weekly cookie rotation (as they call it). A version of a chocolate chip cookie will always be offered, along with a dairy-free cookie and four others that change every week. It might be the blueberry cheesecake or the cookies 'n' cream. They also have a peanut butter and jelly, among others. So far they're a hit in the city and just started expanding to New Jersey with three shops this winter.
Recommendation: Chocolate Chip ($4.50 each). You can find a nice place to sit down across the street at the American Museum of Natural History, as you've just had three heavy-hitting cookies in a row.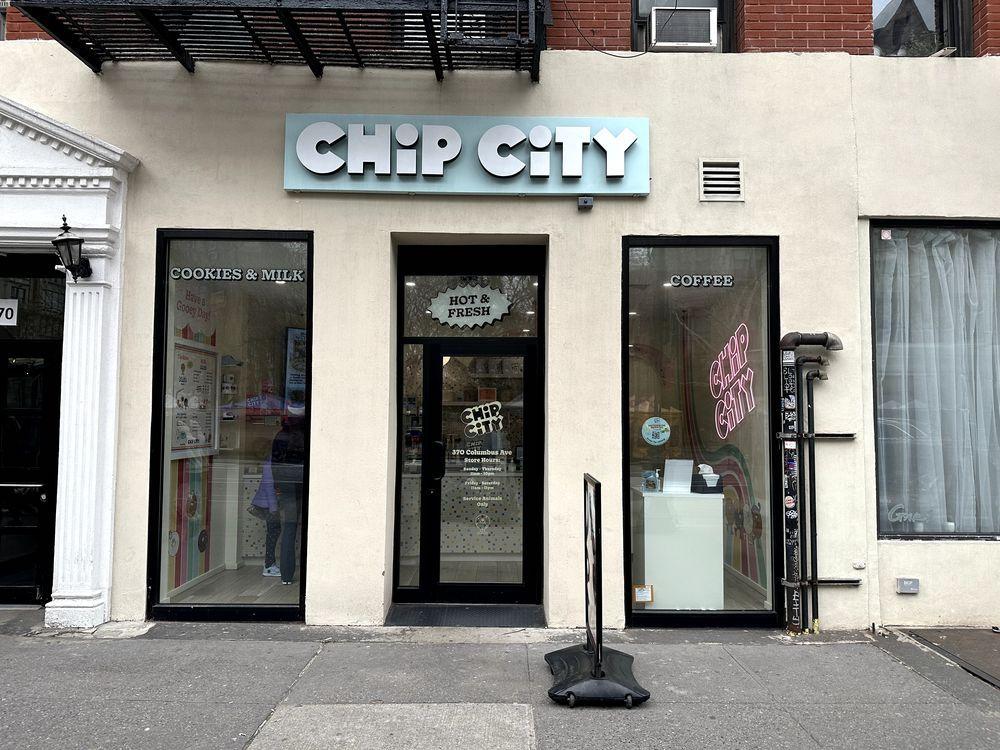 8. Insomnia Cookies (405 Amsterdam Between 79th and 80th Streets)
Legendary for their late-night munchie delivery capabilities, we couldn't forget Insomnia Cookies by day for the crawl. There's a gluten-free/vegan chocolate chip cookie, as well as a vegan birthday cake offering. Both are available for $2.75.
Recommendation: After that gauntlet of chocolate, it's time for Insomnia's Peanut Butter Chip Cookie ($2.75).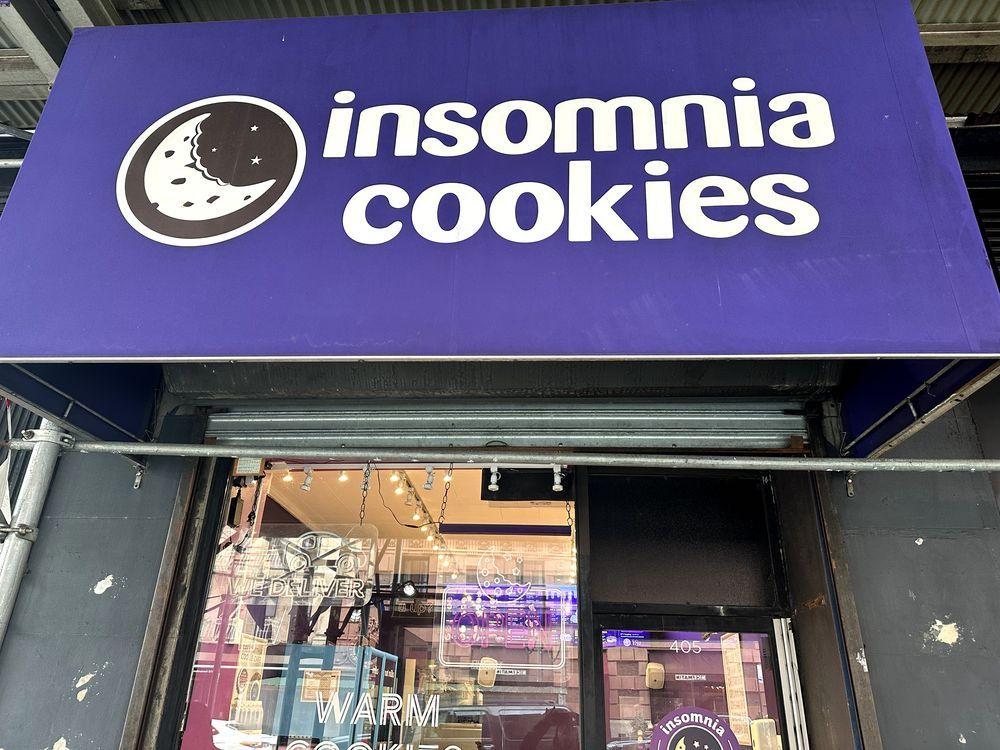 9. Baked by Janie (212 West 80th Street Between Amsterdam and Broadway)
Home of the Pie Crust Cookie, this is the most unique stop on our cookie crawl. With a flaky crust encasing a layer of filling and a buttery caramelized streusel, this is a cookie of a different texture. Founder Janie Deegan first started Baked by Janie in 2015 before opening her first shop on the Upper West Side, a place she also calls home, in 2021. Recently featured in the New York Times, Janie's road to recovery story with her life-changing baked goods is an inspiration.
Recommendation: Chocolate Pie Crust Cookie ($2.75).
10. Zabar's Café (2245 Broadway at 80th Street)
Zabar's is famous for lots of things. From their bagels to their lox to their cheese, you can virtually always find an excuse to take a trip over. Since 1934, Zabar's has been an Upper West Side mainstay with international acclaim. They also happen to make one of the best black and white cookies in the city along with William Greenberg from earlier, so here's a fun taste test moment.
Recommendation: Zabar's Black and White Cookies go for $2.59 each at their café.
Advertisement
11. Those D*mn Cookies @ Flower's on the Park
(520 Amsterdam Avenue between 85th and 86th streets)
"Long story short — I lost my former company during the pandemic and was encouraged to start baking again. My cookies years ago were in Walgreen's. I didn't really want to bake, or thought I didn't, so whenever a pastor at my church asked me, 'How are things going?' on my job hunt, I'd reply, 'The only thing bringing in money are those damn cookies.' Soon, I dropped my stubbornness and accepted that I love baking and I love what I do and I needed a name. The pastor suggested 'those damn cookies' so I rolled with it. The rest is history," said Lindy Elmore, founder of Those D*mn Cookies.
Recommendation: The Coconut Oatmeal Cookie ($4) is an original creation by Elmore. Nice bite and chew on this one, not too hard or soft. The kicker is that this café is in a flower shop, so it's breathing with beautiful plant life all around you. Enjoy the atmosphere before the homestretch of the cookie crawl.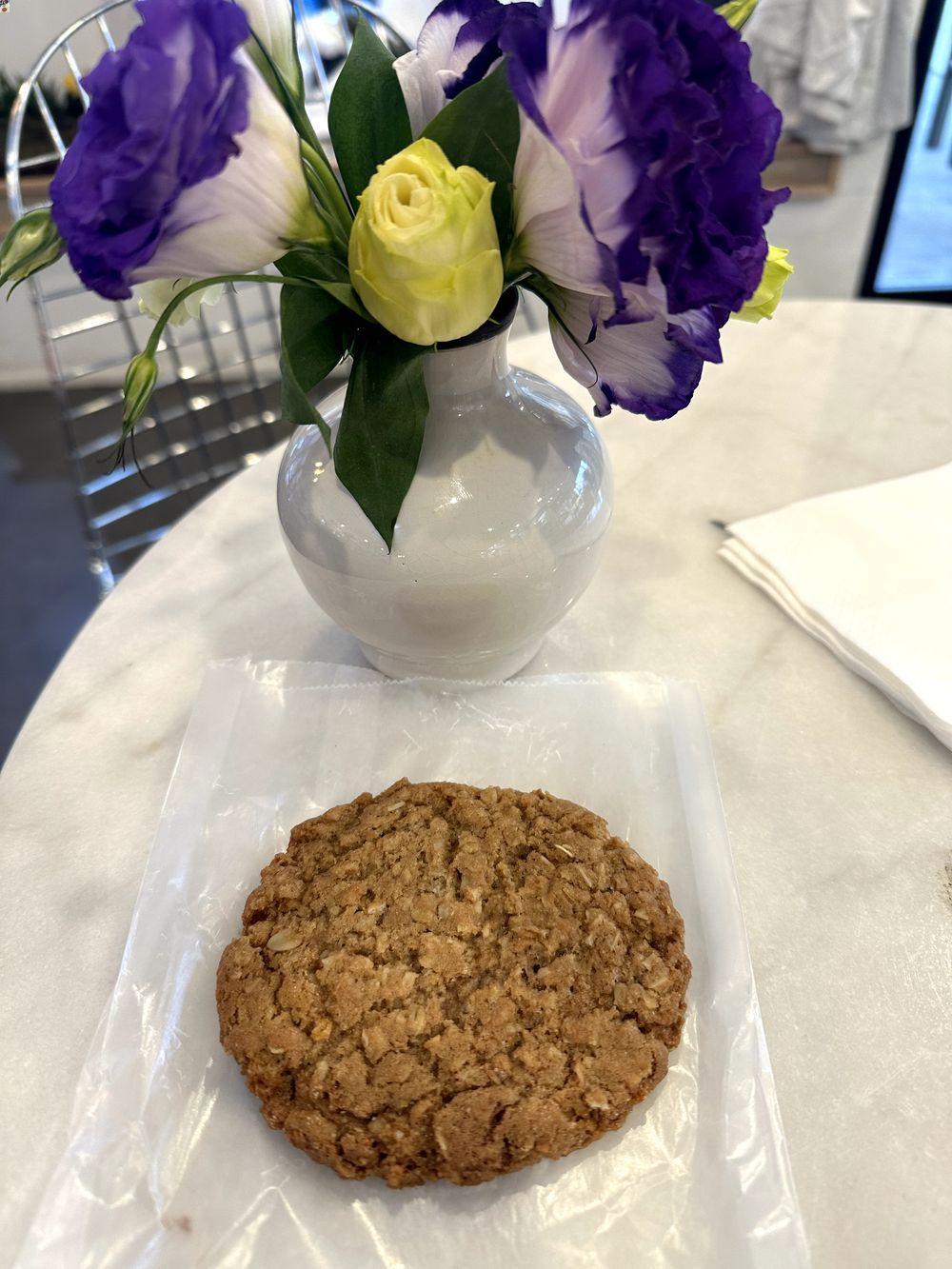 12. Milk Bar (561 Columbus Avenue between 87th and 88th streets)
With funky varieties like Cornflake Chocolate Chip Marshmallow and Compost—which comes with butterscotch, chocolate chips, graham crackers, oats, coffee grounds, pretzels and potato chips—it feels like Willy Wonka might fly in on the Wonkavator.
Recommendation: Milk Bar's Confetti Cookie ($2.75) is one you can count on with butter, vanilla and rainbow sprinkles. They come prepackaged, so it's an easy in and out. Sometimes simplicity is all you need.
13. By the Way Bakery (2440 Broadway Between 90th and 91st Streets)
Enjoy the classical music as By the Way Bakery offers dairy-free and gluten-free cookies that are all certified kosher. Their Chocolate Chip Cookie ($2.50) is made with Belgian chocolate. Helene Godin left the legal hustle in 2011 to open her first By the Way in Hastings-on-Hudson, New York. We're glad she's here. Onward and upward.
Recommendation: The Almond Cookie ($2.25) is a fresh addition to the crawl with its powdered sugar and hints of marzipan.
14. Silver Moon Bakery (2740 Broadway Between 105th and 106th Streets)
You made it. Silver Moon as the last stop on this cookie crawl has to be written in the stars. Started by Judith Norell in 2000, Silver Moon Bakery is an old-school artisan bakery with the decor and atmosphere that makes you say, "I wish we had one of these where I lived." It's cramped inside as there's trays and trays of breads, cookies and other fine baked goods.
Recommendation: Treat yourself with the Linzer Torte ($3.50) and the Palmier Elephant Ears ($2.50). The fruit in the Torte and flakiness in the Palmier is a double feature fit for champions who finished the crawl. You earned it.
Did you notice we had no macaroons on our crawl?
Yes, indeed. Well, the macaroon, in our experience, is the most polarizing cookie, and we didn't want to lose anyone on the way. Fear not, the Macaroon March could someday be coming.