A very scary situation unfolded on Sunday When Lisa Monroig and her 2.5-year-old Luke were at Central Park's Safari Playground (at 91st Street). Luke developed second degree burns on his little feet due to the hot surface near the sprinklers. Thanks to helpful moms and dads at the park, a bad situation turned into a community effort to help Luke.

After having his diaper changed behind a tree, Luke decided to head to the playground without putting his shoes back on because they were full of sand. Luke headed for the sprinklers to rinse off his feet and escape the heat of the day, which was upwards of 88 degrees.
As Lisa took a moment to pack up her son's dirty clothing, she heard him crying.

"I see him just standing there crying, looking back at me," Lisa said. "Since he's a toddler, sometimes you have to figure out why he's crying, it's like a guessing game. I'm like, 'are you upset I took your sandals? Are you upset I changed the diaper?' I noticed the way he was hopping. Then I saw that his feet were burning."
Carrying her bags and her 30 pound child while trying to assess the situation, Lisa was clearly overwhelmed. She frantically tried to cool Luke's feet down in the sprinklers while he cried. One parent observing the situation said, "Oh that doesn't look good," and Lisa began to wonder how bad his feet really were.
"I looked at his feet and his skin was hanging off. It was even worse than I imagined it could possibly be," Lisa said.
Get The Upper West Side Newsletter
One mom on the playground approached Lisa and identified herself as a pediatrician. She offered to go get supplies from her apartment to help treat the burns. Another mother stepped in to help Lisa find her phone. Other parents were helping find a dry diaper and clothing to get ready for when they came out of the sprinkler. The team efforts culminated with a dad helping Lisa find a cab to get to a pediatric burn unit.
"This woman volunteered her husband. She's like, do you want him to carry your son? He was still crying, so I handed him the bags to carry instead.," Lisa tells us. "My Uber app wasn't working, and he offered to get me an Uber. I didn't even know his name or have any way to repay him."
Lisa said that her instinct was to start asking everyone their names. She wanted to thank everyone for helping her, but knew she had to focus on her son. She arrived to the hospital and said that her son received wonderful care and instructions on how to get through the healing period. He was diagnosed with second degree burns.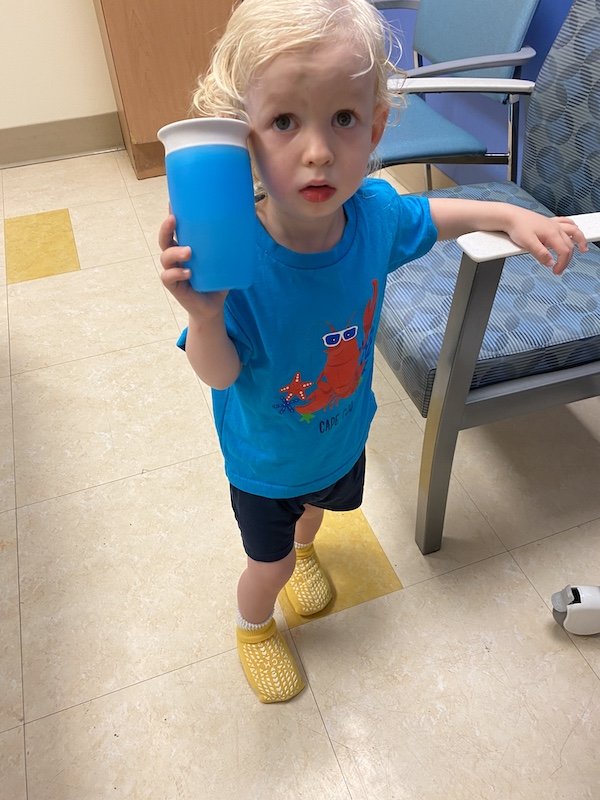 Lisa says she sees kids running around with no shoes on all the time. As it gets hotter, she wants parents to be aware of this hazard. The rubber gets very hot and can scald little feet.
"The ground at Safari is newly installed. I thought it was child safe. It's soft so when kids fall they don't break their bones, but gets so hot your child's skin can melt off."

Currently, there are no signs around the playground warning parents about the hazards of how hot the ground can get. Lisa would like to urge the city to put up signs that let parents know it's important to keep shoes on during summer to avoid further accidents.
Luke is recovering. He is eating, drinking and walking on his bandages. Lisa says his feet are still in lots of pain and asks to be carried. He will go back to the burn specialists on Thursday for a check up.
"There are two things I want to express," said Lisa. "First is my gratitude for those who helped me. Second is that the 'child safe' flooring is not totally child safe. Do not let your children run bare foot, because in a matter of moments Luke went from being a happy playful child to having an emergency."
Lisa knows her son is going to have a recovery period, and hopes that others take this experience as a warning so they can protect their own children.