The West Side Council of Jewish Organizations (COJO) and Excelsior NYC will co-sponsor a town hall for the City Council District 6 Democratic primary candidates at 7:30pm on May 23. The event will be moderated by New York State Deputy Commissioner of Health Adam Herbst, and Fordham University law student Andrew Lebwohl. Gale Brewer, Maria Danzilo, Jeffrey Omura, Sara Lind, Zachary Weiner and David Gold will take questions.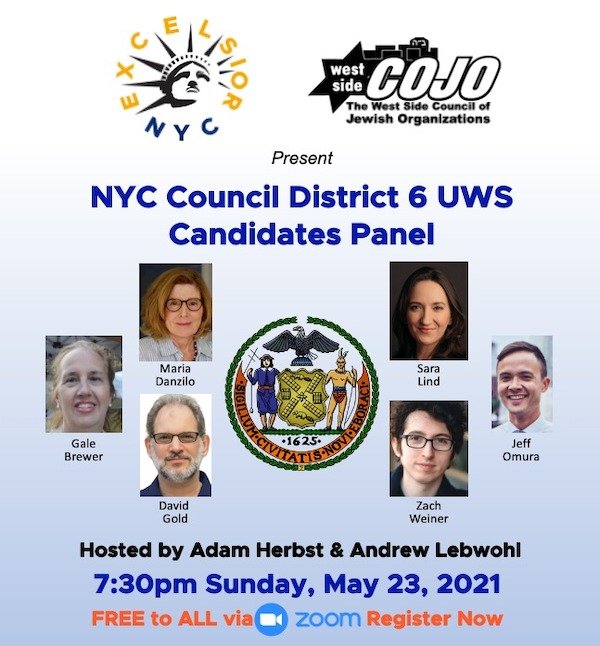 "Our civic relationships have been tested over the past year," said Lebwohl. "This election will define how we come together as a neighborhood and community. The city council race will decide who leads us into the new administration, and who represents our interests as the city transforms."
The online-only event will be conducted via Zoom, with livestreams on YouTube and Facebook.

The same groups will also co-sponsor a mayoral primary town hall at 7pm on May 26, with attendance confirmed by the seven leading candidates in the Democratic primary election.
Andrew Yang, Eric Adams, Scott Stringer, Kathryn Garcia, Ray McGuire, Shaun Donovan and Maya Wiley will take questions.  The moderator will be journalist and author Andrew Kirtzman and Adam Herbst.
"We are honored and excited to have the future political leadership of the city join us to present their visions for the coming New York renaissance," said Herbst. "We see this town hall as an opportunity for New Yorkers to understand how the candidates plan to govern if elected, and how they will represent the interests of Jewish New Yorkers and the wider community of New York in an environment of tremendous challenges and opportunities."
COJO is a coalition of Jewish institutions and organizations on the Upper West Side which works to amplify the voice of the Jewish community in New York City politics, hosting events to serve the Jewish community of the Upper West Side.
Excelsior NYC is an organization dedicated to bringing New Yorkers together across the lines of age, race, class and ideology to support efforts to help New York thrive.  Through public events for communities and private meetings among leaders, Excelsior NYC helps New Yorkers overcome the obstacles to cooperation and dialogue on the challenges and opportunities facing the city.
To register please use the following links: