Update (Monday, March 30th): Trader Joe's is open again at 2073 Broadway, at 72nd Street.
Hours are 9am to 7pm daily, and from 8am-9am they are "open to senior customers (60+) and disabled customers who may need extra assistance".
The Trader Joe's on 72nd and Broadway is temporarily closed for cleaning, as an employee at the store tested positive for coronavirus, a sign reads.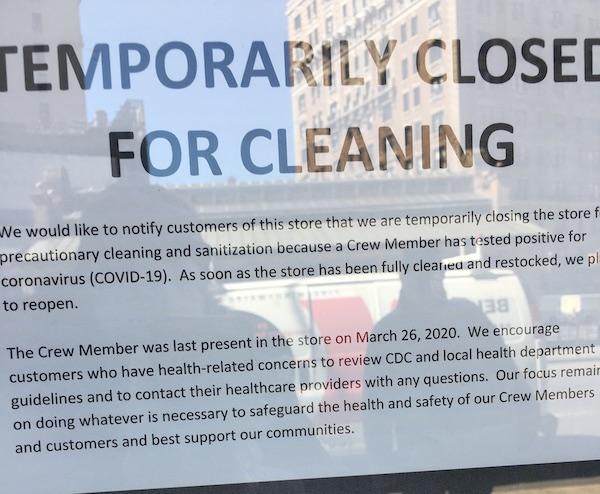 Our tipster, Suzanne, sent us the pic of the sign above, and heard the store would reopen on Monday.
The location at 2073 Broadway was the fourth Trader Joe's to close this week as a result of an employee testing positive for the coronavirus, according to Patch. The other stores to close were located in Soho, Chelsea and Union Square. These stores have all re-opened, according to Trader Joe's website.
The list of Trader Joe's stores which are temporarily closed, at the time of writing, only includes 2073 Broadway and a location in Denver.

Advertisement
A notice on TJ's website reads:
We are connecting with all Crew Members at the respective locations, encouraging anyone who may have been in contact to follow CDC-recommended self-monitoring guidelines and to call their healthcare providers right away if they develop any symptoms. While the store is closed, Trader Joe's will be paying all Crew Members for their scheduled shifts. As soon as the store has been fully cleaned and restocked, we plan to reopen.


We are working closely with local health officials to take all necessary measures and provide our communities with the most appropriate information needed to make an informed decision regarding their health and safety. We encourage customers who have health-related concerns to review CDC and local health department guidelines and to contact their healthcare providers with any questions.
As we continue to respond to this rapidly evolving situation, our focus remains on doing whatever is necessary to safeguard the health and safety of our Crew Members and customers and best support our communities.
We'll provide an update once they re-open.