We saw it coming: outrage on the Upper West Side following our report that the giant snowflakes, which have historically hung over the intersections on Columbus Avenue between 68th and 82nd streets, would not be returning this year.

A thread was started on Nextdoor to discuss the matter. "I never write letters like this but I just sent one… I don't know why but for some reason this is stupidly important to me," said one commenter. Another comment left on ILTUWS read, "My daughter actually cried when I told her that they won't be going up this year. And she's a pre-teen! These snowflakes are so much more than just holiday decor. They are a symbol for the great community we have on the UWS. Bring the snowflakes back!"
[adrotate banner="193″]
A representative from the Columbus Avenue Business Improvement District (BID) told ILTUWS they were getting lots of calls and emails from people who wanted their beloved giant snowflakes back.
In our initial report, Vincent Barone at the Department of Transportation told us "We're always happy to help communities celebrate the holiday spirit and we've reached out to the Columbus Avenue BID to review their request. We look forward to approving it as soon as possible." Barone noted the giant snowflake display hadn't been barred, so Upper West Siders were coming in hot – calling for the Columbus Ave BID to return the giant snowflakes to where they belong.
However, following our initial report, ILTUWS obtained the new DOT application for holiday lighting. On page three, the application states: "3. Temporary festoon/holiday and/or other temporary lighting shall not be installed inside the borders of an intersection and shall not obstruct the visibility of any traffic signals or signs."
We followed up with Barone to point out this key detail – as the BID had emphasized repeatedly that they were not able to hang the snowflakes over intersections with street lights, where they'd been placed in previous years.
In response, Barone wrote, "To be clear: no rules have changed – and we're working closely with BIDs and other applicants to ensure their holiday lighting displays meet our necessary safety guidelines." Going on to give more background on the matter, he said that "while the BID's previous holiday light design has not been barred, we do not allow any temporary lighting to be strung from poles that secure our traffic lights as a matter of safety. We're working with our BID partners to bring them into compliance with this rule and other safety measures."
Whether or not this was actually a rule in the past, it obviously wasn't something the DOT ever enforced.
The key component here is that the snowflakes have always hung in intersections with traffic signals, and because there aren't consistent lamp posts between the blocks along Columbus, it would be impossible to rig a properly consistent giant snowflake setup on the Avenue.
"We know people are sad not to have the large snowflakes along the Avenue that they have become used to over the past years," said Nicole Paynter at the Columbus Ave BID. "We miss them as well but are doing our best to follow DOT guidelines for holiday lighting and are looking forward to a joyous holiday season."
Advertisement



On Tuesday, December 14, two giant snowflakes were hung – one at the intersection of 72nd and Columbus, the other at the intersection of 72nd and Amsterdam … which came as a shock to us …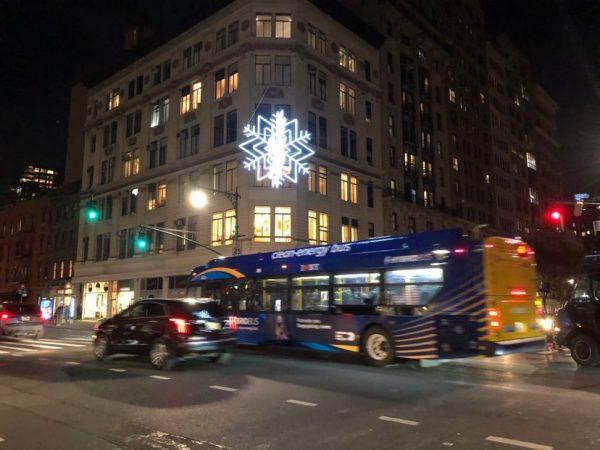 We reached back out to the BID for clarification, and a rep told us they were placed here in error. They've since been moved between the two avenues, and now, three giant snowflakes can be found hanging along 72nd between Columbus and Amsterdam avenues.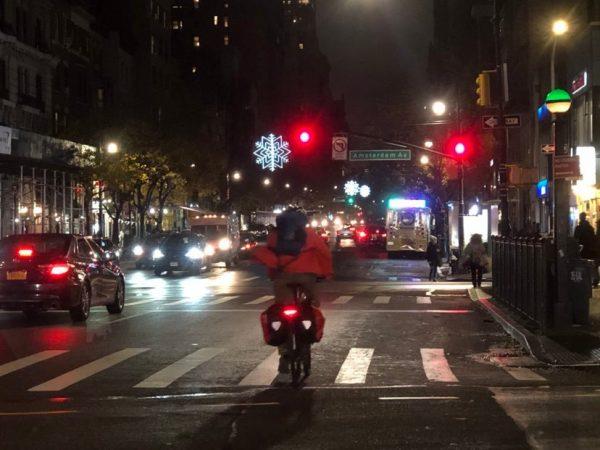 People have returned to the Nextdoor thread to rejoice about this holiday miracle in their midst.
We've confirmed with the Columbus Avenue BID that these will be the only giant snowflakes in the neighborhood this season.
Anyone looking to contact the DOT commissioner about giant-snowflake-related matters can do so here.