On Labor Day, a program called Curbside Canvas was launched to connect artists with struggling restaurant owners to transform their outdoor dining patios into street art, adding some color to NYC neighborhoods while attracting more attention to these dining establishments.

The initiative began downtown. Curbside Canvas' director, Bill Tsapalas, told us it was launched in Tribeca with 13 participating restaurants and 20 volunteer artists.

Neighborhood residents are recruited to launch the effort in various parts of the city.
In addition to Tribeca, sidewalk cafes have been completed in Park Slope, Hell's Kitchen, Greenwich Village, and now on the Upper West Side.
Brian Felicetta is the owner of Lion's Head Tavern, located at 995 Amsterdam Avenue at 109th Street. When he heard about this project on the news, he volunteered to become the Morningside / UWS Project Organizer, and kick started the effort with his tavern as the first art install.
MORE: Columbus Avenue is Looking Better with these New Art Installations!
The sidewalk cafe at Lion's Head Tavern has been painted by artist Hector Urdaneta.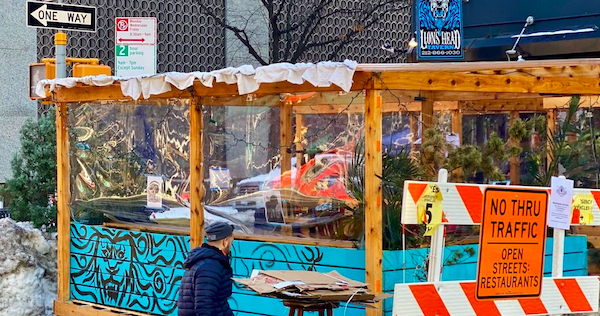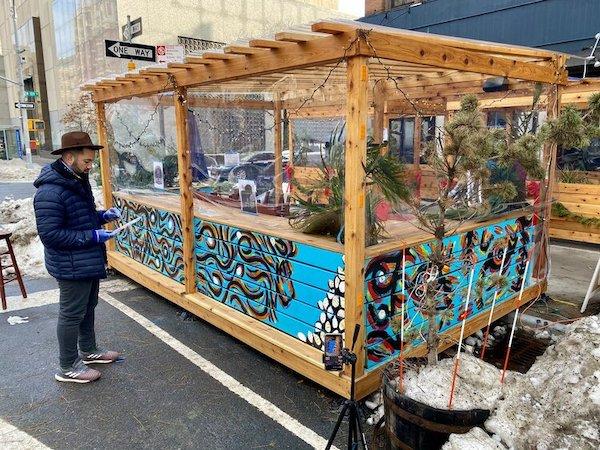 We're told Felicetta is using this as case study to reach out to his restaurant neighbors to show what the project can do for them. We've reached out to him and will provide an update once we hear about other UWS bars and restaurants participating in the project.
MORE: A New Art Store on Amsterdam Avenue
When asked about what he hopes the art will accomplish, Felicetta said he's "hoping that the art inspires people to get out and live in the city again. I think people have a feeling that everything is shuttering and that we're losing the real soul of the city, and we're not."
Curbside Canvas is a volunteer-driven initiative which you can learn more about at www.curbsidecanvas.com. To keep the project alive, the organizers have set up a GoFundMe campaign to cover the cost of art supplies. You can check out and contribute to it here.