Upper West Side fashion illustrator, Brooke Hagel, wanted to find a way to give back to healthcare heroes who have fought the battle against the COVID-19 virus.

"I wanted to find my own personal way to give back to our healthcare heroes, the people on the front lines of the pandemic who are risking their lives every single day to keep us safe."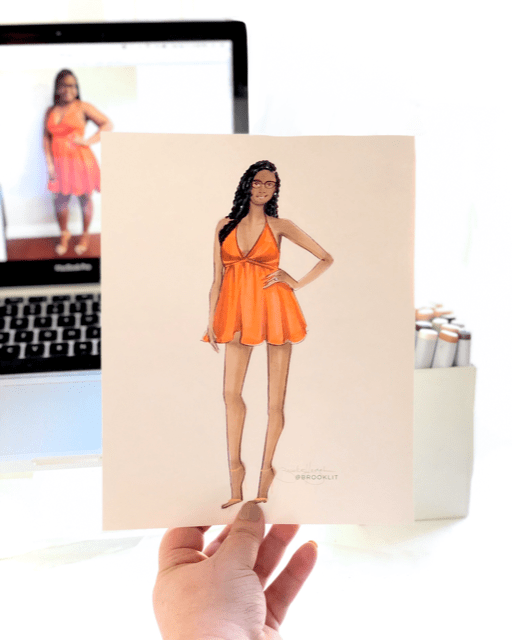 Brooke created beautiful custom illustrations of healthcare heroes every Saturday for 6 weeks. She also gave her audience a glimpse of her process by broadcasting all of these sketches live on Instagram.
"You'll be with me every step of the way, following along and creating your own custom sketch of the healthcare hero you want to recognize!" she posted on her Instagram page, which has more than 24,000 followers.

Advertisement
Brooke is one of the most sought after fashion illustrators working for brands such as Burberry, Chanel, Cartier, Dior, Harry Winston, and many more. Brooke originally aspired to be a costume designer. She went to college at The Fashion Institute of Technology (FIT) where she majored in Fashion Design.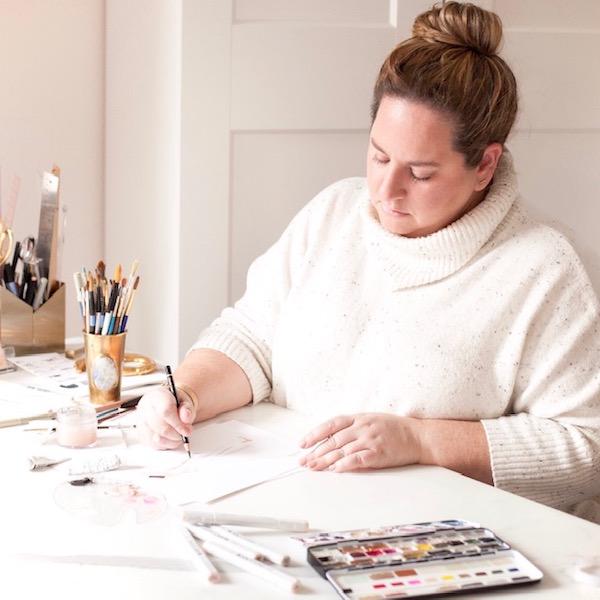 "During my studies I learned that fashion illustration was the part of the design process I enjoyed most. While at FIT I interned for major designers and got to work on Sex & the City and SNL. Post FIT, I went on to become a designer for brand development at Hearst Magazines."
When Brooke worked on other jobs, she missed illustrating. In her spare time, she started a blog called  Fabulous Doodles and an Etsy shop as a creative outlet. She started by selling printed versions of her original work. When the 2008 recession hit and she lost her full-time job, her passion became her life calling!
"Flash forward 12 years later, and my little illustration business has come a long way! In the beginning, I spent the majority of my time creating custom illustrations for brides, then before I knew it, I was out touring the country illustrating for Vogue."
Brooke truly loves what she does for a living. She told me that she has had many "pinch me" moments. Even though she works hard to run her own business, she is always grateful this was her path. Brooke is also thankful she gets to work from home, right here on the UWS. When Brooke was in college, one of her best friends lived on 82nd and CPW, and she fell in love with the neighborhood. Around this time, while interning for SNL, Brooke once ran an errand for Lorne Michaels at his CPW apartment.
"I will never forget standing in the center of the most stunning lobby in complete awe; that was it for me, I knew my first apartment had to be on the UWS. I've changed my apartments since, but not my zip code!"
Brooke also uses the UWS for artistic inspiration. "Riverside Park is one of my main go-to spots to clear my head and even get some drawing done in the spring and summer, specifically the 91st Street Garden and Soldiers and Sailors Monument. I often sit on the big balcony (the one that overlooks the field and hippo park) feeling like it is a hidden gem out of a fairy tale."
Brooke also has some great tips about UWS dining I never knew about!
"First, Celeste's almond crusted chicken is de-lish. And if you don't squeeze the lemon over it properly, Carmine, the owner, will come over and do it for you! Second little known secret: Hi-Life Bar & Grill has the Little Pie Company's world famous sour cream apple pie on their dessert menu. (Although they don't actually call it out as being from the LPC!)"
Advertisement
Sometimes her work takes her away from the UWS, like when she tours the country with Vogue. For the past four years, Vogue has sent Brooke around the country to sketch at events.
"Meeting people from around the county who'd come out because they've followed me on Instagram or read my blog for years was so incredible! I'll never forget one woman telling me, with tears in her eyes, that following me and my work got her through chemotherapy. Years later, as I retell this story, tears are in my eyes — I don't know how to even express how much that moment means to me."
Even though Brooke is around celebrities all the time for work, she had a UWS celebrity moment that is really fun.
"One afternoon I was in the AMC Loews looking at the movie board. As I turned to leave I spotted Kevin Bacon looking at his phone and looking around confused. As I walked outside pondering if this actually counted as one degree of Kevin Bacon, I bumped into Kyra Sedgwick who was also looking around, all confused. So I said to her 'he's right inside, on the other side of the pillar.' She gave me a huge smile and thanked me and went on in. Two people actually came running up to me to after like 'OMG what did you just say to her?!'"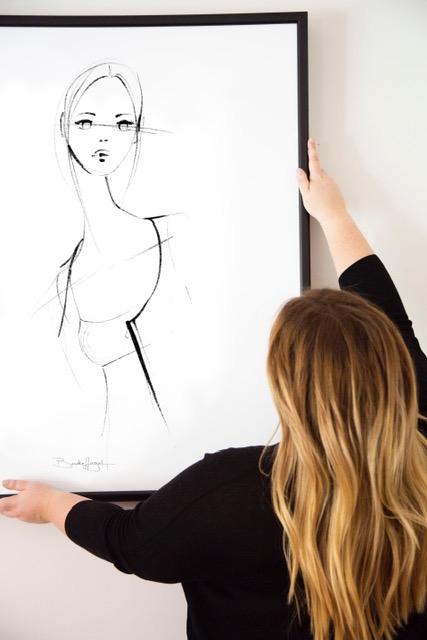 Brooke does take on private clients and private events for custom illustration gifts, weddings, bridal showers, or live sketching bat mitzvahs. She even does custom pet illustrations. If you are interested in finding out more about Brooke's work, you can find her on Instagram @brooklit, her website at BrookeHagel.com, or her Facebook page.