Boasting a dizzying variety or simply highlighting a few special items are both approaches to signage and window display that storeowners have used for more than 100 years. Storefronts with apartments above them first appeared on the Upper West Side in the late 19th Century. And of course, stores always have a sign out front. Some businesses, like Tip Top Shoes on 72nd Street, have maintained the same vintage look of their storefronts for generations, while others have modernized, if only subtly. The bottom line is always to draw customers.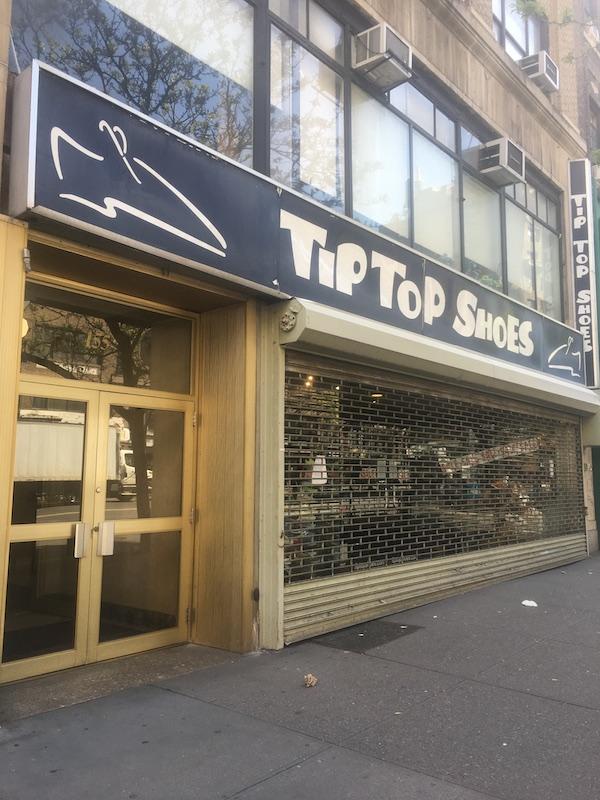 The image stores put forward continues to differ. Some businesses clearly promote elite, sophisticated offerings. 67 Wine & Spirits, for example, recently featured a window with an impressive array of French roses. Today, closed to walk-in customers, the wine shop has a large figure of a snooty butler seated on a barrel set on the sidewalk in front of the store. Fitted to the butler's sleeve is a buzzer for customers to press as they approach the pick up window.
Advertisement
Some other business owners have also turned to humor to lift our spirits, and now more than ever, written messaging is everywhere. Beyond attracting customers, the messages are uplifting, such as the large signs in the windows of Pioneer supermarket that read "I Love NY More Than Ever, Standing Strong to Serve You, Upper West Side". In other shops, signs of every shape and size inform customers where and how they can safely pick up everything from hamburgers to multi-course dinners.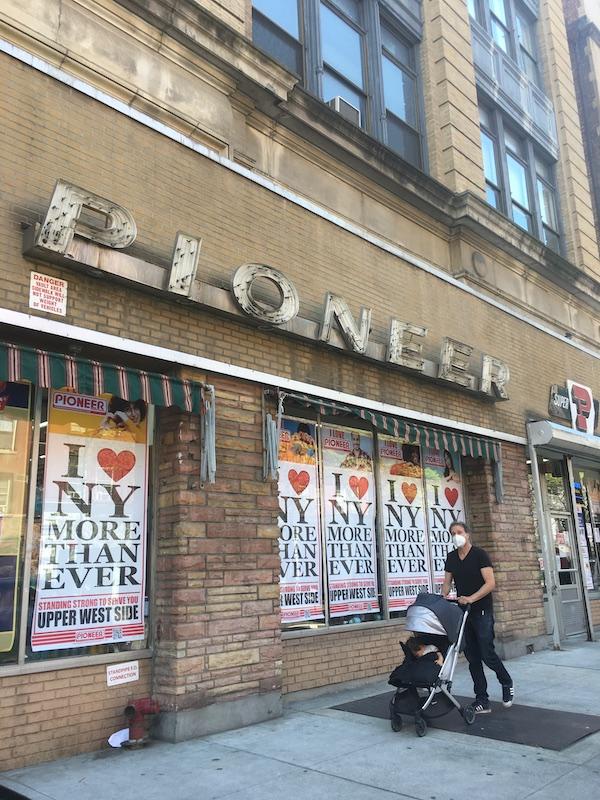 The physical structure of a few early storefronts on Columbus Avenue, between 87th and 88th Streets, remain just slightly altered from when they were built around the turn of the 20th Century. The current businesses are relatively recent, unrelated to decades of earlier occupants. But, the structure of the original storefronts matches the design of the late 19th century buildings in a way that is clearly different from the evolving designs of later stores in similar buildings.
Moving ahead in history, the rounded curves of the cigar shop on West 66th Street, seen in a vintage photo, echo the shape of the early 20th Century hotel that housed the business. It also provides an example of curved storefront windows that along with shiny, black glass, became so popular in storefront design in the 1920s, '30s and early '40s.
Now, virtually gone in its original form, the style lives on in the sleek, stylized aluminum signage and overall look of Hi-Life bar-restaurant on 83rd and Amsterdam, meticulously designed by the owner in 1991 to recreate the mood of a 1930s steak and chop house. A special feature eliciting a double take is sparked outside, where the owner's vintage Lincoln is topped by a mini Hi-Life sign, martini glass and all. Like many Upper West Side eateries, Hi-Life is offering take-out lunches and dinners to keep business open at this time.
Tiki Chick is a much newer presence, having opened on 83rd and Amsterdam at the end of 2019. But, its whimsical sign provoked unwanted attention. A sketch of a scantily clothed, bare-breasted hula dancer drew so much local criticism that the figure was revised to wear a more modest and concealing flowered lei.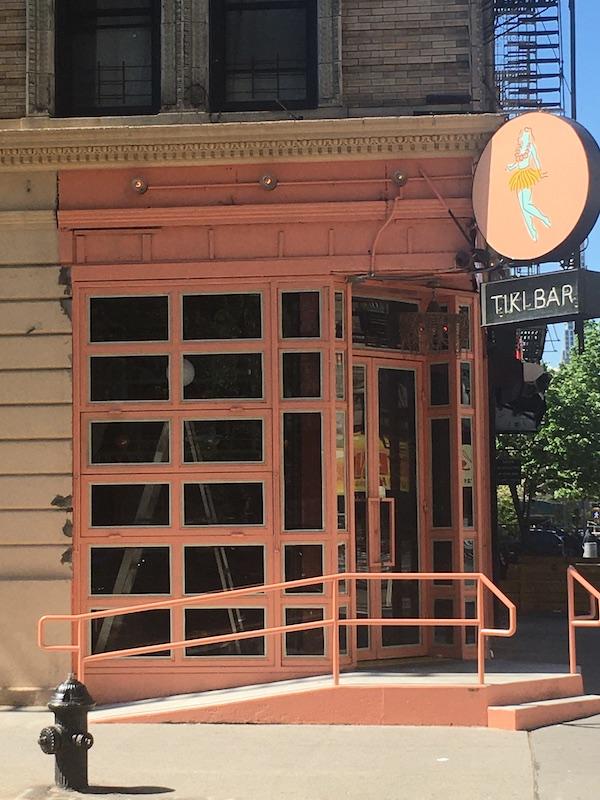 Advertisement
Less controversial is the storefront of Apthorp Cleaners, which has been present for more than 30 years between 78th and 79th Streets on Amsterdam Ave. Its windows have long been known for elaborate scenarios, featuring Barbie and Ken dolls from the collections of one of the owners and her friend. Currently, one window depicts Barbie as a candidate running for President. Bringing storefront messaging squarely into the 21st Century, a portfolio of many imaginative scenes is worth a Facebook page visit.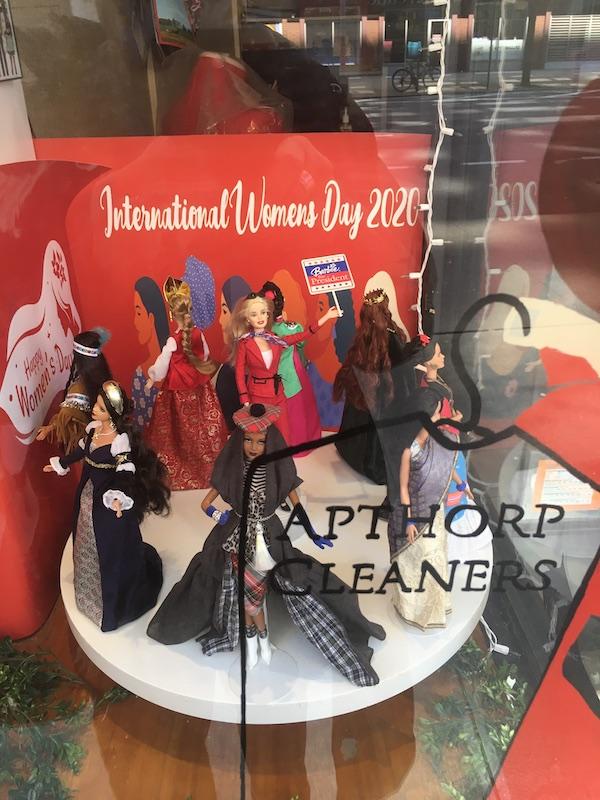 Old troubling news is the scores of storefronts which have been closing over the past few years. Now, as we patronize those which remain, we're also aware that during this new normal, storeowners are reaching out to us in every way they can to keep us interested and awaiting their full re-openings.
Here's a video of Debra Kravet, the owner of Apthorp Cleaners, speaking on the matter with CNN: