An Upper West Side couple, Kristina Hanford and Kyle Reilly, have launched a virtual babysitting service which is employing out of work Broadway performers.

Through this service, the performers are are able to entertain, teach, and collaborate with young kids through FaceTime and Zoom, while allowing parents who are working from home to get things done around the house.
The couple who set this up are not taking any money from it at all; 100% of payments go directly to the performers.
The service is offering both individual and group sessions for kids between 3 and 12 years old. This has been a huge help to many parents and the kids always ask for more sessions!

Advertisement
So if you need an hour or so during the day to get things done and are looking for someone to entertain your kids, let one of the performers look after your kids and engage them in fun activities – which include but are not limited to:
puppet shows
improv games
dance parties
sing alongs
math activities
story telling
trivia
homework help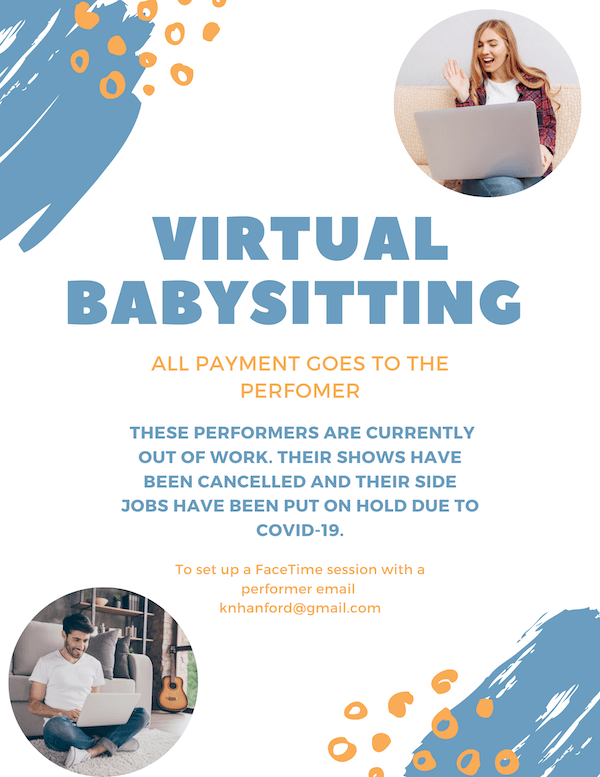 This will help performers pay their bills while giving you time to focus on tasks at home.
Individual sessions are $20 per hour, and group sessions of 5 (which they are calling "Virtual Zoom Parties") are $15 per child.
Kristine and Kyle started this as a way to give back during the COVID-19 crisis. Kristina is a performer and started to hear about so many of her friends being put out of work and their shows being cancelled. Kristina nannies for a young boy and when the family left the city a few weeks ago she began FaceTiming as a way to help the family and keep him entertained since they couldn't see each other.
Kyle then realized how many families were probably going through the same thing, and they both started thinking about the ways they could help. They then created Virtual Babysitting to connect the working-from-home parents with the out-of-work performers.
Once they launched the service (about 2 weeks ago), a mom contacted them saying that her 3 year old son missed his classmates and wanted to see if they could help bring them back together virtually. That's when they added Virtual Zoom Parties.
Since both Kristina and Kyle are lucky enough to have kept their jobs during this crisis, they felt that they should not take any money from the service; the performers are receiving the full payment from the families.
Everyone has a part to play in the new normal and being a bridge between out-of-work performers and parents working from home is something these founders are able and willing to contribute.
For more information or to schedule a session, please email knhanford@gmail.com