CHRISTIE HAS BEEN FOUND – READ THE UPDATE HERE!
A website has been created to help locate missing woman Christie Caggiano. Her husband, Anthony Caggiano, contacted us in late August to help spread the word.

HelpFindChristie.com includes additional photos, a printable flyer and a message board which people can use if they believe they have relevant information.
It also includes additional information about Christie, who also goes by Cecile Hoyt:
Physical Description
Height:  5'4";  Weight:  110-115lb;   Build:  Petite;  Eyes:  Brown;  Hair:  Brown, Shoulder Length and Thin (Thinning on Right Side), May Now Have Grey Roots;  Skin:  Olive Complexion (Will Be Tanned Now From Sun Exposure), Some Sun Spots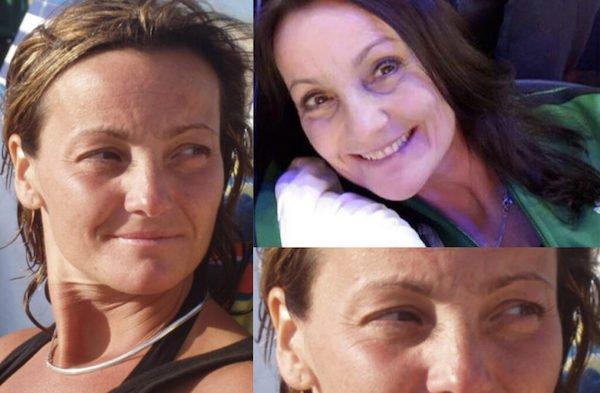 Summary of Medical History
Christie suffers from severe mental illness (Persecutory Delusional Disorder and Chronic Schizophrenia).  She has been hospitalized 4 times since 2020.  Christie ceased all medication and is psychotic.  She needs intervention and requires immediate medical attention.
Behavioral Description
Christie will present initially as passive and talkative.  Christie is sweet, engaging and articulate when not in crisis or when calm.  She will pace excessively and will appear anxious if stressed.  Christie can become spontaneously argumentative, inflammatory, or intentionally evasive.  She will provide one-word responses that are oddly related.  Christie will be purposefully uncooperative if asked if she needs medical care.
Additional Notes
Christie is completely without identification.  She intentionally left her phone, driver's license, credit cards, bank card, and insurance cards.  She does not wish to be identified for fear that she will be hospitalized.  Christie may be self-medicating with cocaine and/or alcohol.  Should be checked for both when found.
The New York State Department of Criminal Justice website states that "Christie is believed to be living on the streets in Central Park or in the vicinity of West 86th and West 88 streets," though Anthony says she's been spotted between 59th and 100th Streets. "Christie was seen panhandling at W 80th and Amsterdam and again at Riverside Drive at 100th street in front of the Firefighters Monument," he states on the website.
"Our family is completely devastated. We desperately need the community to help bring Christie back to us."